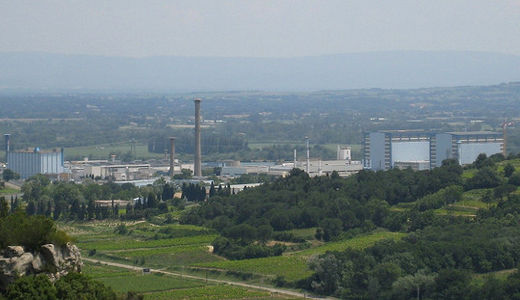 On September 12, an explosion at Marcoule, a nuclear facility in southern France, killed one person and injured four, The Envoy reported.
According to Business Insider, in what was described as an industrial accident, an oven blew up during the processing of radioactive waste. While Marcoule is set to be decommissioned by the French Atomic Energy Commision, the blast instilled fear of potential leakage for hours afterward.
However, after it was confirmed that there was no leak, the issue was soon resolved. And yet, said the report, the political and ethical aftermath is only just setting in: long-term solutions to dealing with nuclear waste must perhaps be reconsidered in what was called a growing generational dilemma.
The ongoing issue can be exemplified by fierce anti-Nuclear protests in France.
In June, thousands of demonstrators in Fessenheim, France demanded the closing of the country's oldest nuclear plant, and formed a human chain outside of the facility. Meanwhile, the government continues to contemplate whether to extend its life by ten more years.
Moreover, the Fessenheim protest was located near the border of Germany, a country that is altogether abandoning nuclear energy in the wake of the events in Japan. As such, reported Common Dreams, the event created tension for France, which continuously relies on and defends its 58 nuclear reactors, which are essentially the bread and butter of the country's energy sustenance.
Protesters also felt that the site could be exposed to, and damaged by, seismic activity and flooding.
A month after the protest, an explosion prior to Marcoule's occurred at the Tricastin nuclear power plant in Drome, reported the Guardian. In this instance, an electric transformer in the non-nuclear part of the plant malfunctioned. There was however, no environmental damage, as a result.
And yet, a 2007 report by France's nuclear safety authority confirmed that "the site must make improvements in management and training," and suggested that the plant's procedure for dealing with fires was substandard. A year after this report, a uranium leak at one of the plant's reactors contaminated local rivers.
As of now, about 74 percent of France's energy comes from nuclear sources, the Guardian noted.
Particularly after the country's fracking ban, it would seem unlikely that France could heavily rely on any other energy source at this point in time.
Kash Burchett, a European energy analyst, said in a report by Reuters, "The loss of nuclear power would increase energy costs substantially for households and businesses alike."
As such, noted Green Beat, French president Nicolas Sarkozy declared that the country will devote $1.4 billion to the research and development of nuclear power. However, France will also commit over $1 billion to renewable energy products.
Nuclear safety concerns after the Fukushima tragedy have been agitated by the recent Marcoule mishap, and in an era where the idea of nuclear disaster is a hot button on peoples' minds, anti-nuke protests may draw greater attention and analysis in the coming period.
Photo: kmaschke/Wikipedia.