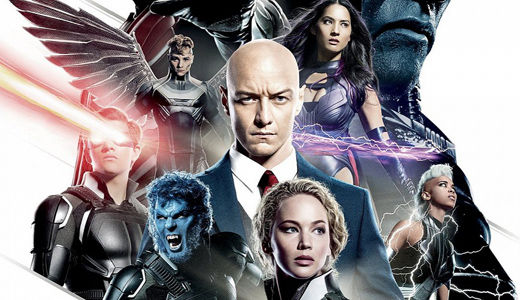 X-Men: Age of Apocalypse was released nationwide May 27. The third film of the most recent X-Men franchise boasts a cast of A-list actors such as James McAvoy, (Wanted, Chronicles of Narnia) Michael Fassbender, (Steve Jobs, 12 Years a Slave) and Jennifer Lawrence (The Hunger Games Trilogy). The newest addition of fresh faces also includes names like Sophie Turner (Game of Thrones) as the fiery Jean Grey, Tye Sheridan as Scott Summers, and Alexandra Shipp as Ororo Munroe, also known as Storm. The incoming generation of new X-Men added a delightful twist in what may have otherwise been the weakest link in the newest set of films.
The beginning of the movie is mostly devoted to setting up the foundation for conflict between Apocalypse, his four followers "the horsemen," and the X-men. The audience catches a glimpse into the background of newly introduced characters, such as Storm and Nightcrawler. Director Bryan Singer does his best at squeezing in what he can into a limited time frame, though it falls somewhat short for leading characters, such as Storm, who not only have rich detailed back stories, but also eventually become prevalent leaders in the X-Men. Punk rock 80's Ororo does, however, knock the socks off of previously-cast Halle Berry – who struggled for years to fulfill comic nerd expectations. Shipp, who recently starred in Straight Outta Compton, gives a refreshingly edgy portrayal of Storm, as a misguided but ultimately morally-inclined character.
The movie relies heavily on special effects and visuals, displaying the usual series of superhuman abilities, although nothing quite stands out the way that it did in the first or second film. There was no climactic moment where Magneto lifts an entire stadium, or wrenching instant where Professor X stops an entire fleet of missiles; rather, there is a short burst of individual fight scenes. The film teases the audience with hints of impending battles, as when Jean momentarily transforms into a bird-shaped burst of flames, and the rumored setup for the Dark Phoenix film. Even the ending sequence hints towards an upcoming appearance of X-men archrival, Mr. Sinister. Still, these moments sometimes fall flat without the time or capability to flesh out the story lines.
It was Evan Peters (American Horror Story) who unquestionably steals the show with his witty demeanor and daunting charisma. Peters revives his role as Quicksilver, Magneto's illegitimate child and fellow mutant. He is not only the much needed comic-relief, but also provides the best scene in the movie, in which he rescues all students at Professor X's School for Gifted Youngsters from an explosion. His super-speed abilities allow him to casually gather up all the mutants and relocate them to safety, while making time to down a soda. His chemistry and overall presence on screen work well with other new characters, like Kodi Smit-McPhee who plays lovable outcast Nightcrawler.
Age of Apocalypse also featured a diverse range of characters such as Jubilee, played by Lana Condor, Olivia Munn as Psylocke, and Latino Golden Globe award winning actor Oscar Isaac as Apocalypse. With recent controversy surrounding the whitewashing of ethnic characters it seems that Singer made a conscientious effort to acquire an group of talented young actors, while sticking to the authentic comic-book backgrounds of various characters.
While Age of Apocalypse can be entertaining at times, and the cinematography is rewarding on the big screen, it lacks a central story arc. The writing suffers from having to introduce so many new characters in such a short period of time. One can only hope that this was an attempt to lay the foundation for a more thorough follow up. Needless to say, Singer will have more opportunities to revive some of the key elements that made his previous X-Men films so successful.
Director: Bryan Singer
Writers: Simon Kinberg (screenplay), Bryan Singer (story)
Stars: James McAvoy, Michael Fassbender, Jennifer Lawrence
Rated PG-13, 2 hours 23 minutes.