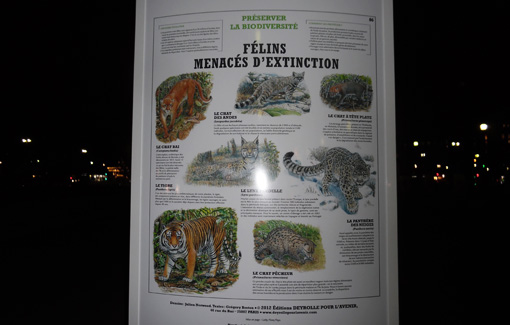 PARIS – We're just two days into the 2015 UN Climate Change Conference (COP 21), and the environmental spirit in Paris is catching like – well, not wildfire, which is part of the problem – but the movement here is certainly catching! And since I've been here, I've found that concerns about our changing climate extend far beyond the conference itself.
The other day, I spoke with a woman at a bus stop; it was a conversation that began ordinarily enough, until it came up that I was here on behalf of the People's World, covering COP 21. She spoke about her feelings on the environment – basically, that we're not doing enough to save it. She talked about how France had its own ecological problems, including pollution, and said that the country must acknowledge these issues and be open and honest. Then she segued into matters of labor, saying that she was desperately looking for a job. The reason? To visit her family in the Caribbean Islands, whom she hasn't seen in years.
This chance encounter proved to be another example of real people facing real problems, and if the speakers at COP 21 hadn't driven the point home yet, everyday Parisians certainly did: that environmental, economic, and labor problems go hand in hand. You cannot try and repair any one of the issues if you're going to leave the others broken. Both pollution and unemployment seemed to weigh equally on this woman's mind. Though she hails from the Caribbean island of Martinique, she viewed Paris as her home and she wanted to see it taken care of.
Indeed, environmental matters seem to be on the tip of everyone's tongue here, out in the streets via signs and posters and in the details you might miss if you're not paying attention. The hotel I'm staying in, for example, the Mercure Montmartre Sacre Coeur, tells me that "here, your towels plant trees." That info is written on a little card in the bathroom, which encourages guests to reuse their towels for more than one night. In return, 50 percent of what the hotel saves on laundry will be used to fund reforestation projects. The initiative is called Plant for the Planet, and has Mercure partnering with Planet 21, which was named after Agenda 21, the action plan adopted at the 1992 Earth Summit in Rio de Janeiro.
It must be hard being in Paris right now if you're a right-wing climate denier, because it's simply not possible in the City of Lights to get away from the hard truth about global warming and the worldwide movement that has sprung up in its wake. At night, the Eiffel Tower lights up with a green hue, words projected onto it beneath spiraling spotlights; words like "earth," "trees," and "climate" cascading across the famous structure in rapid succession.
On the streets, large billboards at bus stops and near the Seine River talk about science, food, health, and conservation. "Préserver La Biodiversité" (Preserve Biodiversity) reads one, showing pictures of different fruits and vegetables. "Félins Ménaces D'Extinction," says another, and it shows drawings of various wildcats – tigers, lynxes, panthers – that are losing vital habitat and are certainly at risk of going extinct due to human interference.
Saving the planet is big in Paris, and that's a big deal. I hope that I have given you, People's World reader, a little taste of what it's like to be an environmental reporter in the capital of France, in the midst of what could be the most important and decisive climate conference of all time.
Photo: Blake Deppe/PW