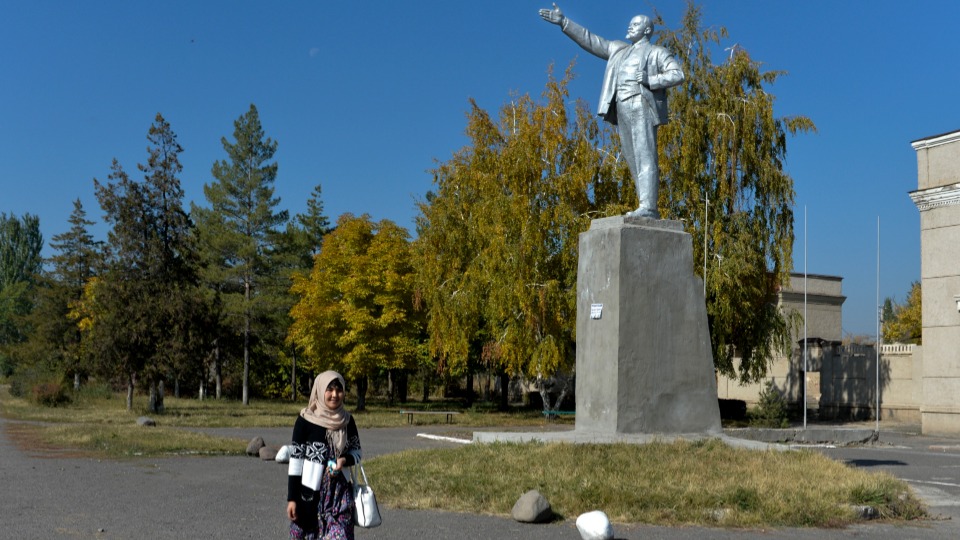 Published to celebrate the 150th anniversary of Lenin's birth and conceived in the former Soviet republic of Kyrgyzstan, Lenin 150 (Samizdat) is an outstanding collection of essays, poems, and photos.
Lively, thought-provoking, and informative, its roots are in the ideas of a group of young communists living and working in Kyrgyzstan, a country which has retained many of its Soviet-era buildings, statues, and monuments, with Johann Salazar's excellent photography providing a fitting complement to the text.
Joffre Eichhorn's introduction not only sets the scene but concludes with a fitting call to arms, while Alain Badiou's characteristically gentle and philosophical essay shows how central Lenin has become to our understanding of what we mean by politics.
Elvira Borquez reminds us that Lenin's thought does not always tally with certain forms of "Leninism" and warns against reducing his political outlook to the one-dimensional catechism-like approach that so often tainted the Soviet era.
Vijay Prasad's essay, well-crafted and succinct, is a no-holds-barred defense of Lenin's work as central to the communist project, and Vashna Jagarnath relates his political analysis to present-day neoliberalism and the impact of coronavirus.
Wang Hui's contribution serves as a timely rebuttal to those who argue that the Communist Party of China has turned its back on the continued development of Marxist thought and practice.
Likewise, Atilio Boron's contribution is grounded in politics largely drawn from the experience of communists struggling in Latin America, particularly with reference to Cuba.
Employing a deeply autobiographical perspective Owen Hatherley—who many readers will know from his fascinating and now voluminous work on socialist architecture—looks at Lenin from the vantage point of his communist grandparents, while Georgy Mamedov and Mohira Suyarkkulova use personal experience and travel in Soviet Central Asia to discuss questions of identity, gender, and nationality.
An original slant is provided by Jodi Dean, who explores what she describes as the importance of desire to revolutionary politics.
Not all of the essays are of the same quality. Kicking off the collection with a piece from Trotsky was a bit off-putting, to say the least, but the essay really does demonstrate why the arrogant and know-it-all's nickname was "The Pen."
Many seem to enjoy Slavoj Zizek's wordy approach as playful, witty, and original, while others, myself included, find his writing irritating and pretentious. His essay here, Which Lenin? is a case in point.
This book is a fantastically eclectic mix, yet the sheer quality of most of the writing enables a breadth of vision that's a fitting tribute to someone who not only understood the world but was able to change it as well.
Copies available from Daraja Press, darajapress.com.