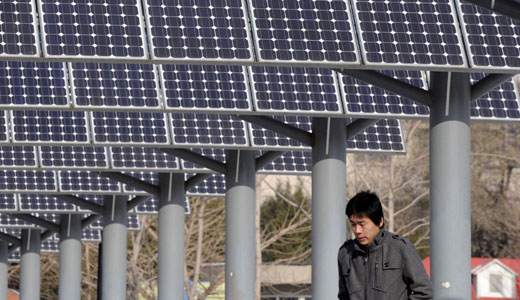 Shenyang, a city in northeastern China – population 8 million – was once heavily polluted by blankets of soot and smog. Now, reports Environmental News Network, it is transforming itself into a growing center for green technology.
The city's major turnaround included a massive shift away from heavy industry by 2010. Green areas and technology saw a large increase between 2005 and 2007, said the report, and residential buildings began, on a large scale, using natural gas for heat, and abandoning coal.
Residential streets and neighborhoods are lined with gingko trees, stricter environmental policies are being implemented, and the city's old factories have been replaced with new facilities, which utilize desulfurization equipment.
The Guardian reported in Nov., 2010, that Urban China Initiative, an environmental think-tank, measured sustainability for 112 Chinese cities by analyzing things like air pollution, waste recycling, and mass transit, for the years 2004 through 2008. They declared Shenyang to be one of the leading cities in steady environmental and economic improvement.
UCI was co-founded by McKinsey & Co., Columbia University, and Beijing's Tsinghua University.
Notably, all of China appears to be making an effort on environmental progress and clean energy jobs, and has recently been making considerable headway in this area.
He Xin, who was born in 1974 and grew up in Shenyang, recalled a time when the city was far from green; in fact, it once was more along the lines of 'grey.'
Xin spoke with the Guardian about his daily childhood encounters with the heavy pollution that once plagued the area. "If I wore a white shirt to school," he said, "by the end of the day it would be brown, and there would be a black ring of soot under the collar."
Famed for its industrial qualities (Shenyang was home to some of China's largest iron and steel plants, as well as chemical and paper plants), Xin remembers vividly his view of the plants over the top of a building: "All I would see was a forest of large smokestacks, chimneys, and dark, billowing smoke," he recalled.
Shenyang's industrial elements date back to the days of Mao Tse Tung, at which time the city was the exemplar for industrial might and success. However, by the 90s, the city had hit an economic wall when factories went bankrupt, resulting in a considerable rise in unemployment.
Frequently, economic concerns in China have been quite strong – enough so as to sometimes push aside environmental issues when there is a profit to be made. However, in response to growing unemployment levels, supporters of economic progress have agreed that it is time for Shenyang to go green. It was under the leadership of Li Chao, Shenyang's environmental protection bureau chief, that the city went from pollution to progress.
According to China.org, Mike Abdu, an Arab-Australian, came to Shenyang to receive ear treatment, and prepared himself for an unhealthy environment beforehand. But he was pleasantly surprised. "I did some homework before I left for China," he said, noting that he brought a dozen cotton masks along with him. "From the Internet, I learned that Shenyang was China's heavy industry base and that its environment is not good – especially its air. But it seems that either they made a mistake, or I came to the wrong place."
The truth, in fact, is that the new stress on the environment in Shenyang, a city that once burned 11 million tons of coal per year, is apparently working.
Xin is now the vice president of BioHaven, an environmental consultancy, dividing his time between Shenyang, Beijing, and St. Louis. He remarked that Shenyang today looks nearly unrecognizable from his childhood memories of it.
"The only thing that is the same is the statue of Chairman Mao," Xin mused, referring to the bronze figure of Mao Zedong (one of the largest of its kind), located in the city's People's Park.
As for Shenyang's cleanliness, said Xin, "It's not perfect, but the air is cleaner."
Meanwhile, Xing Kai, vice mayor of Shenyang's municipal government, indicated that Shenyang's dreams of green are far from over. He remarked, "Our aim is to build Shenyang into one of the most beautiful garden cities in northeastern China."
Photo A solar panels power station in Shenyang. AP