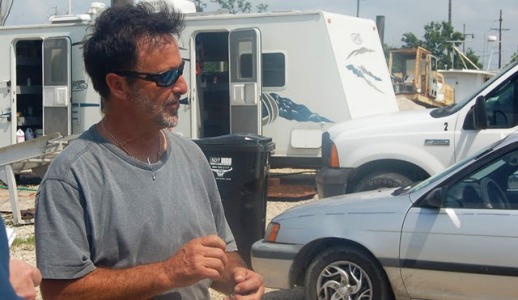 YCLOSKEY, La. – Brad Robin has been an oyster fisherman all his life, like four of his six brothers and his 84-year-old father. Shaking his head and speaking softly, he said the family business is in trouble as the BP oil spill spreads closer every day to the Louisiana shores and the marshlands that make up the southernmost part of this state.
Speaking to People's World reporters on a stretch of docks in the Bayou here he said, "I just had to lay off the 50 workers you would be seeing all over the place here and out on these waters. The trailers I have over there should be rented out for the season. They are empty now." A few yards away there was a stack of crab traps that, he said, "should be out there in the water now."
A short distance from Robin's stretch of docks the Small Business Administration has set up a trailer advertising loans for people like him who are in trouble.
"Loans and credit don't do much good when you don't have income to pay the bills you have now," he said, "and I don't have much faith in oil companies making good on their damages."
"Twenty years after Exxon Valdez, they still haven't paid up the damages they owed,"
Robin said. He explained why the problems he faces now are worse than the ones he had after Katrina.
"We are a small business. We catch our own product and we deliver it ourselves. The hurricane wiped us out totally and we had to start all over. It took us more than a year to get back up but we did it because this is our lives.
"We are not just fishermen. We are farmers of the sea. It takes a long time to grow our product in that sea. You treat the waters with love, care and respect. We seed and nurture those oyster beds and the reefs they eventually come to thrive on. It's nature and man working together. It's not just someone tearing resources out of the sea. We've worked together with nature this way for generations."
Robin's voice grew weaker as he said, "This oil spill could end all of this in a way no hurricane ever could. We can adjust to a hurricane. How do you adjust to a situation where the life forms in the sea can't reproduce?"
The dockside seafood industry in the Bayou is a $3 billion a year business, Robin said. "What in the world will happen to all of us down here," he asked.
At a bar in Chalmette we caught up with Doogie Robbin, Brad's weathered 84-year-old father and "dean" of the Bayou oystermen. "It's good you talked with Brad," he said, as he put his half full beer down on the bar, "but if you really want to know what's what, I'm the one to talk to."
Doogie turned his stool and looked squarely into our faces. "What should have been done a long time ago is that they should have built a massive new levy system around this entire area. Any fisherman here could tell you that. It started with the WPA in the 1930s when they built the levies on Lake Pontchartrain and it should have been continued a long time ago. This is what the government should be doing."
"Katrina wouldn't have been so deadly. They should have listened to us all the years we've been saying this. And even now, with the oil spill, things might not be as bad."
"Wouldn't that be too expensive?," he was asked. "They've wasted more than that in giveaways to crooks even just from the hurricane until now," he said. "A big WPA deal would create so many jobs here that we wouldn't be able to count them. Things could be done that I never even dreamed of."
Photo: Brad Robin (Blake Deppe/PW)