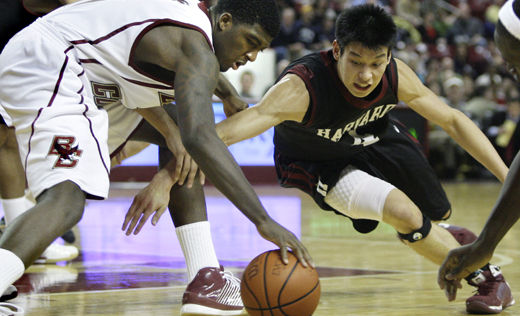 After the whole free agency drama and its ups and downs, here is some news basketball fans can smile about and look forward to.
The first Asian American player is entering the NBA this season.
Jeremy Lin will be the first Asian American to enter the league since 1947. He signed in his hometown of Palo Alto, Calif., where he played high school ball. He will now be playing for the Golden State Warriors.
One other Asian American played professional basketball. In 1947, Wat Misaka, a Japanese American, became the first non-white player in what was then known as the Basketball Association of America. The league merged with the National Basketball League in 1949 forming the National Basketball Association.
Lin's parents are immigrants from Taiwan.
Here are some brief statistics of Lin's basketball career. In 2006 was captain of his high school's basketball team and led them to the CIF Division 2 state title. According to sources, he was the runaway for player of the year by every California publication. He was named first team All-State and Northern California Division II Player of the Year. He finished his senior year of high school with an average of 15.1 points, 7.1 assists, 6.2 rebounds, and 5.0 steals.
He also excelled in his college career at Harvard University. In his 2007-08 sophomore season, Lin averaged 12.6 points and was named All-Ivy Second Team.
Junior year he was the only NCAA Division 1 basketball men's basketball player to rank in the top 10 for scoring, rebounding, assists, steals, blocks, 3-point shooting, field goal percentage and free throw percentage. He was also selected for All-Ivy First Team.
In his senior year he also put up great numbers and once again made All-Ivy First Team. Lin was also invited to the Portsmouth Invitational Tournament. He also gained attention among people when he put up a career-tying 30 points against the 12th ranked Connecticut Huskies.
Lin is only the fourth Harvard graduate to enter the NBA.
Even with the great honor that comes with these accomplishments, Lin doesn't want to be labeled. He just wants to be known as a basketball player. When he played for Palo Alto High School he was usually the only Asian on the court.
Even in college he was part of a 0.5 percentile of Asian American players in Division 1 basketball.
"I'm aware of all that but I'm just going to be focused on playing basketball. I'm a basketball player. Everyone wants to focus on me being Asian American but me being a basketball player, me being Christian, is more important to me than just being simply Asian American," he told the Washington Post.
"I've seen a lot of teams come through here, and he could play for any of them, he's got great, great composure on the court. He knows how to play," said Hall of Famer Jim Calhoun to ESPN.
Photo: Harvard's Jeremy Lin, right, dives for the ball as Boston College's Corey Raji tries to control it during the second half of an NCAA basketball game in Boston, Dec. 9, 2009. Harvard won 74-67. (Elise Amendola/AP)