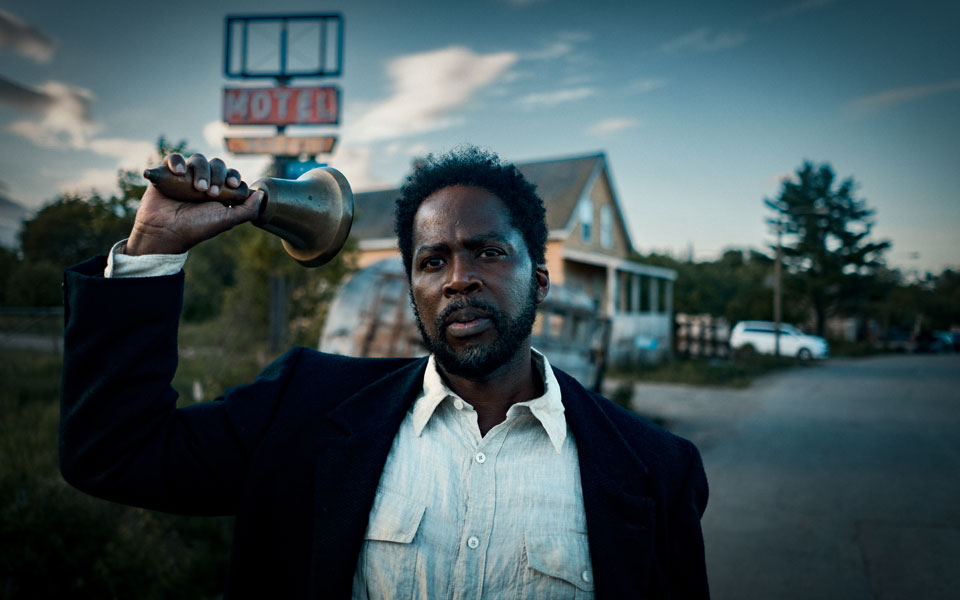 The residents in a small nowhere town on the new television series From are not doing okay. These ordinary people are living through a mysterious extraordinary nightmare where they can't leave the place they now inhabit, and have no idea why or how they even arrived. It's a frightful series with an engrossing mystery. It also feels like a near perfect horror allegory of what happens when a society is in peril and the people are left to attempt some form of normalcy in dire circumstances. For that reason, From is a somewhat surreal story that feels very much in line with our current reality.
From is a science-fiction horror series created and written by John Griffin and executive produced by Anthony and Joseph Russo. The Russo brothers are no strangers to stories that involve a group of people ending up somewhere and having no knowledge of how to escape, as they are the creators of the once popular series Lost. From has a similar setup, but the horror is more overt, and the characters are a bit more relatable. The series tells the story of a number of people from all walks of life who find themselves in a town that they can't leave. When people come into the town, by way of a detour dealing with a fallen tree and some menacing crows, no matter how far they walk or drive out of the town they end up right back there. To make matters worse, when night falls there are terrifying nocturnal creatures that hunt down, kill, and devour the townsfolk. Basically, instead of home sweet home, it's home sweet nightmare.
What makes the series interesting is the emphasis on focusing on the individuals who find themselves in this situation. These characters are in a hellish purgatory with the wrappings of middle-American bliss. Some have chosen to continue finding a way to escape the town while maintaining some sense of order as if they were in regular society. This means having law, authority, religious services, living in single-family homes, and the like. Another group in the town, though, has chosen a more bohemian, free-love, "live only for today" approach as they have given up on trying to "fix" their situation. This makes for an interesting cast of characters with a wide array of philosophies on life and purpose.
Within this ensemble, there are a number of standout performances. Harold Perrineau as Sheriff Boyd Stevens, Shaun Majumder as Father Khatri, and Elizabeth Saunders as Donna are the top three. Perrineau, a Lost alumnus, shines as township leader Boyd Stevens. His character is a hero who never signed up for the job and is feeling every bit of the pressure of trying to maintain order in a situation that feels beyond reason. Perrineau's performance shines bright in this leading role, and he will no doubt be the character that most viewers root for.
Majumder plays the no-nonsense priest, Father Khatri, who has scenes with Perrineau's Boyd as they clash over faith and duty. Saunders plays the strong matriarch of the "live for today" Colony House, that will no doubt elicit strong feelings from viewers of either being on her character's side or against her. Strong feelings about characters are good; indifference is what you don't want to feel about them. This can't be said for all the characters in the show.
There are moments when air-time is given to less riveting characters as you wait for the more dynamic ones to reappear. Fortunately, this doesn't happen a lot, but often enough to be noticed. Hopefully, as the series progresses, the show will find its footing on which characters keep the show lively, and which bring it to a halt.
Aside from the interesting human fabric of the show is the plot itself. What exactly has brought the townsfolk to this place that looks to be stuck in the 1950s? What are those nocturnal ravenous creatures who look like humans one moment then turn into vampire-like beasts the next? With each new episode, more details are revealed, along with more questions. If you enjoy a good mystery then this show deserves a look.
And like most entertainment, there are themes to be taken in from the program. The characters in From are dealing with a deadly situation, but the danger isn't always in their faces. In the daytime, their town comes off like a quaint place, which can lull them into a sense of security. But they aren't secure, and every time night falls they are reminded of this. The people are also not completely united on what to do in such a situation. Some want to face it head on and have chosen to take care of one another as they look for a solution, while others are choosing to live for themselves and just for the immediate "today." It's not hard to see the similarities in our own reality in the midst of a global pandemic and environmental upheaval.
In the show a number of newer arrivals in town continuously ask those who have been there longer, "How are you OK with this?" or "How are you acting normal in a time like this?" Often the answers to those questions are along the lines of trying to find some semblance of normalcy in the chaos so they don't go crazy. Some believe there is a solution, others believe this is just the way things are now. Viewers won't have to search hard for themes like this in the show that will hit close to home. Just like the characters in this fictional show aren't doing okay, one can argue neither are the rest of us given these tumultuous times, but we make do. Thankfully without the nighttime beasts.
Overall I highly recommend the series if you're looking for a mystery show with the human condition at the heart of the plot. Hopefully From stays on its current trajectory and doesn't stray too far from the elements, including the real-world allegory that makes it so compelling.
From is currently streaming on EPIX.