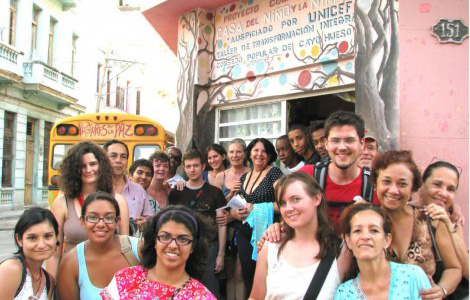 NORWAY, Maine – People in this central Maine town will be giving a July 1 send-off to three Mainers heading off to Cuba next week. Under the auspices of the Maine group Let Cuba Live and Pastors for Peace, they are taking humanitarian supplies donated from Maine and Quebec.
Two days later another send-off will be held July 3 in the coastal town of Brunswick. Honored guests at the event will be Maria Cron from Portland and her two daughters Heather and Crystal. They will be joining others from throughout the United States traveling to Cuba with the Pastors for Peace Friendshipment Caravan. They will be traveling across the U.S. along several routes aboard trucks and buses to be given to Cuba filled with donated aid material.
Celebrations and send-off events are taking place around the country. For a list, see the Pastors for Peace website.
At the Brunswick event, boxes from Maine and Quebec will be loaded on vehicles for delivery to a converted bus that is heading south to a rendezvous in McAllen, Texas, en route to Cuba. The Brunswick-Trinidad Sister City Association has donated medications, bicycle parts, and tools for the Friendshipment.
The three Maine travelers eventually will arrive in Tampico, Mexico, where they will help put the supplies into a Cuban ship and go on to Cuba for a week of educational and solidarity activities.
Let Cuba Live has supported the caravans ever since they began in 1992. In sending donated humanitarian supplies to the island, the national faith-based organization Pastors for Peace, together with caravan participants, protests the U.S. Cuban economic blockade, in effect now for half a century. Those involved see that policy as immoral and illegal. The Friendshipment Caravans, joined each year by well over 100 supporters, travel to Cuba in the tradition of non-violent civil disobedience. "You don't need to ask permission to help out a neighbor," Pastors for Peace founder Rev. Lucius Walker once remarked.
Let Cuba Live of Maine is sponsoring the July 1 and 3 events. Let Cuba Live is a long-term supporter of the Friendshipments, and members of the Maine group have been gathering donated supplies for this year's effort. On July 2 they will travel to northern Vermont to collect aid material that solidarity activists in Quebec are sending to Cuba with the Friendshipment.
Crystal Cron, who recently graduated from Suffolk University in Boston, says she is also going to Cuba in part to learn about possibly studying at the Latin American School of Medicine in Havana. Presently 125 U.S. students are receiving a free medical education there. Every year, 1,500 new doctors from over 30 countries graduate from the school, established in 1998.
Tom Whitney, local organizer for Let Cuba Live, says the Friday, July 1, event at Christ Church in Norway, Me., is a good way to usher in the holiday weekend. Those on hand for the 6 p.m. celebration will be served a Cuban/Peruvian meal and, significantly, says Whitney, Maria Cron's highly acclaimed flan. A program will follow of music, brief remarks, and a showing of the remarkable Cuban film "People to People." That film documents the work of Pastors for Peace and the history of the Friendshipments.
The Sunday, July 3, Brunswick send-off is set for 2-4 p.m. at the "Gazebo" on Maine Street. Organizers says the gathering will feature music, a short program, refreshments and enthusiasm.
At both events there will be an opportunity to make donations to help with the travelers' expenses and costs of sending aid material.
For information about Pastors for Peace and the Caravans, go to www.pastorsforpeace.org. For more information about the Maine events or Let Cuba Live, call (207) 443-2899.
Photo: Participants in a previous Friendshipment Caravan mingle with Cubans in Havana. IFCO/Pastors for Peace