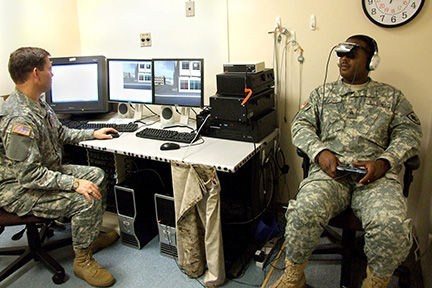 Early Tuesday morning, December 1st, Jefferson County sheriffs' deputies discovered the bodies of two Ft Drum soldiers, Spec. Waide T James, 20, of Cocoa, FL and Spec. Diego Valbuena, 23, of Port St Lucie, FL in an apartment complex in Evans Mills, N Y, adjacent to Ft Drum. They had been stabbed to death sometime earlier and the police had responded to reports that the two had failed to report for duty on the base.
Both victims were motor transport operators with the Headquarters Battalion of the 10th Mountain Division. Both had served combat tours in Iraq and had graduated in September from Ft Drum's Warrior Leadership Course. Valbuena had emigrated from Columbia and joined the Army in August 2007.
According to the Associated Press, the Scioto County Sheriff's Office in Ohio, acting on a tip, arrested another Ft Drum soldier, Joshua Hunter, 20 (rank unknown) in a hotel in Wheelersburg, OH. They were acting on a warrant which charged Hunter with two counts of second degree murder. According to Hunter's father, his son had served a 15 month combat tour in Iraq, returning home in August. New York officials are expected to ask Hunter to waive extradition so that he can be returned to Watertown to face criminal charges. At the present time, it appears that he will tried by a civilian court, rather than at courts-martial.
Tod Ensign, legal director for Citizen Soldier, a GI/veterans rights advocacy group based in New York City, commented; "We don't know yet whether the alleged murders were in any way related to combat-induced post traumatic stress disorder or depression. However, we know that the Rand Report estimated that one in five returning Iraq war vets are suffering from some degree of these disorders. We stand ready to assist defense counsel if he or she concludes that mental illness could have been a factor in this tragedy."
We are also sending a request to the Ft Drum base commander, asking that he order an AR 15-6 investigation of this latest massacre," Ensign concluded.
Last May 11, Sgt John M. Russell, who was serving his third combat tour, had a mental breakdown at Camp Liberty, Iraq and killed five other soldiers at the base. According to the Army Times, an 325 page Army AR 15-6 investigation released on October 11th found, " that his unit was ill equipped to handle his situation, lacking the proper standards and procedures to deal with a troubled soldier."
Photo: http://www.flickr.com/photos/soldiersmediacenter/ / CC BY 2.0
Army Col. Michael J. Roy, left, who oversees the exposure therapy at Walter Reed Army Medical Center, conducts a demonstration of a life-like simulator that represents a new form of Post Traumatic Stress Disorder treatment.