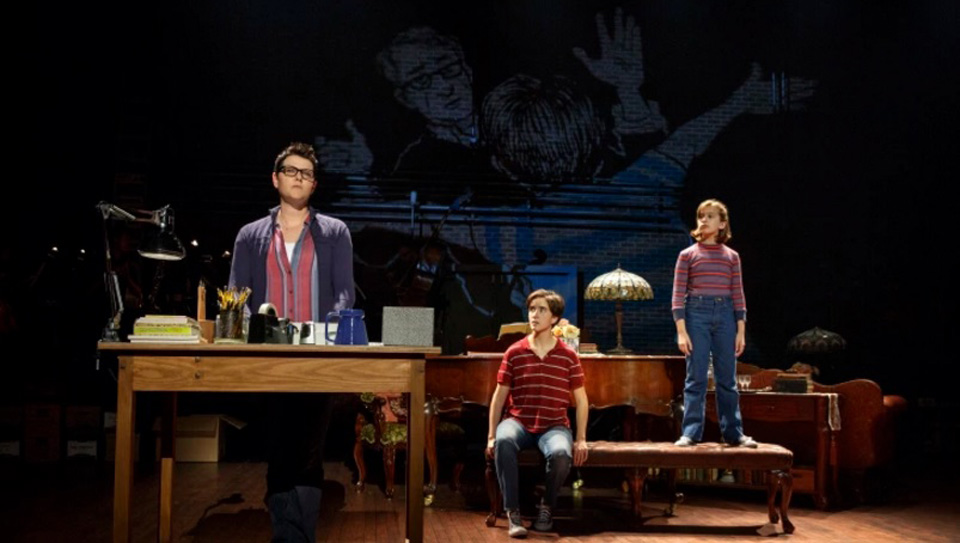 LOS ANGELES—Leaving the theatre, my companion, knowing I'd be writing a review for People's World, summed it up: "You know what the moral is? Down with the bourgeois family!"
Ha! Yes, I reminded him, in the early days of the gay liberation movement, we used to march on Gay Pride Day yelling, "2 – 4 – 6 – 8, down with family, church and state!" Yet, I asked, is the bourgeois family so static? Does it still require that amount of authoritarianism, dysfunctionality and toxicity?
He may have nailed it for the late 1970s, but the impact of the LGBTQ and the women's movements has, I believe, changed America — and its families — forever. There will be no going back to patriarchy even if at the moment our progress toward egalitarianism appears to have suffered a temporary setback. As all those viral videos that encourage young queer kids to hang on say, "It gets better."
Just in recent times, as one by one, states embraced marriage equality, attempted suicide rates among teenagers in those states dropped 14 percent below the rate in heterosexual-only marriage states. I hope lots of young people see Fun Home here in L.A. and on tour.
Fortunately, Alison Bechdel, born in 1960, went to college at a propitious time and found a gay space. She carved out a career for herself with the long-running comic strip Dykes to Watch Out For, which was syndicated in the newly flourishing queer press of the 1980s and '90s. She achieved critical and commercial success in 2006 with the graphic childhood memoir Fun Home: A Family Tragicomic, which became required reading for anyone who may have grown up in a family with secrets. A decade later it became a Tony Award-winning musical, with a score by Jeanine Tesori, book and lyrics by Lisa Kron. Sam Gold directs, and Danny Mefford choreographs the national touring production now gracing the most prestigious theatrical venue in Los Angeles, the Ahmanson Theatre at downtown's Music Center. It has gotten better indeed!
After earlier productions on smaller stage, including the New York Public Theatre, Fun Home played for a year and a half on Broadway, making history as the first show on the Great White Way to feature a lesbian protagonist—three, in fact, if you count the adult Alison, the cartoon artist (Kate Shindle), the Medium Alison of college age (Abby Corrigan), and Small Alison (Alessandra Baldacchino), a child with tendencies enlightened families today might identify as queer, who all play aspects and periods of the central character's life. (Named performers appear in the touring production.)
The time frame of the musical did not offer such a felicitous outcome for Alison's dad, Bruce (Robert Petkoff), high school English teacher, funeral home director in his small Pennsylvania town, fanatical home restorationist, and closet homosexual who gets into trouble with the law over his affairs with young men below the age of consent. For him, life did not get better, but rather much more troubled.
If Alison Bechdel wrote Fun Home to understand her earlier self with maturity and honesty, she also sought to figure out some of the confusing family dynamics in her household—and in the end, her father's suicide. Bruce simply did not have the resources available to him, especially as a professional man with a wife and three children in a small community, to cope with his sexuality.
Alison recalls an early "airplane" game she played with her dad: She would balance on his knees, spread her arms out and pretend to soar above the landscape, taking in all of Pennsylvania. It's a graphic representation of the flying dreams that probably most people have had at least a few times in their lives.
The game becomes a metaphor for the adult Alison "flying" over her chaotic past, taking in a bird's eye view of her family and life, in a way that any memoirist, and also storytellers and historians can relate to.
This poignant coming of age story takes place simultaneously in real time and in adult memory as Alison sees her parents and early home life now through grown-up eyes. Bruce anticipates this process when he's polishing an old silver coffee pot: "I love how tarnish melts away opening up to luster." He is speaking of the magic he performs redecorating an old house; but such lustrous renewal is denied to the actual people in the family.
Fun Home traces the progress and emergence of a creative talent. In one scene her father shames 10-year-old Alison for making her drawings too complicated, but she is already thinking in comic-book patterning on the page which will become her forte as a mature artist. Kron's book similarly takes a patchwork, nonlinear approach to the story.
Composer Jeanine Tesori, whose Caroline, or Change, a civil rights-themed musical with Tony Kushner impressed me a few years back, here employs a seven-piece orchestra that sounds fuller because several of the performers play more than one instrument. The 100-minute score is intermittent, accompanying the songs, of course, and also underscoring spoken passages. There's a prominent role for woodwinds, perhaps meant to emphasize the wood framework of these Victorian-era homes that Bruce enjoys rehabilitating. Almost never do the singers simply stand and belt out their numbers as in old-fashioned musicals: The songs edge in slowly, almost conversationally, like free association, and disappear into the next scene. Two or three times specific set pieces got hearty applause.
Among the musical highlights are "Come to the Fun Home," an upbeat trio of the three children—Small Alison plus her brother Christian (Pierson Salvador) and John (Lennon Nate Hammond)—playing in and around an empty casket at the funeral home; "Ring of Keys," in which Alison and Small Alison recall the vision of a particularly butch delivery woman whose swagger, short haircut, dungarees, lace-up shoes and jangling keys looked so beautiful—no, handsome!—to the naïve preadolescent; the mother Helen's (Susan Moniz) "Days and Days," an angry Sondheimian reflection on years of a dreary, unfulfilled marriage; Bruce's "Edges of the World," detailing his final mental breakdown; and the finale, "Flying Away," a trio of the three Alisons coming to terms with their history that in its nostalgic glance past and confident look forward made me think of the glorious final trio of female voices in Strauss's Der Rosenkavalier.
Tesori is easily the most prominent woman composer for Broadway today, and she shows a fine understanding of the human voice. And in Fun Home there is a great deal of challenging music for the three child performers.
The cast also includes Karen Eilbacher as Joan, Alison's first love, and Robert Hager in several smaller roles for young males.
The opening night audience, a mix of season subscribers and a large colorful crowd of young LGBTQ folk who came to see their story on stage, gave Fun Home a warm standing ovation.
The national tour continues in April in Des Moines, Pittsburgh and Washington, D.C. Further cities through the end of the year can be checked out here.
Fun Home plays at the Ahmanson Theatre, 135 N. Grand Ave., Los Angeles, through April 1. For tickets and information, please visit CenterTheatreGroup.org or call (213) 972-4400.