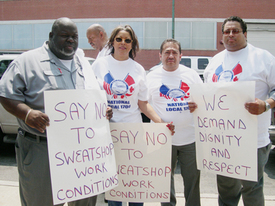 Dozens of Greyhound workers, including a delegation from Memphis, above, rallied outside the Chicago Greyhound terminal June 28 to protest the company's introduction of nonunion uniforms for drivers. The union opposes the lowering of standards of the working people who make the uniforms, said Bruce Hamilton, president of Amalgamated Transit Union National Local 1700.
Cintas Corp., the distributor of the new uniforms, is the focus of an anti-sweatshop campaign. The rally drew supporters from Unite Here, AFSCME, SEIU and Jobs with Justice.
Labor is "sick and tired" of those at the top of big business increasingly exploiting the workers at the bottom, Elwood Flowers Sr., a vice president of the Illinois State AFL-CIO, told the World. "We need to take the country back," he said, urging the crowd to "remember in November."
The group shown above includes Local 1700 Vice President Karen Miller, center, and 11- year driver Robert Gross, left.
(plozano@pww.org)