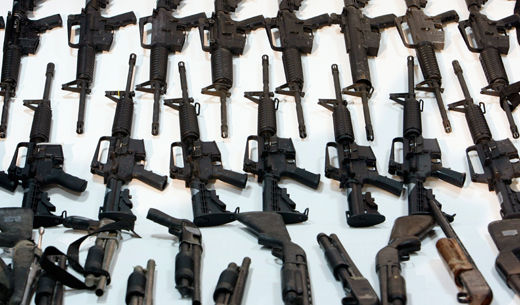 Public opinion on both sides of the U.S.-Mexico border is reacting angrily to a program called "Operation Fast and Furious", through which officials of the U.S. Department of Alcohol, Tobacco, Firearms and Explosives (ATF) deliberately allowed thousands of automatic weapons to be smuggled into Mexico, resulting in the deaths of at least one U.S. Border Patrol Agent and at least 21 Mexican citizens. But Democrats and Republicans in Congress disagree about legislative remedies.
Operation Fast and Furious was conceived of as a mechanism for tracking massive illegal exports of automatic and other weapons from the United States into Mexico. This trade is carried on via straw buyers, who purchase various kinds of automatic weapons in some of the 7,000 legal gun stores on the U.S. side of the 1,900 mile border, and then pass these weapons on to the drug cartels. The drug cartels violent conflicts among themselves and with the Mexican government have led to 41,000 deaths since Mexican President Felipe Calderon declared "war" on the cartels upon coming to power in 2006. Money to buy the guns comes from the tens of billions of dollars which residents of the U.S. spend on illegal drugs every year.
There is no law in the U.S. requiring gun dealers to report multiple purchasers of rifles and automatic weapons, only of pistols. So, the same straw buyer can show up at a given gun shop day after day for a year and walk away each time with one or more automatic weapons, without any report being made to U.S. authorities.
To trace exactly through what connections and pathways these weapons get into the hands of the cartels, ATF's Phoenix, Ariz., office deliberately let the purchases and the exports to Mexico proceed, neither intervening themselves nor even notifying Mexican authorities. As a result, 2,500 dangerous weapons were deliberately allowed to be smuggled into Mexico. But ATF could not keep track of them, so some of them ended up being used by the cartels, resulting in the death of U.S. Border Patrol agent Brian Terry in December of 2010, in Arizona, as well as many Mexican citizens.
After the killing of Terry, the U.S. government quickly shut down "Fast and Furious". Rep. Darrell Issa, R-Calif., Chair of the House Oversight and Government Reform Committee, and Sen., Chuck Grassley, R-Iowa, ranking Republican member of the Senate Judiciary Committee, started a Congressional investigation. On July 4, Issa's committee interviewed ATF acting head Kenneth Melson, who, while denying he knew of the details of "Operation Fast and Furious", also hinted that other U.S. agencies, such as the Federal Bureau of Investigation and the Drug Enforcement Agency (DEA) may have been aware of the program.
President Obama and Attorney General Eric Holder have denounced Operation Fast and Furious and started an internal investigation.
Disagreements have arisen as to how wide the scope of both the investigation and proposed remedial action should be. In particular, Rep. Elijah Cummings, D-Md., the ranking Democrat on Issa's committee, called for a much wider investigation into the degree to which lax U.S. firearms laws are contributing to the increase in violence in Mexico.
A report prepared by Cummings' staff points out that from 2007 to 2009, the homicide rate in Mexico more than doubled, while in the border community of Ciudad Juarez, across the Rio Grande from El Paso, Tex., the rate increased more than ten times, with guns imported form the U.S. involved in many of the killings. Cummings' report calls for new laws to require the reporting of multiple rifle and automatic weapon sales, and stiffer penalties for straw purchasers and illegal firearms traffickers. Issa appears to be opposing broader action out of his committee, which would create friction with the gun lobby.
Most authorities agree that at least 80 percent of the weapons being used in Mexico's drug wars come from the U.S. and approve of the idea of cutting off the cross border sales. However, a huge number of guns are already there, in some cases having got into Mexico via the massive U.S. supply of weapons to the right wing regimes and "Contra" rebels in the Central American wars of the late 1980s and early 1990s. Secondly, Mexican police and army units are riddled with corruption, which probably means that arms are passing into the hands of the Cartels from that source as well. The U.S. sponsored "Merida Initiative", which supposedly helps the Mexican police and military with training, arms and equipment, has to be evaluated in that light.
One new positive sign in Mexico is the formation of a massive new popular movement, headed by noted poet Javier Sicilia. His son was killed near Cuernavaca in March of this year. Large-scale marches have been organized, and Sicilia even managed to get a tense meeting with President Calderon on June 23. The demand of the movement is to back off from Calderon's "war" strategy, which has only escalated the violence, and return to treating narcotics traffic as a social and criminal justice issue.
Photo: Display of guns seized in a raid by Mexican authorities against a drug cartel in the border city of Reynosa in 2008, at that time the largest arsenal seized in Mexico's history. Gregory Bull/AP