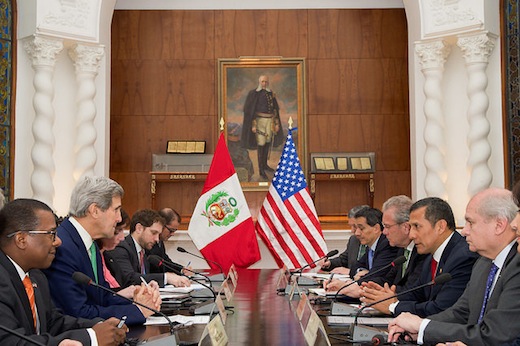 The climate change negotiations in Lima, Peru, went into overtime, with extended session that lasted two days beyond the scheduled adjournment. The entire world is also in overtime, running down the clock before so much carbon pollution and other greenhouse gas emissions are dumped into the atmosphere that it will no longer be possible to avoid climate tipping points that will result in runaway global warming.
One hundred ninety-six nations signed the agreement setting various deadlines, first for nations to submit their own plans for limiting and reducing greenhouse gas emissions, then for the UN to study them to conclude whether or not those plans will be sufficient to keep global warming below the international goal of no more than 2 degree Centigrade. This is all in preparation for the next round of UN-sponsored negotiations in Paris in November 2015. The aim of that meeting will be to agree to an international and binding agreement. While breaking no new ground, US Secretary of State john Kerry did offer, in his speech to the conference, a call for action.
There hasn't been such an agreement since the expiration of the Kyoto accords in 2012. Many meetings since have failed to reach enough consensus on a new treaty, but last month, the agreement between China and the United States, signed for the U.S. by President Obama, provided new hope for the possibility of an international treaty.
In spite of the fact that all the participants agreed to sign the final document in Lima, there are still very sharp disagreements between developed, developing, and small island nations. The developing and poor nations point out that the developed nations are responsible for most of the carbon pollution that has accumulated in the atmosphere, and therefore should commit to the deepest and sharpest reductions. The developed nations point out that right now, the developing nations are experiencing the fastest growth in both industrial development and greenhouse gas emissions, and so must agree to mandatory limits and reductions.
And many small island nations in the Pacific which are in danger of disappearing below the rising ocean levels, and already face serious intrusion of salt water into their water supplies, call for much deeper cuts, for much more financial and technical assistance from the developed world. In Lima, a coalition of such nations proposed a goal of zero carbon emissions by 2050.
As well, the negotiations only address some aspects of climate change. Countries are beginning to jostle over the rights to oil and gas below the newly exposed sections of the Artic Sea, laying claim to vast swaths of previously too remote and too difficult to drill fossil fuel deposits. Since the Artic is experiencing temperature increases much greater than most parts of the world, it is also the site of the greatest melting of ice sheets, the disappearance of wildlife habitat including that of the polar bears, and the eagerness of some countries and corporations to despoil the natural resources that now may be reached due to the melting. It also doesn't address the danger of the frozen tundra across much of the Artic passing a tipping point, with tundra melting and releasing billions of tins of carbon dioxide and methane that has been frozen for thousands of years.
Critics point out that the limits of an international agreement don't address every climate issue, and that even if a serious international agreement is reached that will not be enough to stop the effects of global warming already happening. Prominent critics note that the "differentiated responsibility" aspects of the draft agreement have been watered down, and that many aspects of climate injustice are ignored.
While these negotiations leading up to the Paris COP20 negotiations are proceeding, already some nations in addition to China and the U.S. are announcing their own targets early, and many local efforts to make a difference are beginning to have an impact.
As well, some nations announced pledges of serious money to the Green Climate Fund, which has now reached its goal of $10 billion. While this is nowhere near enough to help small and poor nations mitigate the dangers they face from global warming, it has begun to reach a level to enable real help for some efforts at mitigating the problems already in the climate pipeline.
The climate negotiations are taking place at a time when the global climate movements are stepping up their grassroots activity. The NYC People's Climate March of 400,000, accompanied by solidarity marches and demonstrations of several hundred thousand more activists around the globe, has added much needed street heat to amp up public pressure on the negotiations. In Lima, thousands marched during the meeting.
Many more tens of thousands will demonstrate in Paris in November. Additionally, on February 13-14, 350.org and many other groups are sponsoring a Global Divestment Day, putting pressure on pension funds, public funds, and investors to divest from fossil fuel companies. They offer reasons to join in this protest and reports of activity already going on at many campuses, in many churches, and in some important municipalities.
2014 is on track to be the warmest year yet. As the negotiations kick into higher gear, as the people's movements take to the streets in ever-greater numbers, the science and economics of climate change are becoming ever clearer.
A new study by the National Bureau of Economic Research concludes that if global warming continues, it will cost the U.S. economy tens of billions of dollars per year. The World Bank has warned that extreme weather and temperatures will become the "new normal." The U.S. is facing more and varied impacts.
The years-long drought in California has been linked to climate change. Ocean scientists warn that climate change is increasingly impacting the oceans, the fisheries, sea levels, and water resources. The latest Intergovernmental Panel on Climate Change (IPCC) report declared that climate change is "severe, widespread, and irreversible."
In January, when Republicans take over control of the U.S. Senate, they have already pledged to make EPA regulation of carbon emissions and the Keystone XL pipeline, in spite of the recent Senate rejection a high priority in spite of massive public opposition. Climate change denier Senator Inhofe slated to take the chairmanship of the Senate Environment Committee. So climate change and other environmental issues are guaranteed to play an ever more important role in domestic politics, as President Obama remains committed to continue to make new policy and place a high priority on climate change action.
Photo: U.S. Secretary of State John Kerry and President Ollanta Humala of Peru, joined by their respective advisers, sit across from each other at the outset of a bilateral meeting in the Presidential Palace in Lima, Peru, on Dec. 11, 2014, and after the secretary addressed the 20th session of the Conference of the Parties to the United Nations Framework Convention on Climate Change. (State Department photo/ Public Domain)