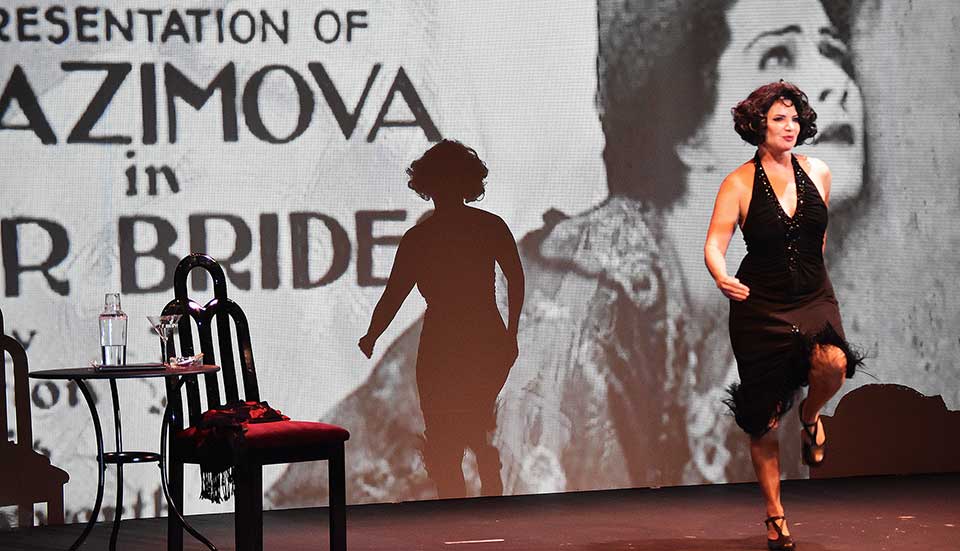 LOS ANGELES — If you are a fan of plays featuring and exploring bravura acting, Hollywood history, LGBTQIA issues, creative stagecraft, feminism, anti-Semitism, one-person shows, illustrator Aubrey Beardsley and more, strap on those running shoes and dash, do not walk, to experience Garden of Alla: The Alla Nazimova Story, which is currently having a limited engagement at Theatre West.
Romy Nordlinger depicts the eponymous legendary stage and screen thespian Alla Nazimova in this one-woman pièce de résistance which the New York actress also wrote. In doing so, a theater and movie myth (and nymph) lives again in an 80-or-so-minute show that imaginatively uses rear screen projections to tell the tale of Alla and her legendary mansion once upon a time precariously perched in Tinseltown.
Film historian David Thompson wrote: "So many critics and observers reported that Nazimova, on stage, brought a startling immediacy to every scene, so that people believed they were beholding real life." Among those theatergoers upon whom Alla bestowed an indelible impression were bards-to-be Eugene O'Neill and Tennessee Williams, whose gushing quotes lauding her are projected onscreen. Nazimova apparently channeled the dictum of her renowned acting mentor, Konstantin Stanislavski (1863-1938), to "be" and not to "act" in her performances, generating a heightened sense of realism. She strove for a form of acting without acting, and throughout Nordlinger's bioplay she quotes the cherished Konstantin: "Love the art in yourself and not yourself in the art."
The Yalta-born Alla Nazimova also hobnobbed with her fellow Russian, Anton Chekhov, and went on to star in his plays, such as The Cherry Orchard. But Alla's past wasn't all a bowl of cherries: Garden details a youth filled with abuse and abandonment, and being Jewish in czarist Russia complicated existence. All this prompted the budding talent to eventually migrate and reinvent herself onstage on New York's Great White Way. There, she falls under the wing of Broadway impresario Lee Shubert, one of the number of real-life figures the multi-talented Nordlinger portrays on the boards during her rollicking one-act, one-woman show. Her Shubert shtik is especially amusing.
Inevitably, Nazimova crosses the continent, goes Hollywood, and works for movie mogul Lewis (father of David O.) Selznick. Her first film, 1916's War Brides, does boffo box office. Alas, as Thompson points out in his The New Biographical Dictionary of Film, prints of it, plus other productions starring her, no longer exist. The actress goes on to earn a phenomenal $13,000 a week, and stars opposite Rudolph Valentino in 1921's Camille. (The quick-witted Alla quips that while the iconic Latin lover was renowned as "a lady killer, it was the ladies who killed Valentino," who died prematurely at the age of 31 in 1926.)
Nazimova uses her skill-gained loot to purchase land and a mansion at Sunset Blvd. and Crescent Heights, which she turns into a haven for the movie colony and the glitterati, devoted to self-indulgent self-expression and fun. Its famed habitués ran the gamut from Charlie Chaplin to F. Scott Fitzgerald, Errol Flynn, Ernest Hemingway, and many more.
Much is made of Nazimova's much-vaunted beauty and sexuality. Eschewing what we today call binary gender "norms," Alla partakes of all sexes, and then some. Her having been a prostitute is alluded to, and it seems that, technically, she was a bigamist, while having a proverbial eye for the ladies as well as the gents. The play suggests that fame and fortune empowered her to live out her childhood trauma larger than life, on and off the stage and screen, and perhaps above all, at her coveted mansion. Her sexually charged 1922 silver screen adaption of Oscar Wilde's Salomé, which she starred in and co-directed, was deemed a scandal, and she became fodder for the gossip columnists.
Director Lorca Peress, video and graphic designer Adam Jesse Burns, plus score and sound designer Nick T. Moore combine to render an impressive, vivid portrait of the title character, which of course is enlivened by Nordlinger's dynamic, captivating presence. (Nordlinger has previously performed Garden Off-Broadway and elsewhere.) The great projections include clips from Nazimova's films, artwork by Beardsley illustrating an edition of Wilde's Salomé, and heaps more. Projections linking the immigrant Alla to the Statue of Liberty are especially touching.
What befell Alla's legendary garden is an allegory for Tinseltown's faded glory and glamour. Considering that documentarians such as Steve James in his new The Compassionate Spy and Errol Morris are using reenactments, it made me wonder if a new form of documentary/biopic could be forged with an actor portraying the main character, incorporated into archival footage, clips, talking heads, and the like.
In less than an hour and a half, this one-actor covers lots of ground. It made this erstwhile film historian want to see Alla's movies that were not shot on silver nitrate stock and still exist. Fortunately, a couple of those films are being screened at Theatre West during this all-too-brief run. But to paraphrase an old rye bread commercial, you don't have to be a film historian to love Garden's real film history, brilliantly and joyously brought back to life. To paraphrase the painter Hieronymous Bosch, this deliciously mounted bioplay is a Garden of earthly—and earthy!—delights for theatergoers. Feel free to wear your favorite period Flapper couture (as many audience members did on opening night) and don't miss it!
Garden of Alla: The Alla Nazimova Story is playing through July 23, Fri. and Sat. at 8:00 p.m., and Sun. at 2:00 p.m. at Theatre West, 3333 Cahuenga Blvd. West, Los Angeles 90068. For more information and tickets see here. Screenings of Nazimova's Salomé (1923) and Camille (1921) follow the performance on Sat., July 15, included in the ticket price (separate admission is $5). A trailer for the play can be viewed here.