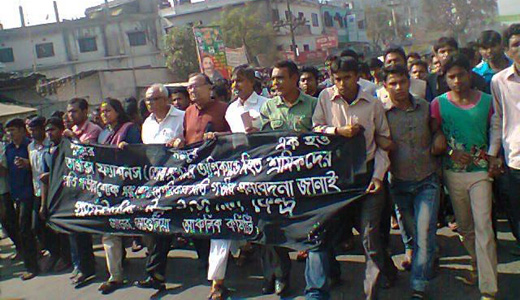 On the same weekend that saw 1,000 actions across the United States supporting Walmart workers and their fight for dignity, at least 112 garment workers in Bangladesh were killed in a factory fire as they reportedly worked overtime for American clothing labels and retailers, including Walmart.
Just outside the capital city of Dhaka, the Tazreen Fashions factory was engulfed in flames Nov. 24. As workers tried to escape, they found exits blocked or locked. Bdnews24 reported interviewing survivors who said the main gate was locked from the outside. The New York Times, quoting a Bangladeshi labor leader, Kalpona Akter, reported the stairs were blocked. "In this factory, there was a pile of fabrics and yarn stored on the ground floor that caught fire. Workers couldn't evacuate through the stairs," said Akter, of the Bangladesh Center for Worker Solidarity.
Labor leaders, inspecting the burned out factory, said Walmart and other American brand labels were found.
On Nov. 26 thousands protested the conditions that led to the workers' deaths. Union leaders called the tragedy "an act of murder," demanding owners – and Western retailers and brands – take responsibility. "These international, Western brands have a lot of responsibility for these fire issues," Akter said.
Bangladesh garment factories, most of them located in the Ashulia Industrial Zone where the fire took place, have been plagued with numerous health and safety problems, including fires and lack of emergency exits. ABC News reported 700 workers have died in fires at Bangladesh garment factories in the last five years.
Bangladesh garment workers, mostly young women, are among the lowest paid in the world and work in grueling conditions. The garment industry is considered key to the Bangladesh economy. It employs 3 million workers who produce $18 billion in exports per year.
Employers there are notoriously anti-union, often working with police and hired thugs to attack labor organizers. Collusion between government officials and factory owners is rampant. The Communist Party of Bangladesh reported police and hired "hooligans" raided and assaulted union leaders during a 2010 garment worker strike, jailing many.
Workers, paid next to nothing, have fought for a minimum wage for the industry, currently at the equivalent of 21 cents an hour. This year 500,000 workers went on strike demanding a 30 percent increase, which would bring the minimum wage to 27 cents an hour.
Anti-labor Walmart has come under pressure to use its influence to improve wages and working conditions in Bangladesh. Walmart sent a warning to Tazreen Fashions last year stating its working conditions were "high risk." Based on the retail giant's "ethical sourcing" program, Tazreen could still receive orders but was to be audited within six months, according to a document posted on Tazreen's parent company website. No other document regarding the results of the audit was on the site.
Bangladesh media reported that the top industry group, Bangladesh Garment Manufacturers and Exporters Association, said Tazreen Fashions was "compliant" and "ultra-modern." The group's president charged the fire could have been a "pre-planned" act of arson "to destabilize the industry." Eerily echoing the owners' words, Bangladesh Prime Minister Sheikh Hasina took to the floor of parliament and also claimed the fire was "pre-planned." Alluding to unknown parties that could be sabotaging Bangladesh's economy, Hasina likened the tragedy to what happened during the country's 1971 Liberation War when warehouses holding the main export, jute, were set ablaze.
Unrelated to the deadly Tazreen fire, two people were arrested on suspicion of arson for a Monday factory fire, which was quickly doused.
Yet, workers are demanding that the owners bear responsibility for the Tazreen deaths. Demonstrators carried banners that read in part: "It is not an accident, but a case of murder. Resist the transforming of garment factories into Death Traps."
Communist Party of Bangladesh chief Mujahidul Islam Selim said the fire was not a simple accident, but a case of murder due to negligence.
"Such fires have killed hundreds earlier, but no steps were taken to prevent their further occurrence," he said. The party, he said, is demanding the arrest and trial of those responsible, compensation to the families of the dead, treatment and help for the injured, inquiry into the causes of such incidents and a declaration of a Day of National Mourning.
The government did declare a Day of National Mourning for today. The labor minister said the government would shut down garment factories having no or only one emergency exit.
The Tazreen Fashions fire was the country's worst industrial blaze and casualty numbers are expected to rise. In 1911 at the Triangle Shirtwaist factory in New York City, 146 garment workers – almost all immigrant women – died in a fire after finding exits locked.
A recent petition started by SumOfUs asks people to "Tell Walmart it must join an independent fire safety inspection program supported by Bangladeshi and international labour unions, to prevent tragedies like this.To add your name go here: http://action.sumofus.org/a/walmart-bangladesh/65/?sub=taf
Photo: Communist Party of Bangladesh members march with Garment Workers Trade Union Centre as part of the mourning procession and protest Nov. 26. The banner reads in part: "We mourn those comrades whom we lost in the fire in the Tazreen Fashion Garment Factory in Ashulia." Km Mintu via Facebook.