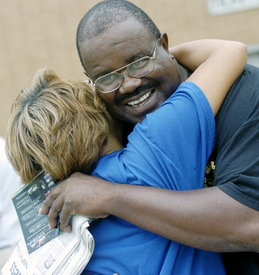 GARY, Ind. — Meeting at the city's largest high school on Sept. 1, 1,500 members of American Federation of Teachers Local 4 loudly and unanimously approved a new one-year contract that everyone agreed was a tremendous victory for the union.
The agreement, announced by Local 4 President Sandra Irons, ended a nine-day strike. The teachers had been working under an expired contract since December 2004.
The new contract provides for wage increases of 2 percent and no change in insurance costs. In addition, paraprofessionals were given health care coverage for the first time.
The union came out stronger and more united than when it entered the strike, as almost no one crossed the line.
"The teachers taught the [school] board a lesson about solidarity," said English teacher Carolyn McCrady. "They were unable to break our union. We all held fast. Students and parents came to picket lines. The whole city wanted this strike settled, but in a fair and just way."
In a raucous meeting convened by the elected school board, nearly 2,000 parents in attendance demanded a settlement. It came hours later in the middle of the night.
The board had angered the community by its foot-dragging in negotiations. The school superintendent drew the community's ire by sending a letter to the educators threatening to fire and replace them, to stop their insurance before it expired, and to end the union dues check-off, an action allowed by state law after a strike.
Prior to the strike, some board members made disparaging comments about the teachers. Others took trips to as far away as Japan, incurring many questionable expenses that were exposed in the local media.
Two members of the board supported the teachers, including one who was heavily supported by the unions and who took office less than two months before the strike.
The board had demanded an end to the teachers' one-hour unpaid lunch period and that teachers pay more for their insurance. The new contract provides for a 45-minute lunch break, but the board has a year to come up with a workable plan on how to implement it — either by cutting the workday or paying the teachers for the time.
It is illegal for teachers to strike in Indiana; the last strike in Gary was in 1984. Union activists said that this time the board was trying to break the union, thinking many younger teachers would cross the line. Part of the settlement included a "no reprisal" clause.
One worker was injured during the picketing when she was struck by a car crossing the line. The teacher is still on crutches. No one was charged in the incident.
Gary has a population of over 80,000, with 16,000 students in the schools that were struck.