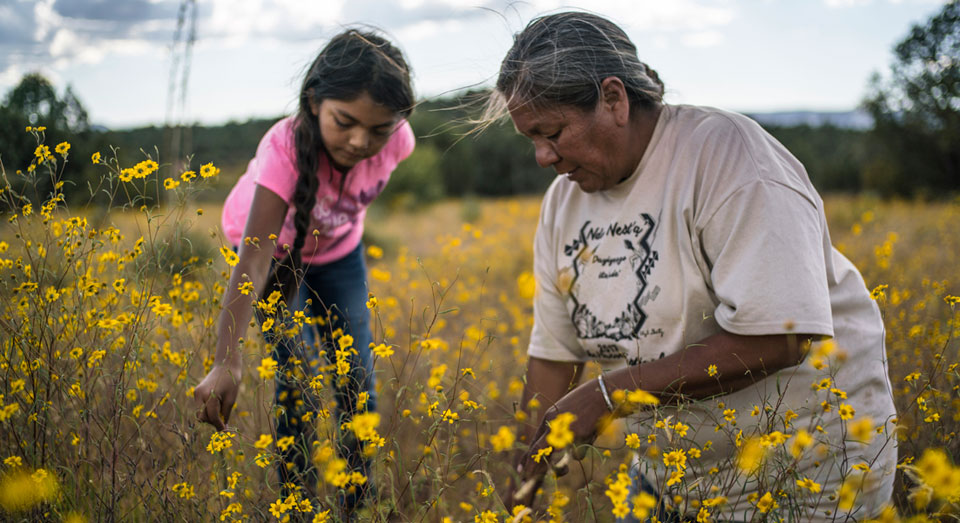 "You want to attack a people and wipe them out? Attack their food." – Chef Nephi Craig of the White Mountain Apache Nation 
The new documentary Gather wants you to know that despite America's history of colonized violence against them, Indigenous people are taking back their power– through their food.
The global fitness and health industry generates nearly 80 billion U.S. dollars a year by selling consumers the latest trends concerning food and exercise. Keto, flexitarian, raw food, and intermittent fasting are just a few of the recent viral diets sweeping the nation. One could argue that this drive for profit has warped eating practices into more of a superficial aesthetic than a holistic approach to health and healing.
Gather aims to make the point that the power of food, and access to it, goes deeper than just beach body fitness. For Indigenous people, it is a key source to their traditions, their way of life, and the future to their prosperity. The film points out that food rights are connected to human rights, and it is a literal matter of life and death that they be defended.
Directed by Sanjay Rawal (Food Chains) and executive produced by Jason Momoa (Aquaman), Gather tells the story of Indigenous Americans aiming to reclaim sovereignty over their devastated ancestral food systems. Viewers are treated to powerful individual stories of native leaders on the frontlines of this movement, aiming to reconnect with their spiritual and cultural identities, while attempting to reestablish these sacred food systems. We are shown how these activists make these strides while battling historical trauma brought on by centuries of genocide.
Genocide, meaning the deliberate killing of a large group of people, could be seen as an extreme term to use for some. It is a word not often used in mainstream history education when talking about the plight of Indigenous Americans and early colonialism. The narrative often lies on the side of the early white settlers and their "dream" for land and abundance in the so-called unsettled territory that would become the United States.
Gather makes it clear, through facts and testimonies, that genocide is the most appropriate term for what the U.S. government allowed to happen to Native Americans. It also points out that this genocide had far reaching ramifications for the various Indigenous nations in the U.S. today.
Viewers may be familiar with the infamous Trail of Tears, where over 60,000 Native Americans were forced to relocate from their lands by the government, but the film highlights even more insidious ways Indigenous people were terrorized. The main government terror tactic the documentary focuses on is the attack on food systems.
Over 60 million American buffalo were slaughtered to starve out the Indigenous people of the Great Plains who relied on the animals for food in the early 1800s. During the gold rush of 1850 the U.S. government permitted the targeted attack by white settlers against Native Americans of the Yurok Nation in Northwestern California. This reduced the Yurok's population by 75%. The Yurok depend on fishing for their way of life, and where they fished stood in the way of where white settlers wanted to search for gold.
Disruption of these food systems is said in the film to cause lasting effects on the people. This includes the younger generation losing their traditional heritage, and health dangers like diabetes and drug addiction running rampant in the communities left behind. The film does a good job of establishing this backdrop in order for viewers to understand what these food activists are up against when it comes to their goals.
The heart of the documentary lies within the stories of the various individuals who are part of the food sovereignty movement. Twila Cassadore is an older woman of the San Carlos Apache Nation who has survived abuse and drug addiction. She's emerged as a leader wanting to tell her story and bring back the traditions of her people of food and health for a better future.
Cassadore offers wise words throughout the film. She states that "reconnecting people to who they are starts off little, like a seed. And from there it can grow." Her interaction with the younger activists shows the importance of intergenerational relationships in their fight.
Another stand out story is that of Elsie DuBray, a young woman of the Cheyenne River Sioux Nation, who learns the importance of the buffalo and her heritage from her father Fred DuBray. Elsie wants to combine science with tradition in order to bring about change.
These are just two of several stories that help to humanize the message of Gather.  Viewers are given a viewpoint into not only the definition of Indigenous food sovereignty, but are able to see it in action through the journey of these individuals. The movement goes beyond healthy eating, and touches on what is needed to heal a community and achieve self-determination.
The documentary isn't flashy or fast-paced. It draws you in with the quiet moments as you listen to the testimonies of the people who have been part of a struggle that is ongoing. It doesn't overstay its welcome at 74 minutes either. The folk music throughout by talented songstress Raye Zaragoza is a nice touch for easy intake of such a high stakes issue.
Overall, what is powerful about Gather is that it doesn't just focus on the devastation, but the rebuilding. It takes on a tragic topic and infuses it with hope for the future, and a call to action even for those outside of the food sovereignty movement.
The young activist Samuel Gensaw of the Yurok Nation makes this sentiment clear in one of his speeches to students at Yale University (which so happens to be on traditional Quinnipiac land). He states that the "Industrial Revolution is over. If we want to carry on life on earth and survive we need to be part of the restorative revolution." What exactly that kind of revolution will look like is anyone's guess, but a viewing of this documentary would be a good place to start.
Gather is currently available on VOD through iTunes and Amazon. The trailer can be seen here.