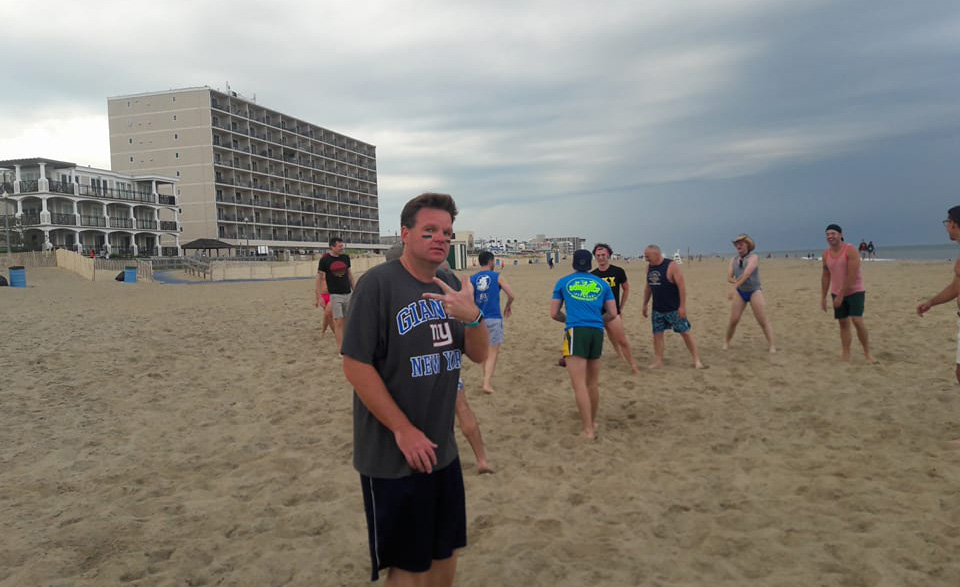 It was early on the afternoon of Aug. 12, 2004. I was on an annual family vacation in the Poconos, in northeast Pennsylvania. I was 23 years old. I got word that my then-home state governor, Jim McGreevey of New Jersey, had hastily called a press conference. Rumors about the governor's sexual orientation had followed him around for years. I remember asking my father what he thought the press conference was about. "Pay to play or something like that," he said. There is a long and troubling history of corruption in New Jersey politics. Something told me this press conference would be different. I had a pit in my stomach.
CNN carried it live. I was watching alone in one of the resort's bungalows. The governor started: "Throughout my life I have grappled with my own identity, who I am." Bam. He was coming out. I started to shake.
Then I started to cry. As McGreevey fully admits, he didn't come out. He was shoved out, in large part because of his own bad decisions and questionable ethics. But it was one of the most beautiful speeches I have ever heard. It is this passage that I still carry around on my phone to this day:
I do not believe that God tortures any person simply for its own sake. I believe that God enables all things to work for the greater good. In this, the 47th year of my life, it is arguably too late to have this discussion. But it is here, and it is now. At a point in every person's life, one has to look deeply into the mirror of one's soul and decide one's unique truth in the world, not as we may want to see it or hope to see it, but as it is.
As McGreevey spoke these words, I remember thinking: I can't wait until I'm 47. I have to come out.
It was Aug. 5, 2005, nearly a full year after McGreevey's historic speech. And I was still in the closet. A few months earlier, I made out with a girl at a bar in front of close friends. I remember thinking: What the hell am I doing? I was a fraud. I prepared to head back to the Poconos for my family vacation. But my parents wanted to talk first. This couldn't be good.
A couple of my cousins had approached my father to express concern about my drinking. My first reaction was defensive. Alcoholism runs in my family. Why was I being singled out? My father asked if I was happy. I said, "No." Finally, I felt the words moving from the depths of my body up toward my mouth. It was time. "I'm gay," I said and began weeping.
My parents were not just accepting, they were exceptional. In the following days, I embarked on a road trip to tell the people closest to me. Each shared words of encouragement. Everyone accepted me—except me. Just like McGreevey, I was shoved out.
The next years were a grind. I refused to leave the comfort zone of my routines. I spent all of my social time with straight friends. I closed down bars. One year, during Capital Pride, I got so intoxicated that I was passed out in bed before the parade began. I talked a good game. I joined LGBTQ organizations. I posted about marriage equality and employment nondiscrimination on social media. But I didn't date. I had no gay friends. Community was nonexistent. I had come out but gone nowhere.
At age 30, I sought the help of a therapist. His advice was direct and clear. Stop drinking. Stop punishing yourself. Live a life that is free and true. I remember thinking sarcastically: "OK, I'll get right on that." But each week as we talked and strategized, I became more convinced that something had to change.
The evidence was right there in front of me. In his coming out speech, McGreevey said there is a point in every person's life they must decide their unique truth in the world. This was that moment for me. I was an alcoholic. And my disease was holding me back from a life of happiness.
So on Dec. 20, 2015, I quit drinking. A year later, as I celebrated 365 days of sobriety, my therapist wrote this on his blog:
Recently, I had the privilege to witness change. After four years of working with a very hopeful and otherwise successful man battle alcohol, I attended his 1-year sobriety celebration. When he walked into my office, he came with a glimmer of hope—knowing something should be different—but had little idea of the next steps to take. Despite a very active social life, he was lonely for LGBT friends/family. He wanted a boyfriend. He wanted to be in better shape. He wanted to lose weight. But without vision, without a clear idea of how to change, it was sometimes hard to sustain hope. The route was long, sometimes difficult, sometimes circuitous. But he persevered. His life is utterly transformed.
The transformation my therapist described is ongoing but undeniable. I am proud of who I am, challenges and all. I recently returned from a trip to Rehoboth Beach, Delaware, where I spent time with a network of gay sober men who are enriching my life in countless ways. I am starting to date. I've lost 60 pounds and am more active than ever. I'm less self-conscious. I like what I see in the mirror.
Harvey Milk said that if a bullet should enter his brain, he wanted it to destroy every closet door. I took down my closet door 12 years ago this August. But for too long, I stood in the door frame filled with doubt, pity and self-loathing. That is finally starting to change. Inch by inch. Step by step. Day by day.
Pride to me is authenticity. It's honesty. And it's hope. As we head into a weekend of inspiration, as Pride At Work celebrates solidarity and honors our out-union leaders, as Washington, D.C., marks pride, and as the nation marches for equality, I will be there. By choice. With enthusiasm and optimism. Sober.
And that makes me really proud.
Tim Schlittner is the AFL-CIO director of speechwriting and publications and co-president of Pride At Work.
This article previously appeared on the AFL-CIO Now blog.