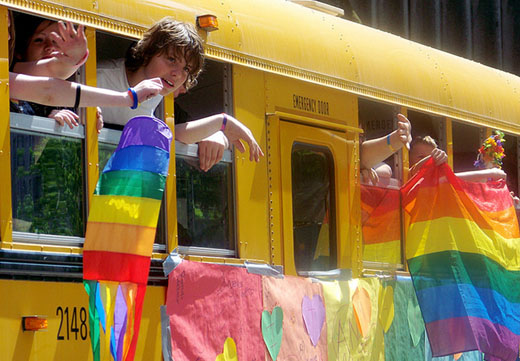 Both gay and straight teens are more likely to attempt suicide in politically conservative areas, a break-through study involving 32,000 Oregon high school students found.
Researching outside factors and teen suicide risk, study scientists developed five social environment measures: the extent to which communities had anti-bullying programs, gay-straight alliances, same-sex couples, schools with anti-discrimination policies that included sexual orientation, and Democrats.
The study found that a more supportive social environment was associated with 20 percent fewer suicide attempts among homosexual teens than an unsupportive environment.
This same supportive environment was also associated with a 9 percent lower rate of attempted suicide among heterosexual students.
"The results of this study are pretty compelling," said chief researcher Mark Hatzenbuehler. "When communities support their gay young people, and schools adopt anti-bullying and anti-discrimination policies that specifically protect lesbian, gay, and bisexual youth, the risk of attempted suicide by all young people drops, especially for LGB youth."
The study was published in the April 18 issue of Pediatrics, the official journal of the American Academy of Pediatrics.
The results "suggest that when you create environments supportive for lesbian, gay and bisexual youths, it creates a healthier environment for all youths," Hatzenbuehler told Oregon Live.
He called the study's findings a "road map" to reducing teen suicides.
Previous studies have documented risk factors for suicide attempts among gay youth including depression, binge drinking, peer victimization, and physical abuse by an adult. Hatzenbuehler said researchers controlled for these individual risk factors in order to assess the influence of the social environment on suicide attempts.
Researchers used 2006-08 surveys of 11th graders that state health officials conducted in Oregon classrooms; Oregon voter registration statistics (to determine Democrat/Republican proportionality); Census data on same-sex couples; and public school policies on gays and bullying.
For one high school senior, Zachary Toomay, from Arroyo Grande, Calif., the study "seems not only plausible, but it's true."
The 18-year-old star swimmer lives in a conservative, mostly Republican county. He's active in his school's gay-straight alliance, and said he'd never been depressed until last year when classmates "ostracized" him for being vocal about gay rights, the Associated Press reports.
Toomay said signs of community intolerance, including bumper stickers opposing same-sex marriage, also made him feel down, and he sought guidance from a school counselor after contemplating suicide.
The study suggests that support and acceptance of diversity has a positive affect for all teens.
Teen health expert, Michael Resnick, a professor of adolescent mental health at the University of Minnesota's medical school, said the study "certainly affirms what we've come to understand about children and youth in general.
"They are both subtly and profoundly affected by what goes around them," including the social climate and perceived support, he said.
In other adolescent health news, the Centers for Disease Control recently reported that teen pregnancy rates fell in 2009 to a record low.
However, they are still far too high – nine times higher than other developed countries – with more than 400,000 teenage girls giving birth each year from 1991-2009.
The report finds that teens need sex education, the opportunity to talk with their parents about pregnancy prevention, and those who become sexually active need access to affordable, effective birth control.
Rates are high among poor teens of all races and ethnicities. Yet, racism and its economic impact result in a higher proportion of Black and Latina teen girls giving birth than white teens, two to three times more likely.
Another similar study showed alarming regional disparities as well. In Northeastern states like Connecticut, Massachusetts, New Hampshire and Vermont, 2008 birth rates were less than 25 per 1,000 teens aged 15 to 19, the CDC found.
In the same year, Arkansas, Mississippi, Oklahoma and Texas all had rates topping 60 per 1,000 teens.
Photo: Gay-Straight Alliance members ride a school bus in the Seattle Gay Pride parade in 2008. (Jon Gilbert Leavitt/CC)