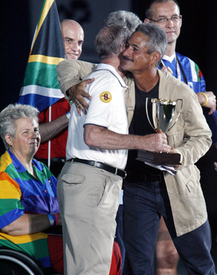 WHAT'S REALLY GOOD
Gay Games shine bright in Chicago
CHICAGO — The VII Gay Games Sports and Cultural Festival began on July 15 and continued to rock this city through the week until July 22, with over 12,000 athletes, gay and straight, from more than 70 countries competing in 30 different sports.
At Washington Park, on the city's South Side, softball team leader Nicol Juratovac, 38, from San Francisco was on a break with her teammates gearing up for their next match. Being part of the Gay Games "builds a lot of camaraderie and makes you feel visible in a world that makes you feel invisible," she told the World. "As gay people we feel significant" during the games, "in a world that makes you feel insignificant."
Juratovac is a firefighter back home, as well as an organizer for the annual Gay Pride Parade. She said the games are inclusive of all people.
Sports competitions included softball, tennis, ice hockey, diving, beach volleyball, basketball, bowling, swimming, cycling, billiards, wrestling, track and field, darts, dance sport, martial arts, badminton, figure skating, water polo and more.
The weeklong festival also included band, cheerleading and color guard performances, chorus, an arts festival, as well as a series of community-organized social events and celebrations. Many celebrities, like comedian Margaret Cho and singer Cindy Lauper, performed as well.
Rochelle Ventura, 41, an African American from Rockford, Ill., was a spectator at the softball games. "I'm going to enjoy this day very much," she said. "I need a million dollars, but I need this day more. Meeting people, having fun and good times is better than money."
The opening ceremony kicked off at Soldier Field, the lakefront home stadium of football's Chicago Bears.
Volunteer David Connolly was moved during the opening ceremony and told the World that "seeing people openly hold hands," gay and lesbian, "at Soldier Field was amazing."
The closing ceremony of the games is scheduled to take place at Wrigley Field, home of baseball's Chicago Cubs, located in the heart of the city's largest LGBT neighborhood.
The first Gay Games were held in San Francisco in 1982 with 1,350 participants. They were originally conceived by Dr. Tom Waddell, an Olympic decathlete. Subsequent Gay Games have been held in San Francisco in 1986 with 3,500 participants, Vancouver in 1990 with 7,300 participants, New York in 1994 with 12,500, Amsterdam in 1998 with 13,000 and Sydney in 2002 with 11,000.
As many as 40,000 visitors toured the Windy City and were joined by nearly 60,000 area residents, making it the biggest games yet. Organizers saw the games as a good opportunity to showcase Chicago as a gay-friendly destination.
The Federation of Gay Games is the international governing body that promotes the quadrennial competition with its founding principles of "Participation, Inclusion, and Personal Best."
Rebecca Alvarez, 24, was rooting for her partner who is a pitcher and her mother who is a catcher on the women's softball team from Chicago called "Bobbie's Girls." She pointed out that as a gay community "people isolate us," and this event allows people to "get together and unite, to show support and that we are fighting for equality."
Robert Martinez, 37, from California, a Mexican American, told the World that in straight sports leagues the men talk too much trash, whereas in the Gay Games, it's more of a community.
Martinez said he is unhappy with how the Bush administration treats gay and lesbian people and their rights. Bush "talks about spreading freedom around the world," he said, "yet he restricts our freedom within the states — that's contradicting." Martinez added, "We're still here and not going anywhere, we're only getting stronger."
For more information visit: www.gaygames.org.