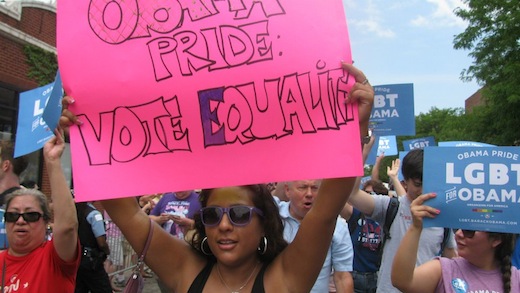 CHICAGO – Under sunny skies and seas of rainbow flags, millions of Americans participated in gay pride parades across the country June 24, celebrating what many are calling a "landmark year" in advances for gay, lesbian, bisexual and transgender equality.
This year's parade theme was "Share the Love," a national call for passage of marriage equality laws, already legal in six states and the District of Columbia.
The first pride parade took place in 1970 and has grown to a national celebration. The crowds lining the streets reflected an incredible multiracial diversity, entire families and young and old alike.
This year the New York City parade, with over 2 million participants and sporting over 323 floats, was held on the one-year anniversary of passage of a state Marriage Equality Act.
The largest celebration occurred in San Francisco, where a whole weekend of activities took place. At the conclusion, Mayor Ed Lee addressed the gigantic crowd at the Civic Center not far from the site where slain Supervisor Harvey Milk famously gave a speech 30 years ago.
In Chicago, more than 850,000 people lined the 2-mile route to witness over 200 floats and contingents, including a large group from the Chicago Teachers Union. The crowds have been growing so massive in recent years the parade route had to be extended five blocks.
Momentum is growing rapidly in Illinois for passage of a marriage equality law, advocated by Gov. Pat Quinn and others. Recently 25 couples sued maintaining the state marriage law, which bans same-sex marriage, is discriminatory. Attorney General Lisa Madigan has refused to defend the law. In 2010, Illinois passed a civil union law.
All across the country contingents supporting President Obama were greeted with wild applause and thunderous cheers. In Chicago, the massive crowds reached out to give high fives, grabbed Obama stickers and signs and chanted "Four more years" the entire route.
"I've never seen anything like it," said one marcher.
The reception reflects the enthusiasm and appreciation for the president's history making announcement supporting marriage equality. Obama's position is in stark contrast to the position taken by his Republican opponent, Mitt Romney, who remains steadfast against marriage equality.
"Everyone is so excited about Obama backing marriage," said Billy Crowe of Valparaiso, Ind., to reporters as he marched in Chicago.
Support by Obama for gay rights has also included signing the Matthew Shepherd and James Byrd, Jr. Hate Crimes Prevention Bill, repealing the "Don't Ask Don't Tell" discriminatory policy in the military and leading with First Lady Michelle Obama a nationwide anti-bullying campaign. The Obama administration has also refused to defend the Defense of Marriage Act, saying it is unconstitutional.
In issuing a proclamation for Gay Pride Month, the president noted, "The LGBT community has written a proud chapter in this fundamentally American story (of the fight for full equality). From brave men and women who came out and spoke out, to union and faith leaders who rallied for equality, to activist and advocates who challenged unjust laws and marched on Washington, LGBT Americans and allies have achieved what once seemed inconceivable."
In a video, Obama mentioned the contributions of gay activists such as Jean Manford and Harvey Milk. "But we also remember the unsung heroes," Obama said. "The millions of LGBT Americans for whom everyday acts required extraordinary courage."
Photo: Some 300 people march in the Obama For America contingent during Chicago's 43rd Annual Pride Parade, June 24. (PW/John Bachtell)