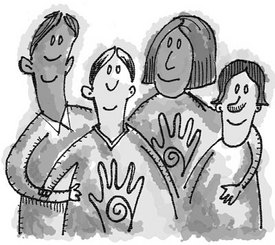 While the relationship between the LGBT community and the labor movement has traditionally been weak, things seem to be changing. LGBT rights organizations and trade unions are working together more and more, coordinating campaigns, running candidates and fighting for issues like domestic partner benefits and gay marriage.
Sandra Telep of Pride At Work, a constituency group for LGBT union members, says, "Unions do a lot of work with and within the LGBT community. We work behind the scenes, but don't get a lot of credit for the work that we do."
In fact, unions and union members have a long history of fighting for domestic partner benefits during union contract negotiations. In 1982, the Newspaper Guild, which is part of the Communications Workers union (CWA), won the first domestic partner benefits package in U.S. history. Since then unions have fought for and won domestic partner benefits in contract negotiations all across the country.
Unions are also in the forefront in the struggle for the right of gay and lesbian couples to marry. Last year, at its national convention, the AFL-CIO, the largest labor federation in the U.S., passed a resolution in support of gay marriage rights.
The resolution said in part: "The Federal Marriage Amendment (FMA) [would] amend the U.S. Constitution to deny important rights to lesbian, gay, bisexual and transgender families, such as the right to hospital visitation, inheritance, and health care rights for partners."
According to the AFL-CIO, right-wing attempts to define marriage as a "union between man and woman" through the FMA only serve to divide and weaken the movement for economic and social justice.
Also at the AFL-CIO convention, Nancy Wohlforth, co-president of Pride At Work and secretary treasurer of the Office and Professional Employees International Union, was elected to the federation's executive committee. Wohlforth, a founding member of the San Francisco-based Lesbian and Gay Labor Alliance, is the first openly lesbian or gay person to serve on the AFL-CIO executive committee.
Most recently, the Service Employees International Union, with 1.8 million members, sharply criticized the U.S. vote to ban LGBT rights groups from the United Nations.
"The U.S. joined some of the world's most oppressive regimes in backing a United Nations initiative to silence advocates for lesbian, gay, bisexual and transgender equality," said Andy Stern, president of SEIU.
"All over the country unions are building successful coalitions with LGBT rights organizations like the Human Rights Campaign," said Telep. "And in many cases unions and LGBT rights coalitions help Pride At Work chapters form." Currently there are fourteen Pride At Work chapters across the country.
While union leaders support LGBT rights out of a sense of justice and civil rights, that's not the only reason. They also support LGBT rights out of self-interest. The same organizations that attack LGBT rights, organizations like Focus on the Family and Exodus International, also attack unions.
For example, Focus on the Family, the largest right-wing religious organization in the U.S., finances and supports anti-union "paycheck protection" bills. These bills require unions to obtain written permission from each member before spending union money on political purposes like lobbying for pro-union legislation, communicating with and mobilizing members, and paying expenses for union political action committees. "Paycheck protection" would weaken the labor movement and create unnecessary bureaucracy and red tape in an environment where business already outspends unions 10 to 1.
Said Telep, "The LGBT rights movement and the trade unions have a common enemy. Which is another reason why the labor movement has worked so hard to support LGBT rights."
While there is a long history of unions fighting for LGBT rights, a lot more work needs to be done. Union members are not one hegemonic group. There are many different political trends and tendencies within the union movement. And unfortunately, some union members are wary of LGBT rights organizations and have fallen victim to right-wing attempts to divide the union vote with wedge issues like gay marriage.
After the AFL-CIO resolution was announced some union members sent letters of protest to the federation leadership. Others complained about union money being used to fund LGBT rights initiatives and organizations, as well as LGBT candidates in electoral races. Others union members actively campaigned against gay marriage.
Overall, though, the organized labor movement — with its combined 13 million members, resources and infrastructure — is moving in the right direction and expanding its field of work to include LGBT rights.
Tony Pecinovsky (tonypec@pww.org) is the district staff person for the Communist Party in Missouri and Kansas. This article was originally written for the Vital Voice, a St. Louis-area gay and lesbian rights bi-weekly.