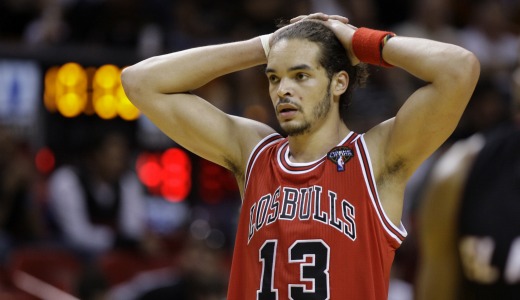 Anti-gay slurs in professional sports are unacceptable and show irresponsibility on the part of both athletes and, if homophobic language is not adequately addressed, the entire industry, activists say. Professional athletes are role models to millions, and using anti-gay phrases should not be tolerated, especially when so many in the sports world still seek acceptance and equal rights based on their sexual orientation, they add.
The issue has come full circle recently, and LGBT rights groups, in partnership with the National Basketball Association and its star players, have taken measures to address it, despite recent setbacks.
Weeks after major advertisements by NBA star players supporting gay rights hit the airwaves, Chicago Bulls forward Joakim Noah was seen on national television May 22 shouting an anti-LGBT slur to a heckling fan during Game 3 of the Eastern Conference Finals.
Noah had gotten into early foul trouble against the Miami Heat in the first quarter before being benched. The fan insulted Noah, leading to the poor choice of words. The Bulls ended up losing, and Noah immediately apologized. The NBA fined Noah $50,000 for his inappropriate actions.
Since then, Noah has said he wants to put the incident behind him and that he hopes to learn from the situation.
"You know, all my best friends live downtown in New York City. I was made in Soho," Noah told ESPN's Kevin Arnovitz. "Sometimes, when you're at this level, you don't realize the consequences of how much a word can bother people. My mom's best friend was gay. So I'm disappointed because that's not me. I didn't mean any harm to anybody. I don't want anyone to feel disrespected by what I said, and I understand that's what's going to happen."
Last month, the Los Angeles Lakers star Kobe Bryant issued a similar apology after he too was seen on television yelling the same anti-gay slur at a referee after a technical foul was issued against him. Bryant was fined $100,000, because his actions were directed at an official. Bryant said his words were "stupid and ignorant" and not indicative of his views toward the LGBT community.
"Last month, the NBA sent an important message about how such slurs fuel a climate of intolerance and are unacceptable," said Jarret Barrios, president of the Gay and Lesbian Alliance Against Defamation, in a recent statement on the groups website. "These anti-gay remarks [Joakim Noah's], coming so soon after, demonstrate how much needs to be done."
Barrios continued, "Noah's apology is a start. We are confident that the NBA will now take disciplinary measures and hasten its work with us to tell players that there is no place for anti-gay words and attitudes in the game."
Miami Heat forward LeBron James said he understands what it's like to be heckled by obnoxious fans during games and sympathized with Noah.
"It's unfortunate," James told the Chicago Sun-Times. "I don't think Joakim is that person. Like he said, he's not that [prejudiced] guy. He made a mistake, and he's paying the price for it. All of us understand there are times when you become emotional. Things get said that you don't mean. You just have to be more careful. Understand that there are kids watching, people watching, that look up to us as role models."
Meanwhile, a major public service advertisement was launched by the Gay, Lesbian and Straight Education Network to address the use of anti-gay language among teens. The commercial, which is being aired during NBA play-off games, features Phoenix Suns players Grant Hill and Jared Dudley and is an extension of the award-winning Think Before You Speak campaign.
Phoenix Suns star Steve Nash also voiced his support for gay marriage in a public video recently released by the Washington, D.C.-based Human Rights Campaign. "A growing number of professional athletes are speaking out in support of gay and lesbian couples getting married. I'm proud to be one of them. Join me and the supermajority of New Yorkers who support marriage equality," Nash says in the video.
Earlier this month Phoenix Suns executive Rick Welts publicly announced he is gay, and supporters say his decision marks a new era of acceptance in the sports world.
Hall of Famer Charles Barkley, who played for the Suns, told ESPN he supports gay athletes and wished Welts the best in his coming out.
"First of all, society discriminates against gay people," said Barkley. "I've been a big proponent of gay marriage for a long time, because as a black person, I can't be for any form of discrimination at all."
Photo: Joakim Noah (AP Photo/Lynne Sladky).