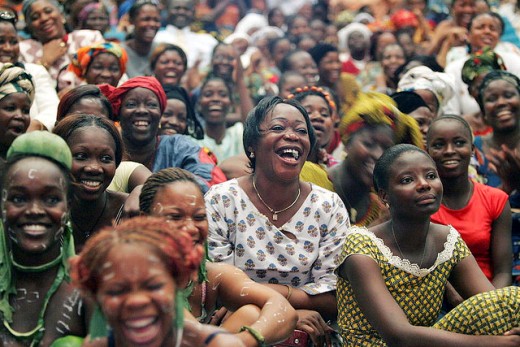 His term expired five years ago. He postponed elections six times over the past decade. Then after allowing them, he lost on November 28, observers say. However, he blocked official results from being announced, declared a curfew, closed the borders, shut down foreign news sources and had himself sworn into office, after his ally overturned the election results.
The "he" is Laurent Gdagbo of Cote d'Ivoire (Ivory Coast). Now Gbagbo faces international condemnation and calls to hand over power to the recognized winner, Alassane Ouattara.
Several hours after Gbagbo took the oath of office at the presidential palace, Ouattara invited reporters to his campaign headquarters, a hotel guarded by UN peacekeepers, to witness his own swearing-in ceremony. Both men have appointed cabinets and there are rumors two sets of ambassadors will be named, too.
Former South African president and African Union appointed mediator Thabo Mbeki left Ivory Coast on Dec. 6 after two days of talks with Gbagbo and Outtara. The West African regional grouping ECOWAS plans a special summit in the Nigerian capital of Abuja to consider its response to the Ivorian standoff. And the International Criminal Court has vowed to monitor violence in the country.
At least 17 people have been killed since the elections, including four shot dead by security forces outside an Outtara party office Dec. 1. The UN announced it is moving non-essential staff out of Ivory Coast following similar evacuations by foreign companies.
Gbagbo risks diplomatic isolation and possible economic sanctions, as the UN and Western powers recognize Ouattara as the legitimate president, and the World Bank and African Development Bank threaten to reconsider aid deals. The country's economy has been at a standstill since the election, as exports of cocoa, coffee, palm oil, and other tropical products through the port at Abidjan virtually have ceased. The Ivorian Chamber of Commerce and Industry reports of food shortages in the country and costs of some basic items have skyrocketed.
The elections were meant to reunify the West African nation since its north-south division following a brief civil war in 2002-2003 in which thousands were killed. Instead, Gbagbo's defiance reinforces the divide and potentially may reignite the conflict.
Although relatively peaceful and well-run, according to election monitors, the voting took place in a tense and separated country. The government, based in the national capital of Yamoussokro, controls the southern half of the country; the New Forces rebel group governs the north from the city of Bouaké, and a buffer zone is patrolled by a UN peacekeepers and French troops.
A north-south transitional unity government was inaugurated earlier this year, several weeks after a previous one created in 2007 was dissolved by Gbagbo. But about 10,000 UN peacekeepers remain in Ivory Coast. The prime minister of the unity government and leader of the New Forces, Guillaume Soro, resigned his post in Gbagbo's administration last Saturday. A few hours later, he was re-appointed to the position by Outtara following his rival presidential swearing-in ceremony.
Gbagbo, a former university history professor from the southwest, draws his support from the mostly Christian south whereas Outtarra's base is in the predominately Muslim north and amongst migrant communities in the South.
Gbagbo claims there was massive fraud in the north and the Constitutional Council, responsible for settling disputes in presidential elections, invalidated results from seven northern regions, handing him a victory of 51%. A Gbagbo ally chairs the Constitutional Council.
The original results by the Independent Electoral Commission declared Outtara the winner with 54.1% versus 45.9% percent for Gbagbo.
This once relatively prosperous and ostensibly unified African country, officially known as Côte d'Ivoire, has been torn apart by nationalistic and xenophobic rhetoric initiated in the late 1990s by a series of weak rulers. Gbagbo and his youth militia known as the Young Patriots have perpetuated this vitriol after Gbagbo came to power in the disputed elections of 2000. They accuse Ouattara and his northern supporters of being "foreigners" who threaten "Ivoiritie" ("Ivoirieness") since many of the ethnic groups to which they belong spill over into countries to the north.
They also claim former colonial power France is behind efforts to unseat Gbagbo. Last week the pro-Gbagbo newspaper Notre Voie's ran the headline "Another failed coup d'etat by France. " As he took the oath, Gbagbo declared, "I am charged with defending our sovereignty and I will not negotiate on that. I have never called on someone from outside to put me in office." French interests in Ivory Coast remain considerable and France still maintains a military base there.
Despite the crisis of the past decade, Ivory Coast remains the world's largest producer of cocoa, a cash crop introduced during the colonial era and the primary ingredient in chocolate manufactured largely in the West.
The vast majority of seasonal laborers who work the country's mostly small-scale farms hail from the far less developed northern half of the Ivory Coast and surrounding nations such as Burkina Faso and Mali. Working and living conditions on many cocoa farms are appalling and there is well-documented and widespread use of child – and sometimes – slave labor.
Young people from the north often migrate to southern urban centers like Abidjan to work in the informal economy. Discrimination against northerners – poorer, Muslim, and sometimes with origins one or several generations back in neighboring countries – is widespread and stoked by politicians like Gbagbo. Over the past decade, many northerners complained they were being refused national identity cards necessary to vote in elections.
The irony is that while Gbagbo charges France with neo-colonialist interference, he embraces the rigid boundaries created by the former colonialists to assert an "Ivorian" national identity. Those colonial borders divided ethnic groups across West Africa but, to add further to the absurdity, the French governed Ivory Coast as part of a larger French West Africa federation. In short, Gbagbo is using colonial boundaries to deny fellow Ivorians their political rights while claiming he is being undermined by France. As he whips up anti-northerner and anti-Islamic hysteria, he betrays the socialist politics he once claimed to promote and he undermines the Pan-Africanist program of unity.
These underlying ethnic and religious tensions were masked by the decades-long comparative affluence of Ivory Coast, hailed as a so-called success story by the IMF and World Bank, during the Cold War. It was firmly allied with the West under the autocratic rule of Félix Houphouët-Boigny, the country's first and only president until his death in 1993, who encouraged cash-crop expansion and outside investment.
In fact, Ivory Coast was the economic hub of West Africa, surrounded by countries plagued by coups and wars, boasting a sizable expatriate population. The country's prosperity began to decline in the 1980s due to the global recession and regional droughts and its political stability was shattered by coups in 1999 and 2001.
Gbagbo's immediate predecessors, Henri Konan Bédié and Robert Guéï, vastly unpopular and clinging to power, began the campaign against northerners.
Indeed, despite being a former prime minister, Outtarra was prevented from standing in elections in 2000 on the allegation that he was not Ivorian since it was claimed his parents hailed from Burkina Faso. A former official of the International Monetary Fund, Outtara is seen as no progressive, but his presidential campaign this year symbolized the aspirations of northerners who have been marginalized and maligned in the politics of hatred over the past decade.
Now, Outtara waits in an Abidjan hotel to assume the presidency he won in elections deemed largely free and fair by Ivorian and international monitors as his defeated opponent defiantly stays put in the presidential palace.
Photo: Women in Abidjan, Cote d'Ivoire, celebrate International Women's Day, March 8, 2005. (Ky Chung/UN/CC)