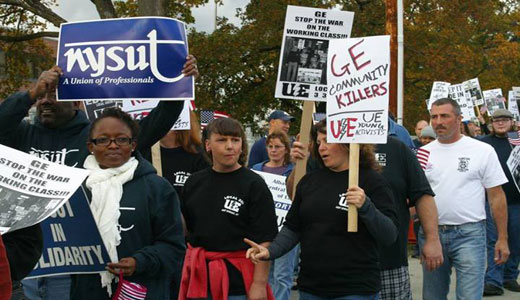 FORT EDWARD, N.Y. – Despite 17 bargaining sessions over a 60-day period, General Electric has decided to shutter its 75-year-old plant here, saying it will move the work to another plant in Clearwater, Fla. Union negotiators had attempted to save the plant, its nearly 200 jobs, and the community whose survival the closing has put at risk. Apparently, the company was just going through the motions at the bargaining table and never really considered any proposal to save the factory, according to union officials.
As reported in the Tampa Bay Times on Jan. 6, "GE demanded an hourly wage cut of $17.88 for 163 workers, effectively reducing the wage to $11.12." Clearly with the company seeking such steep wage cuts, keeping the plant in upstate NY was never seriously considered by GE.
A bulletin released by the union at the plant, United Electrical Workers Local 332, states: "Unfortunately, Governor Cuomo's office was nowhere to be found. Despite repeated efforts on our part to engage him, Mr. Cuomo's office never even granted us the opportunity to meet with him or his staff to listen to our concerns and work with us on a plan to save the Fort Edward plant." During one brief conversation with the union, a Cuomo staffer reportedly said, "They want to move to Florida, I can't stop them." Such a statement is unfortunate since the loss of annual tax revenue of $35 million per year will devastate an already struggling region. This is an area already suffering from factory closures, job losses, gridlock in Washington, D.C., and the seemingly permanent expiration of the Emergency Extended Unemployment Program.
The Tampa Bay Times article did hit one nail on the head. The now doomed Fort Edward plant was "built in the World War II heydays of New York State manufacturing, where GE plants in Schenectady were deemed cutting edge." Yes, it's true that the World War II era of upstate New York manufacturing was cutting edge. It's equally true that those very same plants in Schenectady and Fort Edward, and in Pittsfield, Mass., for that matter, were integral in the war supply effort to defeat Hitler and the fascists. However, yours truly sees these facts not as an etching on the tombstone of upstate manufacturing but rather as great achievements, and certainly not as a third-rate excuse to betray the same working class who built that legacy.
Tony Long is a freelance writer who lives and works in the Hudson Valley region of New York State.
Photo: Teachers and others turn out to support UE Local 332 in the fight to keep the GE Fort Edward plant open, at an Oct. 21, 2013, rally. United Electrical Workers Facebook page.