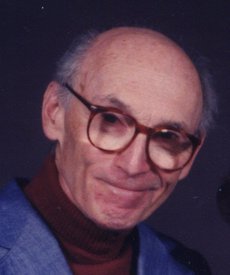 George M. Fishman, lifelong working class scholar, teacher and activist, passed away peacefully at his New Haven, Conn., home on June 30, at age 92. He was a stalwart champion of quality public education for all children, workers' rights, equality and peace, and together with wife Edie a builder of the working class movement and press for over seven decades.
Fishman, born to immigrant parents in Philadelphia, Pa., on Jan. 6, 1917, was a high school social science and history teacher. He held a Ph.D. in history from Temple University.
Since 1938 he was actively involved in African American and labor studies, as researcher, writer and teacher. A member of many professional organizations, his articles were published in academic and popular journals including the People's Weekly World and its predecessors.
A selection of his work, 'For a Better World. A Miscellany,' was completed in 2002. He was a member of American Federation of Teachers Retirees Chapters in New Haven and Philadelphia.
From 1938 to 1941 Fishman was a staff member of a Works Projects Administration (WPA) teaching unit. It pioneered in staff development in African American life, history and culture and in conducting classes in labor unions and community organizations.
During the fight against fascism in World War II he was a radio man aboard a Landing Ship Medium (#361) in the Pacific. His service included teaching English. He was awarded four medals: American Theater, Asian-Pacific, Philippine Liberation and Victory.
Following the war, he taught social studies, history and mathematics mainly in the public secondary schools of Philadelphia but also in New Jersey until his retirement in August 1984.
In 1952 during the McCarthy period he was forced to leave his teaching position as part of the general purge of progressives including Communists, labor activists and civil rights advocates from public life.
He went to work at Campbell's Soup in Camden, N.J. He was a union shop steward and leader of Local 80A United Packinghouse Workers of America, CIO, for eight years.
He returned to teach in Philadelphia in 1968 when the school system repudiated past discriminatory practices and all teachers were invited back. He continued teaching there until his retirement.
In 1985, while living in Highland Park, N.J., he was a candidate for governor of New Jersey on the Communist Party ticket. His campaign highlighted the needs of public education, especially of multiracial urban schools.
In 1994 George and Edie Fishman received the Ida B. Wells Community Service Award from the NAACP.
They moved to New Haven, Conn., 13 years ago to join daughter Joelle. During those years George and Edie became well known and loved in the labor movement and throughout the community for their activism, commitment and vision. At every meeting, conference, rally and picket line where he went, George was looked to for his knowledge, solid convictions, dedication to building unity, and warmth.
He was deeply involved in the broad movement against the ultra-right which elected Barack Obama and at the time of his death was building support for the Employee Free Choice Act and health care for all.
When asked for reflections on his 90th birthday Fishman wrote, 'The turning point in my life was registered some 70 years ago when in a time of world crisis with the advance of fascism and the decay of economic and social conditions in the U.S. I was able to become a member of the Young Communist League.
'It was not only that through the Young Communist League I met my comrade in arms Edie and that we have continued arm in arm over these years. But through the Young Communist League and the Communist Party I was able to become part of the working class movement. … it was meaningful starting in 1937 to be part of the movement for employment, for peace, the struggle against racism, and the struggle against fascism.'
Fishman always sought to relate the daily struggles of working people to building the democratic struggle for socialism in our country. He took great pride in distributing and contributing to the working class press from the Daily Worker to the People's Weekly World. He lived an exemplary life with a purpose.
George Fishman is survived by wife Edie, daughter Joelle and son-in-law Arthur Perlo.
A memorial celebration will be held on Sunday, Sept. 6. Messages and contributions to the People's Weekly World in George's name can be sent to: New Haven Peoples Center, 37 Howe Street, New Haven CT 06511 or via e-mail to peoplescenter@pobox.com.