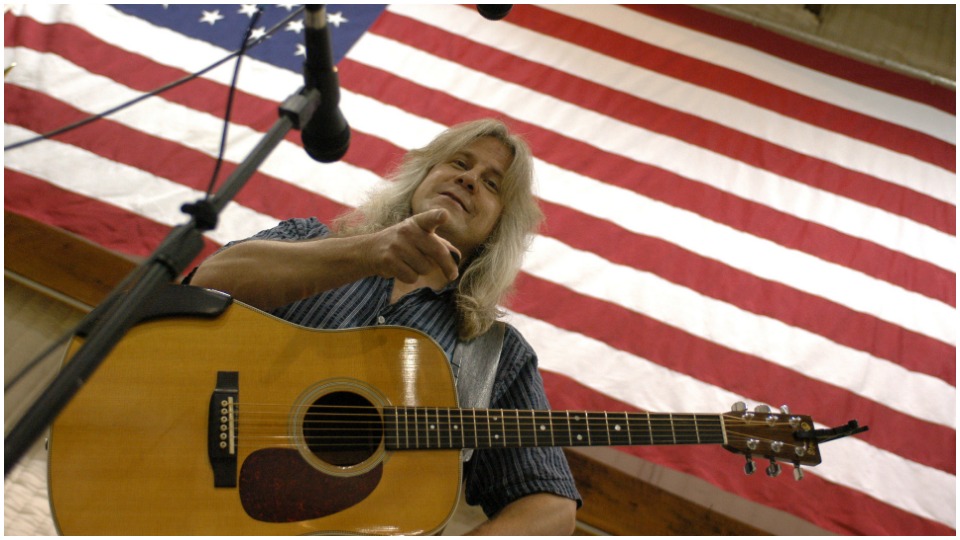 I have followed singer/songwriter George Mann at some distance for many years now. I guess more exactly I should say, he's followed me, as the only place I've ever actually heard him live has been in Los Angeles, where I live, and where he's passed though multiple times over his many years of wandering the globe like a storied troubadour.
There's something quite special about his latest CD, made under grueling conditions between March and August of 2020, one of our country's roughest patches, and there have been a few.
In a dozen songs, mostly by himself, with three guest appearances by other writers, George gives an account not just of a life of music-making and trying to make sense of a troubled world, but the life of any sentient creature that's ever tried to leave a better world behind. From the first cut, "A Song in My Heart," to the last, "One Day You Just Wake Up and You're Old," it feels like a memorial, or at least a memoir of a lamentable time when one is given to thinking deep thoughts about life and mortality, what's it's been all about, and was it worth it? Maybe I shouldn't be so somber—these days, after all, they don't call it a funeral so much, but a "celebration of life," and this autumnal CD most certainly is that.
"A Song in My Heart" specifically addresses our physically distanced moment when human contact has been attenuated, intimacy and touch denied. Yet the singer still reaches out, to a person—or to his listeners and audiences—who is far away. He calls it "a strident and joyful song about life in isolation." I didn't know anyone could write a song like that, but it's George's attempt to connect what has been so cruelly severed.
"The Fish Always Rots From the Head." I remember Michael Dukakis citing this old Greek proverb years ago, and it sure does still ring true today, considering who's at the head of the rot in America right now. "The rich get richer and we just get old," the singer declaims; "perfect for the election," George tells us.
Utah Phillips wrote many a modern classic in his day, and this is one, "All Used Up"—the natural resources, the forests, the seas, and us. This is an evergreen that will be part of the catalogue in children's songbooks long after the socialist transformation, to show how it was in the olden days before every human being was able to live out their days in dignity and well cared for.
"My Name is George" is "set in the 19th  century," the songwriter tells us, but it references social and racial relationships that existed well before then, and sadly, long after then, up to the present day. The title is slightly deceptive, given that the songwriter is also named George. It's inspired by the murder of George Floyd, comparing his killing to a lynching of old. Of course we understand that what's old has never gone away: It's as new as the latest cellphone video recording a crime possibly taking place today on a street near you. "I'm not your boy, I am a man, and I'm freedom-bound." In honor of those demonstrators who insist—as they must insist—"Say their names!" Mann sings, "Don't forget that I had a name." A sadly noble and necessary song for our time, and let's pray, not for all time.
"The Lynyrd Skynyrd Band" is a loving tribute to a working-class bunch of kids from Jacksonville who loved rock and roll and for a time made it big. It's a historical ballad, an origin story, about young people who believed in "freedom in the music and the power of a song." Perhaps it's by extension just as much about their generation who shared that belief, and about the song-makers of any era.
"The Bottle Wins Every Time" is a mournful song that pretty much says what you think it will say, in the vein of downtrodden country blues. Here it's the battle lost to the booze, but for how many others it's pills, injections, smoke, gambling, just about any addiction you can think of. Not to diminish other people's sorrow, but full disclosure, I have to admit, mine is Sudoku. I'm going to give it up one of these days, I will.
Florence Reece's great labor classic "Which Side Are You On?" has been recorded, I don't know, maybe hundreds of times. Here it's set to a lively reggae beat. Anyone hearing the song here for the first time and later encountering a more standard rendition will surely wonder why they made it sound so boring! I found this one of the CD's most musically successful numbers.
Jack Mancor's song "Seventy Miles From the Border" is a trapped and dying miner's lament about what this only son had to sacrifice three miles underground for the sake of a grand $75 a day. And just when he was going to take his woman to town this Friday. Sweet violins are featured in the accompaniment.
"At Beluthahatchee" is another of the CD's highlights, recalling a North Florida retreat outside of Jacksonville belonging to author Stetson Kennedy that was a welcoming respite for Woody Guthrie. The property was nestled in amidst Klan country, and the song relates a 1951 incident to which Woody was party. I hadn't heard about that place—or maybe hadn't remembered it—but it's referenced in Ed Cray's Ramblin' Man: The Life and Times of Woody Guthrie. It's an episode, and now a song and history lesson, that shouldn't get lost again. I don't know if anything quite so dramatic ever occurred to George Mann on his own ramblin', but inevitably, of course, the song honors so many of the good people with open arms and a hot meal and a couch who helped the performer on the road. Interestingly, George wrote this song at Beluthahatchee on a week-long artist's recess, where he also penned "The Lynyrd Skynyrd Band."
For me, the most moving song on the CD, and one of the best produced, is the final "guest songwriter" contribution, "Pass It Along," by Scott Cook. It's a loving ode to the singer's guitar that has served him so faithfully for so many years. But now, "may it land in careful hands when we're gone." It's one of those summation-of-life-and-all-it-means songs, a tribute to building on past achievements from one generation to the next. It's an expression of humility, knowing one's own small place in the endless continuum of time and events, that also manages to get a dig in at GMO seeds that don't naturally reproduce themselves. About the very Earth itself, the song suggests, "You don't own it, pass it along."
The single most topical political song, "Donnie Took a Dump All Over Twitter," doesn't take a musical or any other kind of stable genius to figure out who George is talking about! I liked his description of the "hurricane of hate" on that guy's Twitter emissions. It's a bluegrass hoedown about which George says: "A short shelf life song (we hope)!" May the day come soon when children ask, "Who's Donnie?"
"A soft, melancholy landing for the album," George writes, "a song about love, struggle, and aging," is "One Day You Just Wake Up and You're Old," a wise, avuncular summing up. Not many pages left, no more rhymes, it's a fond farewell to life. One imagines a song like this being performed at the "celebration of life" for any of the indefatigable dreamers and activists we all know. It would bring a warm tear to many an eye. I certainly hope it's not intended as George Mann's final testament!
It's amazing reading up on some of these songs, how many of them are fresh, spontaneous, sudden inspirations, and how quickly the band committed them to digital form. George describes his process about these "one-sitting" recordings: "whether it's two hours, four hours, or more of work, they eventually emerge and other than minor changes, are complete when I walk away. This is folk music; it ain't Beethoven." This strikes me as perhaps overly modest, but George and the musicians he works with are professionals, and they get things done.
Which reminds me, apropos, of something composer Earl Robinson once shared with me. "What's a professional?" he posed. "A professional is someone who knows what they want and knows how to get it."
Go to George Mann's website here for a great deal more information about this and his other albums, including background stories, full lyrics, photos, and easy purchasing. (P.S. The physically distanced holidays are coming.)