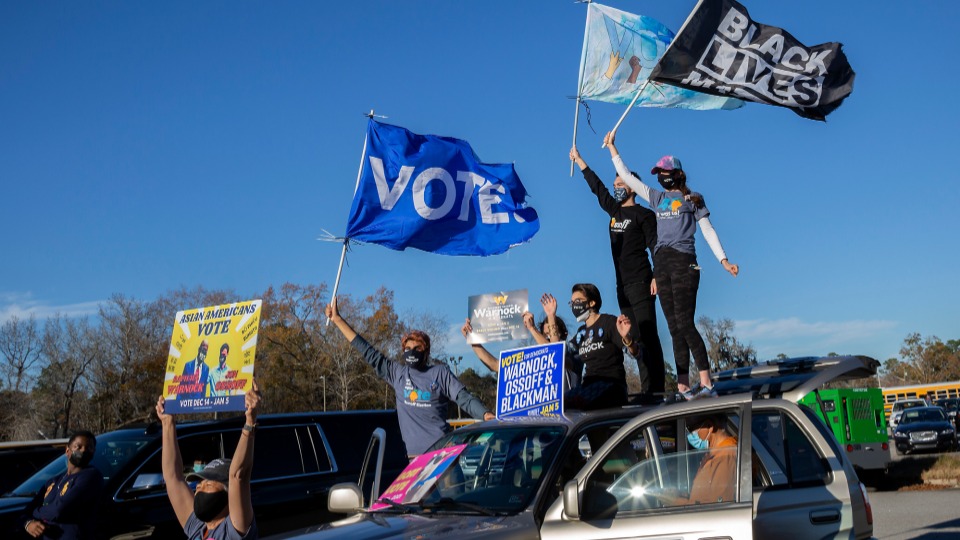 Some three million people early voted in Georgia before the polls opened this morning in the Senate runoff elections, which pit Democrats Jon Ossoff and Rev. Raphael Warnock against Republicans David Perdue and Kelly Loeffler.
The massive early vote by itself, which ended last Friday, was a record for any runoff or regular election in Georgia, and, more important, was a smashing defeat for over a century of voter suppression and Jim Crow racism in the deep southern state.
As voting opened today, polls show the races neck-and-neck, with slight edges for the two Democrats. The on-the-ground efforts of Georgians, led by movements of African-American, labor, Latino, white progressives, and others—all determined to save their very lives amidst a pandemic and a depression—could score yet another victory for the people of a state that rejected Donald Trump on Nov. 3.
The outcome today will determine not just who represents Georgia in Washington, but also which party controls the entire U.S. Senate. Two Democratic victories would result in a 50-50 lineup in the U.S. Senate, with Kamala Harris, as Vice President, casting the decisive vote.
Harris, at a rally Sunday in Georgia, campaigned for the Democrats, while President-elect Joe Biden campaigned there for them Monday. Both blasted Trump's seditious and illegal phone call to Georgia officials to pressure them into overturning the results of the November election which he lost in that state.
Up until the last minutes of campaigning, the Democrat Warnock blasted his Republican opponent Loeffler for choosing to line her pockets with money made from inside information about the coronavirus crisis rather than fight in the Senate for the aid Georgians so desperately needed to battle that crisis.
Jon Ossoff reminded everyone that his opponent David Perdue opposed any coronavirus aid for his constituents while he too was making money illegally with Wall Street trades using insider information about the pandemic.
The runoff election follows an historic general election in which Joe Biden defeated Trump in Georgia by 12,000 votes.
The Biden-Harris victory in Georgia followed a massive years-long movement in the state to register hundreds of thousands of African Americans who for so long have been disenfranchised. The movement, led by former gubernatorial candidate Stacey Abrams, was able also to overturn many of the voter suppression laws in the state, including signature matching laws that were so stringent that almost any ballot could be thrown out by election officials determined to keep people from voting.
Biden said in Georgia yesterday that the "power is literally in your hands, one state can chart the course of the nation for generations."
Auren Gro-Wargop, CEO of Fair Fight Action said last night on national television that Trump's rally Monday for Perdue was a "horror show." At the event, Trump declared to the cheers of a right-wing crowd that he will never give up the White House.
"I was struck," she said, "that in this horror show of a rally, with the intensive care units and the hallways of our hospitals full, the president never once mentioned the coronavirus."
"It's why Black and white and brown and all progressive voters are turning out despite them throwing their hate and voter suppression at us. We have a real shot at making history but we must not let up all day Tuesday. Everyone must turn out."
Her group, she said, was making sure that both voters and poll workers are protected against any attempts at voter intimidation.
She said that the voter mobilization effort today is taking place in every corner of the state, including in the deepest red counties where Democratic-leaning voters have been identified and are being pulled out in an election that has already made history.
Like free stuff? So do we. Here at People's World, we believe strongly in the mission of keeping the labor and democratic movements informed so they are prepared for the struggle. But we need your help. While our content is free for readers (something we are proud of) it takes money — a lot of it — to produce and cover the stories you see in our pages. Only you, our readers and supporters, can keep us going. Only you can make sure we keep the news that matters free of paywalls and advertisements. If you enjoy reading People's World and the stories we bring you, support our work by becoming a $5 monthly sustainer today.