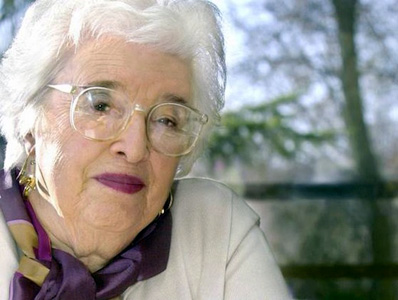 Gerda Lerner, whose life went from Jewish radical activist in Austria to refugee from Nazism to prominent U.S. historian, passed away in Madison, Wisc., at the age of 92, this month. Her son, Dan Lerner, told The Associated Press, "She was always a very strong-willed and opinionated woman. I think those are the hallmarks of great people, people that have strong points of view and firmly held convictions."
Author of groundbreaking books, perceptive and vigorous activist, Lerner never lost her radical view of the world nor how much it needed to change. Widely acknowledged as a leader in women's history, she also pioneered the study of the role of African-American women in U.S. history. As well, she served as the first woman president in 50 years of the Organization of American Historians, in 1981-82.
Born into a Jewish family in Vienna in 1920, as a teenager she became active in the radical movements of the time, for worker's housing, against anti-Semitism, and serving from the start in the Austrian underground opposition to fascism. Her family fled Austria following the annexation of Austria into Nazi Germany in 1938. She eventually made her way to the U.S., where she joined the Communist Party USA, and participated in struggles of working women.
She married Carl Lerner, a film editor, and in the 1940s in Los Angeles she took writing classes, including from John Howard Lawson, later a member of the Hollywood Ten. In the late 1940s, as it became increasingly difficult for Mr. Lerner to find work due to the blacklist against radicals in the film industry, the Lerners moved to New York. In 1955 Ms. Lerner published her only novel, "No Farewell" about workers housing struggles in Vienna in the 1930s.
Ms. Lerner returned to college in the late 1950s, eventually earning her doctorate from Columbia University in 1966. While studying, she collaborated with her husband on the writing and filming of "Black Like Me," based on the 1961 book by John Howard Griffen, a Southern journalist who went "undercover" as an African American and documented his mistreatment while pretending to be Black.
While studying at the New School for Social Research, she taught one of the first-ever courses on "Great Women in American History." Her dissertation was on the work of the Grimke sisters, Southern white abolitionists.
She found that the role of women in history was ignored and denigrated. She helped begin the academic movement for women's history as a crucial aspect of understanding the history of humanity. She taught at Sarah Lawrence, founding there the first graduate program in women's history in the country.
She collected stories, writings, and autobiographies of African American women for her groundbreaking work, "Black Women in White America: A Documentary History" (1972).
In 1973, her husband Carl died, and Ms. Lerner wrote a moving book about their experiences together during his protracted illness, "A Death of One's Own" published in 1978.
In 1976, she published another important sourcebook on women's history, "The Female Experience, Documents in American History."
In 1980, she moved to the University of Wisconsin-Madison, where she founded a doctoral program in women's studies. She continued her research, widening her field to include theories on "The Creation of Patriarchy," published in 1986, which reviewed available materials dating to the origins of organized society in ancient Mesopotamia. A second volume, "The Creation of Feminist Consciousness," was published in 1993.
She retired in 1991, but continued her work, writing more books on history and the role of women in it. In 2002, she published her political autobiography, "Fireweed." It covered her personal involvement with radicalism and the Communist movement, including her later disillusionment with the Communist Party, mainly over issues of Jewish identity and anti-Semitism in socialist countries. But she never lost her radicalism, her piercing intellectual honesty, and her wide-ranging intelligence.
Gerda Lerner was a force of nature, pioneering in many fields of academia and history, participating in academic and women's organizations (including as a founder of the National Organization for Women), writing many books including many which were the first or among the first in their area of history, and playing a prominent role as a public intellectual.
On a personal note, Gerda maintained a long and deep personal friendship with my mother, Virginia Brodine, a pioneer herself in Marxist environmentalism. Their friendship began in the 1940s, taking writing classes together, continued with a voluminous correspondence, visits and joint hiking trips, and lasted until Virginia's death in 2000.
Gerda Lerner's obituary in the New York Times can be found at:
http://www.nytimes.com/2013/01/04/us/gerda-lerner-historian-dies-at-92.html?pagewanted=all&_r=1&
An appreciation of her work can be found at:
http://www.progressive.org/gerda-lerner
Photo: This 2001 photo shows Gerda Lerner, founder of University of Wisconsin-Madison's graduate program in women's history (AP).