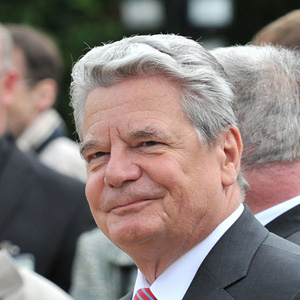 BERLIN – When politicians vacation and little action is expected, the words German journalists use for such summer doldrums is "Saure-Gurken-Zeit" or "sour pickle time." It may be derived from the time before the harvest when pickles were all that was left to eat. Others think it may be a combination involving the Yiddish word for troubles, "tsores".
Whatever the origin, it seemed to apply soon after a world soccer victory evoking excited adjectives from historical to hysterical, with Berlin marking its euphoria with countless private rockets bursting in air. And the flags were still there too, countless black-red-gold German colors. (The Stars and Stripes were increasingly unpopular here after scandals about the NSA-tapped phone of Angela Merkel – and most likely everyone else as well.) Anyway, after the games things slowed down.
Joachim Gauck
Not sour pickles but sour words had to be swallowed by Joachim Gauck, who is usually expected to stay above the political fray as non-partisan President of all Germans. He has usually a benevolent smile, attaining almost Cheshire dimensions, it is his outstanding feature. He occasionally tempers this with bitter tears when recollecting those awful days before 1989 when he battled Communist repression. (But unfriendly witnesses recall that his battling was quite invisible until just before final victory was assured).
One clerical colleague from those days, Rev. Friedrich Schorlemmer from Wittenberg, says Gauck was never part of the GDR church's peace movement. "For him the Weapons of Freedom, the weapons of the West in other words, have always been the good weapons." Schorlemmer added, "For myself, it's alright to shoot for a goal in soccer but not to shoot at people."
Now this issue landed on his plate again, and the sour herbs irritating his taste buds came not from Left Party foes but again from the very group he once belonged to – East German pastors! What got them angry? More and more sharply, President Gauck has been stressing how Germany must get more involved in the world – militarily! Always and only for good causes, of course!
At the Munich Security Conference, Gauck urged that Germany "must be ready to do more to attain that security which others had guaranteed it for decades". And, as he assured his prominent audience, "… when at some point the extreme case occurs – the need for the Bundeswehr (armed forces, VG) – then Germany can neither respond on principle with 'no' nor on reflex with 'yes'." In a radio interview he made it even clearer: "In the struggle for human rights or the survival of innocent people it is sometimes necessary to take up weapons." In other words, any reticence based on historical German military use had for him become passé.
East German ministers disagree
Sixty-seven East German ministers disagreed. In 1989, when Germany was unified, Gauck had also signed a "Letter to the Children" from Protestant pastors stating: "We are grateful that the fall of the Wall, the end of the GDR and the unity of Germany were achieved without violence and without a shot being fired by the heavily armed forces of the countries involved. … We must all do everything we can so that never again any person shoots and kills another person in a war."
"This is still valid," the pastors wrote him. "With your speech you have rejected the 1989 consensus and, as president, you recommend a different policy than the one we demanded at that time."
To his rejoinder that good causes justify military involvement they replied: "The Bundeswehr deployment in Afghanistan proves all too clearly how little the use of military forces is conducive to ending conflicts… We owe it to the many meaningless victims of that deployment not to increase our country's military capacities but rather to make civilian peace service our popular German export."
Gauck's bugle blasts for German military intervention in all continents were not solo serenades. Captivating trumpet notes were added by Minister of Defense Ursula von der Leyen, who wants to send more troops to various parts of Africa, while SPD Foreign Minister Steinmeier stresses the need to keep German troops, tanks and planes in Afghanistan. Surprisingly only for those who have not followed the metamorphosis of the Green Party to its current bellicose nature, its top leaders are among the loudest bugle-blowers. Their main foe remains Putin's Russia.
Leaders of the Lutheran Church are split on these issues, like those in many other groups. Yet while popular opposition to keeping German troops in Afghanistan, for example, peaked recently at 69 percent, this was reflected in Bundestag votes (with courageous exceptions) only by the Left Party.
And what about Gaza?
And what about Gaza? There have been many demonstrations against the bombing and shelling, largely but not exclusively by people of Palestinian, other Arab or Turkish descent. Also a few favoring Israel. On these complicated issues even more groups have been split.
There was a clear reluctance by many politicians to stress anything but the subject of anti-Semitism in Germany, France and elsewhere. Indeed, this menace always exists – like anti-Black racism and Muslimophobia, both more widespread today, but in Germany without the same awful echoes from the past. And there are indeed always some fascists, here and elsewhere, who try to misuse anti-Israel feelings, especially when some Jewish and non-Jewish leaders equate Israeli actions with Jewishness, calling any opposition to Netanyahu and Avigdor Lieberman "anti-Semitic".
Very unfortunately, this evokes the similarly false conclusion blaming all of Judaism for Netanyahu's bloody policies. Sadly, too many fail to regard all human life everywhere as equally sacred – including all children, whatever their ethnicity or religion. Dr. Dieter Graumann, head of the Central Jewish Council of Germany, said: "The West should sometimes try to place itself in the situation of Israeli parents. They must live daily with the uncertainty as to whether, when they say goodbye to their children going to school in the morning, they will ever see them again." No pleasant thought, it is true, but while such fears almost completely fail to materialize, there is no uncertainty at all that over 400 children of Gaza will never see any schoolroom again – nor their parents. The almost total failure to think of their death – and so many others – shocks me with its one-sidedness.
True, a group of emotional Palestinians in Berlin shouted some anti-Semitic slogans on one occasion, and a few excited young Arab men ignited some material at a synagogue door in Wuppertal. Yet while so many mosques in Gaza were destroyed, and although hundreds of children, women and elderly people were killed there, I found it surprising and gratifying that, although anti-Israel demonstrations were undeniably emotional, they were with almost no exceptions free of anti-Jewish slogans or caricatures. All the same, it seemed that for too many this question outweighed any horror at the scenes of death, destruction and so many, many weeping parents.
I must beg forgiveness that I have turned not sour but certainly bitter. I will try to avoid this in future and hope I have offended no one. But I cannot remain silent on events recalling the bombing of Madrid, Barcelona, Guernica [Ed: one of the most notorious crimes of the Spanish civil war, the 1937 bombing of the defenseless civilian population of Guernica by planes of Franco's German and Italian allies, the subject of Picasso's famous painting] and many others. The pictures have been all too similar!
Photo: Joachim Gauck, Woche der Umwelt 2012 (7344500700) CC-BY-SA-3.0-de EnergieAgentur.NRW