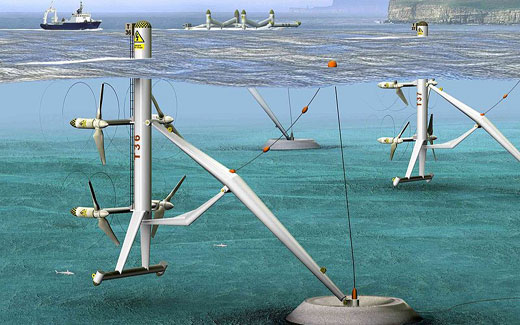 German utility companies have delayed the construction of a 25,000-megawatt wind farm off its coast because of fears the noise it would emit could kill thousands of porpoises.
The plan for solving the problem would involve spending millions on development of noise-reduction technology (the noise is reportedly caused by driving turbines into the seabed). That initiative comes after environmental activists expressed concerns at what effect the sound would have on the porpoise population.
For porpoises, sound is arguably their bread and butter. The 230,000-plus porpoises (and dolphins) in the North and Baltic seas use sound to navigate, locate prey, and find mating partners. Interference with that could, indeed, effectively kill them.
"A porpoise is doomed to die if its hearing is shattered," said German marine expert Kim Detloff, who works at nature conservation group NABU.
The goal is to have the wind farm, which would cover an area eight times larger than New York City, in operation by 2030. The plan is regarded by activists as an admirable attempt at creating a real clean energy source. The fact that technology companies E.ON and RWE are listening to their concerns and tweaking the technology accordingly is being praised even more.
Cutting the noise would be made possible by creating a stream of bubbles around the drilling area to absorb the sound.
The technology represents a concentrated effort in Germany to utilize wind power in the wake of its abandonment of nuclear energy. While that is an excellent prospect, activists warn that safety cannot be forgotten in the transition.
"Quite a large proportion of our sea area will probably be used for offshore wind farms," said Hans-Ulrich Rosner, head of the Wadden Sea Office for the World Wildlife Federation in Germany. "This will have a serious impact on nature, which needs to be mitigated."
"While developers are generally eager to install [the wind farm] as quickly as possible, they've come under pressure from regulators and nature groups to protect the porpoise," added scientist Otto von Estorf of the Hamburg University of Technology. "No developer wants to be seen harming the environment."
Photo: Artist's impression of one type of underwater wind turbine. Tidal Stream/Wikipedia