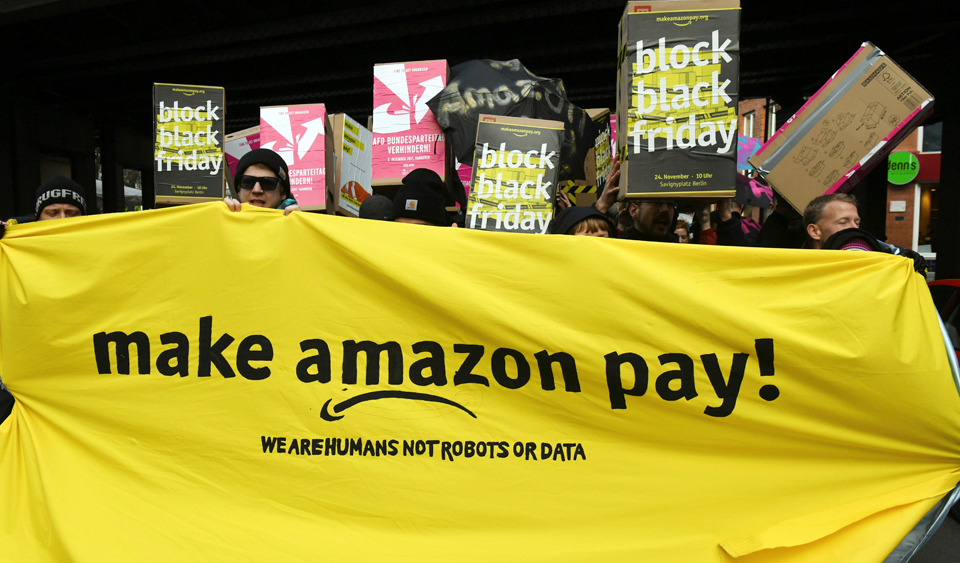 German trade unionists protested at a Berlin award ceremony last night to highlight the conditions of Amazon workers.
Members of ver.di, Germany's largest trade union, picketed the Axel Springer offices where "An Evening with Jeff Bezos" was held in honor of the Amazon boss.
Union spokeswoman Stefanie Nutzberger said they wanted to give Bezos "feedback from the employees" that work for Amazon in Germany, where ver.di has been fighting to secure trade union recognition.
"Amazon employees want to make it clear that having a good job with good people means better working conditions and collective bargaining," she said.
Ver.di accused the company of an anti-union attitude, with Bezos refusing "social partnership co-operation" in its operations across the world.
Last week, the Spanish CGT union hit out after Amazon fired 100 temporary workers after strike action at the company's largest site in the country.
Bezos was handed the Axel Springer award, which is given to "outstanding personalities who are exceptionally innovative."
However, Nutzberger said: "What that has to do with social responsibility is beyond me. A personality that does not respect employees deserves no award.
"Innovation must also have a human face, and the expansion of a global monopoly does not deserve the term innovation."
They were joined in the protest by the Make Amazon Pay coalition, which includes Germany's Die Linke party.
Campaign spokeswoman Maria Raschke said: "Amazon is a dystopian model for the future, from its customers' data loss, its anti-union attitudes, to tax avoidance strategies, so it's all the more gratifying that we'll be able to put several critics of this model on the road together to support the struggle of the employees at Amazon."