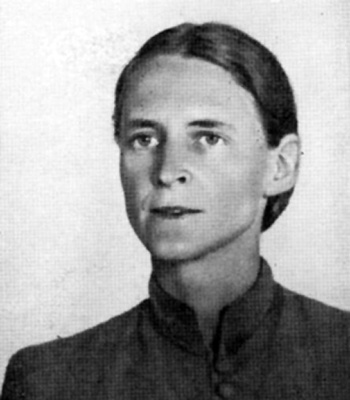 First the decent news, then the indecent items.
Remember
An American woman has been honored for her heroic work against the Nazis in World War II.
Mildred Fish was born in Milwaukee in 1902. She met a German fellow student, Arvin Harnack, at the Univ. of Wisconsin in Madison, married him and moved to Germany, where she taught English literature. When Hitler seized power the two helped organize a group of anti-Nazis and became part of a large network of resistance groups, labeled the Red Orchestra (Rote Kapelle) by the Gestapo. Aside from sticker and leaflet actions, they also established radio contact with the allies, including the Soviets.
But the Nazis were able to decode a message, and hundreds were arrested, including the Harnacks. Arvid was hanged within five days of the trial. Mildred, sentenced at first to six years, was retried at the express orders of Hitler and sentenced to death. She was guillotined on February 16, 1943, the first American citizen to suffer that fate. Because of their Communist leanings they were rarely honored in West Germany, but both portrayed on postage stamps in the GDR (socialist East Germany). So it was good to see a government official, the US ambassador and surviving relatives at the ceremony when the stumble stones were placed at their last home in Berlin.
Honor?
The next story did not begin at a university but ended at one, far less heroically, but for many, they hoped, only temporarily. A new professorial chair was installed at the Rheinische Friedrich-Wilhelm-University in Bonn, financed by the Foreign Ministry and even more generously by the Defense Ministry, and ceremoniously named the "Henry Kissinger Chair for Foreign Relations and International Law." It had been announced on his 90th birthday in May. Protests have been mounting, by the Green student organization and many others. Honoring a man whose name is connected with the slaughter of tens of thousands and more in Chile, Cambodia, Laos, Vietnam, East Timor and Bangladesh made this decision by Bonn academics and Berlin politicians seem, in the word of the Bundestag representative of the Linke (Left) party, simply "grotesque".
Scandal
Also grotesque, though with less of an international dimension, was a scandal plaguing the Roman Catholic Church in Germany in recent months. In the small West German city of Limburg, pop. 33,619, the local bishop, Franz-Peter Tebartz-van-Elst, 54, had delusions of grandeur. Soon after his appointment he decided to indulge his love of architecture by rebuilding the bishop's residence. The cost was set originally at about 3.5 million Euros but the princely design and decoration led to a truly regal — but secret — pile of bills. Turning newly-created rooms under the building into luxurious quarters, palatial art works and a beautiful chapel for the very pious bishop, who required it for his undisturbed prayers, helped raise the costs to at least 31 million, not counting repairs for damage on adjoining buildings.
Using an incredible amount of criminal manipulations he and a few buddies, robed and unrobed, kept it very secret until recently, when it came out in line with an inquiry about a long-denied but finally admitted air flight to India — first class — to view poverty-stricken areas, and because of angry stirrings in the congregation at this far-right homophobic, islamophobic bishop known for ruthless treatment of all who opposed him. Church collections have decreased alarmingly and the German bishop's council — and perhaps a pope devoted to modesty — will soon decide this art-lover's fate in an affair fully deserving the name of the area's most famous product — Limburger cheese!
New government
But the main news from Germany concerns the formation of a new government after the recent elections. Merkel's Christian Democratic Union (CDU) together with Bavarian sister party Christian Socialist Union (CSU), ruled by hubris, had expected to win a majority of Bundestag seats and rule the country by themselves. Largely due to Angela they did indeed do amazingly well in East and West but missed their expected goal by a measly five seats and therefore required a new partner. They had thrown their previous, conservative partners, the Free Democrats, to the winds; since it had no seats at all and was thus out of the running, Merkel was forced to choose a new partner – either the Greens or the Social Democrats (SPD).
At one time even the thought of Greens and CDU-CSU "Christians" ruling together would have been laughed out of the room; they seemed total opposites. But the Greens, far milder, now represent less rebellious youth than satisfied professionals, while some of their "right wing", like the minister president of Baden-Wurttemberg, also a wild radical in his youth, now want to look more to "business people". But the polite meetings of the two parties led nowhere, the Greens could not abandon their major issues, ecology and safe energy, so this coalition idea was abandoned.
At their weekend congress, reflecting their meager 8.4 percent election returns, they dropped some older leaders and proclaimed that they would no longer remain inseparable allies of the Social Democrats. How could they decide otherwise, with the SPD in the government and they in opposition? A few brave Green souls even broached the possibility of someday working with the Linke — till now a virtually total taboo. They will almost be forced to cooperate in some ways; even together these two opposition parties will have only about 20 percent of the seats, while a Grand Coalition of Christian and Social Democrats will have about 80 percent.
Of course, anyone with half a political brain could predict that the SPD and the CDU-CSU would again form another Grand Coalition, as between 2005-2009, even though that solution proved disastrous for the SPD. But those warm, soft cabinet chairs are far more tempting than the cold seats on the opposition side, and the SPD, after trying to sound a bit tough, reached the expected agreement in the end. Indeed, the head of Merkel's Bavarian sister party CSU, even further to the right than her CDU, noted after the last meeting with the SPD that "the atmosphere was good, there was even some laughter".
Evidently the SPD won out with its long overdue 8.5 Euro minimum wage demand, always opposed by right-wingers in Merkel's band but otherwise largely accepted. But it will sacrifice its second main campaign demand: raising taxes on super-wealthy companies and individuals. "You just can't win them all!" they indicated, though the money is sorely needed for education, infrastructure, and anti-poverty efforts. Yet the special congress of the SPD this evening will almost give its approval, if grudgingly for some. As for the planned mail-in vote of all their members, possibly less willing to join their traditional CDU foes, this seems at the moment to have been quietly "forgotten".
This new willingness by SPD leaders was easier since "Mutti" Merkel still maintains – most of the time — that pleasant look and tone (in Mutti – for mommy – the "u" is not pronounced like a canine "mutt" in German, but much like the "oo" in "crook"). But, ach! – When you peek just a little behind the scenes, you wonder about the smiles, the "good atmosphere" – and the laughter.
Emissions
Last week German representatives succeeded in forcing environmental ministers of the other European Union countries to put off enforcement on lower CO-2 emissions by heavy European-made cars. As the magazine Der Spiegel put it, "There were threats, lobbying and even a call from Chancellor Merkel to the Irish prime minister (the present chairperson). In the end, Germany got its way and managed to delay an EU decision." The atmosphere, also politically, will surely suffer.
At almost the same time the interested German public learned that the Quandt family, major shareholders in the company making BMW cars, had just given the CDU a friendly present of 690,000 Euros. This was just pocket money for the family, but was a great help to the CDU which, like the Quandts, quickly denied any connection between the two items – although BMW (and Mercedes) are the worst offenders with their heavy cars. And they don't want to change.
The family is fascinating. Johanna, its head, one of the wealthiest women in the world, was married to one of the two Quandt brothers, who with their father Günther were among Hitler's major industrialists, producing batteries for submarines and V-2 rocket launchers, Mauser guns and other friendly products, using more than 50,000 Polish female forced laborers, POWs and concentration camp slaves to build their fortune, which they carried over into their post-1945 business — including BMW.
The other Quandt son, a half-brother, after the divorce and remarriage of his mother, became the loving stepson of none other than Hitler's propaganda minister Goebbels. In the last days of the war, Goebbels, before poisoning himself, wife and daughters, sent his stepson a farewell note: "It's likely that you'll be the only one to remain who can continue the tradition of the family." He did his best. When he received the letter, he was a POW of British troops in — of all places — Benghazi! There's something for Sen. Rand Paul to really dig into!
Maneuvers
And here is another sector of Merkel's program, which the SPD will almost certainly be supporting, as it has with similar scenarios in the past. The event ran parallel to its jolly coalition conferences:
"As German military sources report, between September 30 and October 10 there were major maneuvers in the Lüneburger Heath area near Bergen and Munster (not far from the former Bergen-Belsen concentration camp, VG). The so-called Informational Training Operation, involving 3500 soldiers and 700 land and air vehicles, was viewed by future general staff and admiral staff officers at the Bundeswehr Leadership Academy and other officers in training. As one of the participants stated, "You need to smell the powder and hear the noise". The basic scenario for the maneuvers was based on the landing of German troops in a fictive country of "Obsidia" with the aim of putting down active rebellions there." (German Foreign Policy, October 17, 2013)
Linke
Perhaps such plans help explain why the Linke party — despite occasional disagreement — has insisted in its program on "no use of German troops abroad for any purpose". Even if labeled humanitarian aid, any such use helps to strengthen such eager elements and train their armed assailant units. This issue has been a major stumbling block for any possible coalitions on a national basis between the SPD and Greens with the Linke. We must wait to see who sticks to his guns — or who rejects them!
Photo: Mildred Fish Harnack, circa 1943. Wikimedia CC 3.0.