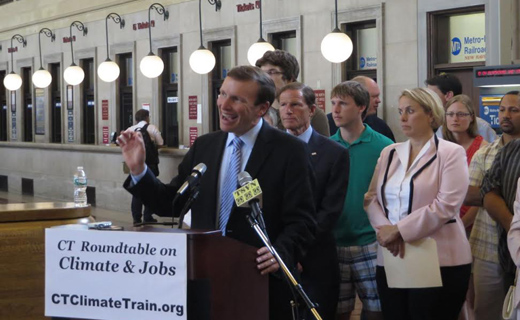 NEW HAVEN, Conn. – When the People's Climate March kicks off in New York City on Sunday, Sept. 21, it is sure to be a powerful and diverse assembly. That is clear from the organizing experience in this state where federal, state, and municipal officials, public and private sector unions, Christian, Muslim, and Jewish congregations, public schools, environmental groups, and peace organizations that have not traditionally collaborated are all finding common ground.
Calling action on climate change a "moral and scientific and political imperative" U.S. Senator Richard Blumenthal, speaking at a press conference at Union Station in New Haven, said he hopes the rally will make "an indisputable statement that the people of America, people of faith, working men and women know jobs and the environment are not in contradiction."
"It is not often with one legislative issue that millions of jobs are created and millions of lives are saved," said U.S. Senator Chris Murphy. Using fuel cell production in Connecticut as an example he said, "If we create the demand for renewable energy, we will create jobs."
The labor-religious press conference was initiated by the Connecticut Roundtable on Climate and Jobs, formed two years ago by the Connecticut AFL-CIO and the Interreligious Eco-Justice Network to "address urgent concerns about climate change while creating good paying jobs in the state."
Lori Pelletier, executive secretary-treasurer of the 200,000 member state AFL-CIO greeted the Climate March as an historic opportunity to raise awareness for safety, health, job security and environmental security. Rev. Dr. Ian Douglas, Bishop Diocesan, Episcopal Diocese of CT, Rabbi Joshua Hammerman of Stamford and Fatma Antar of the Islamic Association of Greater Hartford/Berlin Mosque also spoke at the press conference.
Melodie Peters, president of Connecticut AFT, thanked Governor Dannel Malloy and both Senators for their "advocacy and tenacity" with Metro North to make a Climate Train possible. She said teachers will be marching with the safety and future of the children in their classrooms in mind.
Days later, another press conference was held with students at New Haven's Sound School, a vocational high school that specializes in aquaculture, located on Long Island Sound.
Emphasizing the inter-relationship between jobs and environment, Jess Corbett representing Unite Here and the New Haven Central Labor Council emphasized, "Make no mistake – worker justice and environmental justice are not only related but impossible to win on their own without collaborative work between us."
"Individuals should certainly take more interest and responsibility in the environment," said Corbett, "But it is corporations that are making record profits poisoning the air we breathe, the water we drink, the food we eat and in many instances the places we work, in effect asking us to choose between our livelihood and our lives. If we work together we can create sustainable jobs in a sustainable world."
Adding the perspective of a peace organization, Henry Lowendorf chair of the Greater New Haven Peace Council and a Climate March organizer pointed out that "to reduce fossil fuel consumption, the creation of greenhouse gases and cooking the climate means ending the wars that profit the oil corporations. Thus the peace movement calls on the world's leaders, in particular those in the USA, to generate a binding agreement dramatically cutting the pumping, transporting and use of fossil fuels."
Sydnee Odei-Ntiri, a senior at Sound School, concluded the press conference by pointing out that "it will be the job of the young people, our job, to clean this planet up and nurse it back to health. It is important that we understand that now." (Read her complete remarks in this companion article.)
Odei-Ntiri will be among many youth taking the Climate Train to New York next Sunday. The march has also been endorsed by the New Haven Board of Alders.
Discounted train tickets to the Climate March are available here and bus information from cities across Connecticut is available here.
Photo: Henry Lowendorf