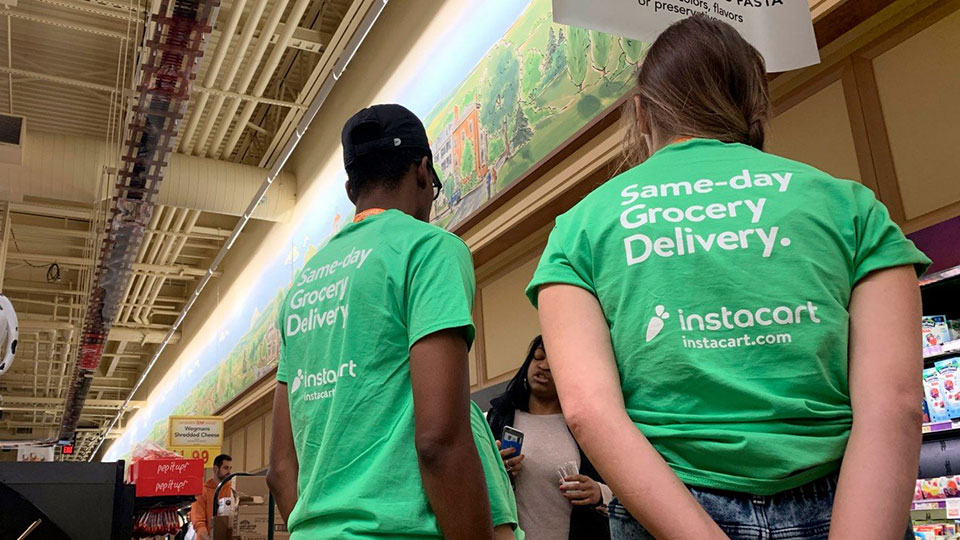 Upset by their companies' refusal to protect them as they do vital jobs of delivering supplies during the coronavirus pandemic, gig economy workers, especially on the West Coast, were forced to strike March 30 against Instacart and DoorDash.
The thousands of drivers walked out because the two delivery services were not providing them with protective masks, sanitizer and other ways to arm themselves against the spread of the virus. And they weren't the only ones.
The day before, Amazon warehouse workers on Staten Island rebelled against the monster retailer's refusal to tell them that at least one co-worker had tested positive for the coronavirus, thus endangering the rest, and the workers then left. Workers at ten other Amazon warehouses told news services they learned of coronavirus dangers only by word of mouth. They haven't walked – yet.
Days before, Teamsters waste disposal workers in Pittsburgh found their employer, Waste Management, did not provide protective equipment and also did not tell them it delayed opening the waste station for an hour, to 6 a.m., as a precaution. The walkout lasted a day, March 25, and ended only because the mayor met the local Teamsters leader to declare the workers would get their equipment.
The forced strikes expose one of several holes that endanger low-wage workers, particularly members of minorities, in the U.S. economy, despite the $2.2 trillion bill, part of which was meant to help such workers, Congress passed and GOP President Donald Trump signed the week before.
One big hole is the low-wage workers who toil for rabidly anti-worker firms, such as Amazon and Perdue, whose owners are known for cracking down on any worker attempt to stand up for themselves, by unionizing or otherwise. Those same firms also tightly control the information the workers get.
Another, though unsaid, is that many of the low-wage gig economy workers, especially the warehouse workers, are undocumented and thus not covered by the financial rescue bill.
Workers – and other adults – who filed federal tax returns last year are in line for the measure's $1,200-per-adult checks. But undocumented workers are part of the "underground economy," paid in cash, with no W-2 forms or 1099s, and thus no record of their pay and their eligibility for the money.
The first walkout actually came at a non-union plant, days before the Teamsters acted. Some 50 non-union Perdue chicken processing workers at a plant in Kathleen, Ga., in the state's rural Houston County, had been on the assembly line, again without protection and ordered to line up too close together. "We shouldn't give our life for a chicken," one told a local TV station in Albany, Ga.
The firm claims it's sanitizing the plant every night, but the workers told Democratic Underground that when they come onto morning shifts, it's still dirty, with entrails on the floor. They demanded workers exposed to colleagues who potentially tested positive for the coronavirus should be sent home, with pay.
On March 27, the Instacart workers and their pro-worker organizing group, the Gig Workers Collective, asked Instacart to provide personal protective equipment at no cost to workers and hazard pay of $5 extra per order.
They also wanted a higher tip rate, to extend sick pay to workers with a doctor's note for a pre-existing condition that would open them to higher hazard for the coronavirus, and to keep those benefits available through April 8. The company said it would get a shipment of sanitizers this week and install them in warehouses and distribute them to vehicles.
That wasn't enough, Gig Workers Collective said – and the workers walked on March 30. "People are scared for their lives," one of the collective's organizers told news services.
DoorDash workers were forced to take a hike, too, for many of the same reasons. One worker in the Oakland area who tested positive was sent home and provided with a doctor's note, which the worker in turn provided to the Los Angeles Times.
"Patient may return to work on April 3, 2020, pending management of pain and symptoms. Patient is instructed to self-quarantine to avoid acquiring viral illness or exposure to others."
DoorDash had promised its workers they would get two weeks off with sick pay to prevent potentially contagious workers from coming to work and infecting both their colleagues and restaurant staffers at eateries where the drivers picked up food for home delivery.
But when the worker, named Toby – he didn't give his last name for fear of reprisal from the non-union shop's bosses – presented the note to DoorDash, it denied his sick pay request because the doctor didn't specifically mention the coronavirus. Instead, the Times said, it suspended Toby for two weeks without pay.
While the Amazon day shift warehouse workers on Staten Island walked out, the workers at the other warehouses confronted managers about whether they had been exposed to co-workers testing positive for the coronavirus. The managers said "yes," but only after they were questioned.
Amazon then said it disinfected the Staten Island warehouse, but didn't tell the night shift of the threat. They learned of it from a New York City workers' rights group. After that text, they refused to enter the warehouse, shutting it down. In Jacksonville, Fla., the Amazon workers learned of the danger through their local news
At Amazon's warehouse in Joliet, Ill., south of Chicago – and a main transfer point for Amazon goods, co-workers told Stephanie Haynes, who has asthma – thus heightening the coronavirus danger for her – that someone working nearby tested positive. Human resources personnel confirmed it.
The workers demanded the warehouse be closed and cleaned. HR refused, saying cameras showed the other workers were far enough away from the coronavirus victim to be safe. They also promised to disinfect the warehouse while the workers worked.
By contrast, former Labor Department official Deborah Berkowitz wrote in Harvard Law School's On Labor blog, "Supermarket workers are also at risk, and it's the United Food and Commercial Workers and their local unions that have won paid vacation for sick workers, a declaration in some states that grocery workers are emergency workers and eligible for free child care, plastic shields installed in big supermarket chains such as Giant, Safeway, Schnucks, Albertsons and more, hand sanitizers, and time to wash hands.
"The IBT's sanitation workers in Pittsburgh protested the lack of gear needed to protect them from infected waste. The UAW worked with automakers to shut plants, and is now demanding health and safety protections for workers be implemented before any plants reopen."
The ATU is demanding and winning new procedures for fare collection and passenger entry to help reduce the risk to bus drivers. Those new procedures show up on transit systems everywhere. On the Washington area's Metrobuses, for example, everyone – except for disabled passengers — enters by the rear door, and the operator's section, including the farebox, is roped off from the rest of the bus.
There aren't many passengers, though. With virtual lockdowns of businesses and much of the federal government in D.C., the number of passengers on a midday route can often be counted – for the entire trip – on the fingers of one or two hands.