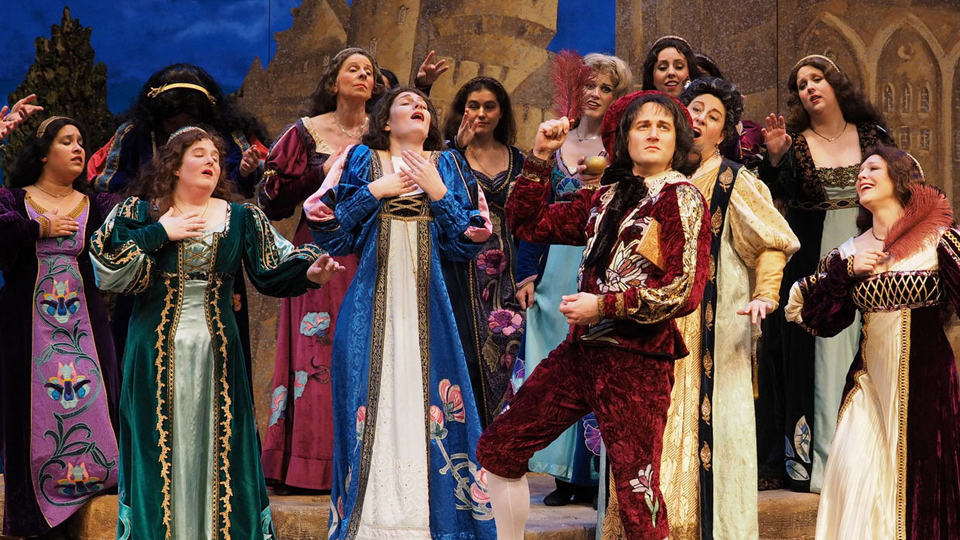 SAN FRANCISCO — The Lamplighters Music Theatre, specializing in W.S. Gilbert and Arthur Sullivan (G&S) operas and now considered the leading G&S company in the U.S., was founded in 1952 and continues to enjoy a healthy following. The Lamplighters often revive the less familiar G&S works, not just The Pirates of Penzance, H.M.S. Pinafore, Iolanthe and The Mikado.
This season's lavish production that enticed me to the Bay Area was the 1881 work Patience, now relatively rare, which had never crossed my path until now.
Librettist Gilbert wrote that Patience was originally conceived out of an earlier poem of his called "The Rival Curates," in which two preachers from neighboring parishes compete for the loyalty of their flocks, and also for the love of a village dairymaid. Fearing charges of irreverence, he turned his rivals instead into Aesthetic poets who embraced art for art's sake without social or moral purpose.
The "Fleshly Poet" Reginald Bunthorne (F. Lawrence Ewing last Saturday night) enjoys the worshipful adulation of a score of Rapturous Maidens who, until they got caught up in the craze for obscure poetry, had been betrothed to an equal number of officers of the Dragoon Guards. Some of these Dragoons adopt the precious mannerisms and stances of the Aesthetics in order to win back their girlfriends.
Bunthorne is a self-acknowledged sham who nevertheless enjoys being adored by the Maidens and privately wishes to marry a lowly dairymaid, the 18-year-old title character Patience (Jennifer Mitchell), who is immune to infatuation. Bunthorne recites his poem of utter disdain for the empty commonplace of life, "Hollow," which Patience unceremoniously pronounces to be "nonsense"; she confesses to not liking poetry at all. Bunthorne asks Patience, "You are not hollow. Are you?" — to which she replies, "No, thanks, I have dined."
Bunthorne then asks, "Tell me, girl, do you ever yearn?" She replies, "I earn my living." The puns reveal the vast gap between the guiles of an impostor and a worker's pride. Although the opera's subject is pretentiousness and faddism, its moral essence is the affirmation of the decency and normalcy of ordinary working people.
Typical of a G&S work, hilarity, contradictions and topsy-turvy reversals ensue, all set to charming melodies, the requisite patter songs, duets and choruses.
The Lamplighters pay meticulous attention to detail. The curtain opened on a handsome tableau vivant of the chorus of Maidens standing around emoting their passion for Bunthorne. Their gorgeously imagined costumes, each an original with Art Nouveau flower motifs, create a storybook illustration à la Dante Gabriel Rossetti, the Victorian pre-Raphaelite painter who specialized in exotic, faux medieval scenes and dress. The two poets, writing with feathers in their notebooks, dressed like medieval troubadours totally out of place in mid-19th-century England. The second act takes place in a glade of Maxfield Parrish-like decor with a classical Greek-columned terrace.
Stage director Barbara Heroux has her ample cast sighing and pining, gesturing, prancing and dancing, and thoroughly committed to exploiting the rich, sophisticated wit of the piece. Fortunately for the audience, the production supplies supertitles for song lyrics. In the dialogue these actors reveal a plummy Englishness that makes almost every word audible and distinct. David Möschler conducted a full orchestra with a light, springy touch.
Patience opened in April 1881 at the Opéra Comique in London and transferred after a few months to Richard D'Oyly Carte's brand new Savoy Theatre, where for the first time in theatrical history a production featured electric lighting for both the auditorium and the stage. D'Oyly Carte's name became permanently associated with G&S. His company was known as the Savoyards.
Patience enjoyed a longer first run than any previous G&S work, only surpassed by the later Mikado. Some critics regarded it as the best in the G&S catalogue. The theme of Aesthetic poets may largely escape modern audiences, who are hard-put to clearly distinguish between "fleshly" and "idyllic" poetry. In this production, more might have been done to help operagoers differentiate them, by costume choices, mannerisms and vocal tone. Updating the work has been tried but generally found unnecessary because it speaks inherently of cults, crazes, fads and celebrity worship – which appear to be simply part of the human condition.
For all the opera's focus on Aestheticism as a movement, in the end it turns into a paean to the common people and their everyday pedestrian lives — although, true to form, that too is subject to satire. Exhausted by the Maidens' constant attention, Archibald pleads for a half day off on Saturday, reflecting the beginnings of what we would call the "weekend."
A duet that the two poets sing together is nothing less than an ode to the common man:
"Conceive me, if you can, / An every-day young man: / A commonplace type, / With a stick and a pipe, / And a half-bred black-and tan; / Who thinks suburban 'hops' / More fun than 'Monday Pops,' / Who's fond of his dinner, / And doesn't get thinner / On bottled beer and chops."
Patience debuted earlier in the same year that Oscar Wilde's first book of poetry appeared, so these poets are not based on him, nor on anyone in particular. However, the following year, when the opera came to New York, D'Oyly Carte recognized that American audiences might not comprehend the rather specific satire. So he sponsored a reading tour for Wilde, with fifty appearances in different cities, to acquaint Americans with the Aesthetic movement, and box office receipts for the production at Broadway's Standard Theater picked up measurably.
Bunthorne is not exactly a villain, but a pathetic poseur who shamelessly exploits the vulnerabilities especially of women in a manufactured Aesthetic industry whose commercial reach invaded the worlds of publishing, architecture and home design, fashion, advertising, event promotion, and even personal mannerisms. The promoters of the Aesthetic cult did not invent this kind of faddism, but in highly urbanized Britain, arguably the most advanced capitalist society of its time, the market for "merch" established the paradigm for faddist exploitation of the arts that we have seen ever since. Perhaps Disney today comes closest to the very model of a modern major integrated cultural empire.
Satire can be a rapier cutting into the pretenses of society — in the 20th century sometimes a weapon in the class struggle. If that is perhaps an overly loaded concept for the delightfully silly confections of a G&S opera, they did offer at the very least a concerted pushback against the self-important authority figures who were their constant targets. A healthy skepticism laced with broad humor can go a long way toward keeping public officials honest and above-board.
The three-day run of Patience at the Yerba Buena Center for the Arts Theatre in San Francisco has ended, but the production moves on to the Lesser Center for the Arts in Walnut Creek, Feb. 10-12 (call 925.943.7469 or go to lesherartscenter.org), and the Mountain View Center for the Performing Arts, Feb. 18-19 (call 650.903.6000 or go to mvcpa.com). The Lamplighters Music Theatre website can be viewed here.