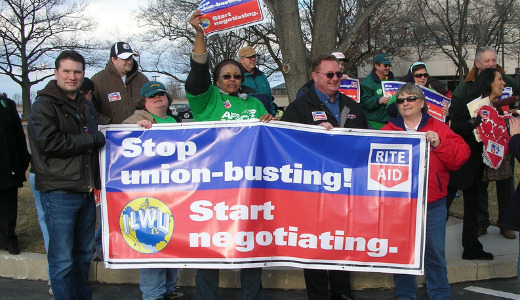 Accusing retail drug giant Rite Aid of "stalling" tactics, hundreds of workers and their supporters from California, Pennsylvania and New York marched on Rite Aid's annual shareholder meeting in Harrisburg, Pa., June 23 to demand the company reach agreement on new contracts.
At issue are a first-time contract with workers at the company's sprawling southwest distribution center in Lancaster, Calif., and contract renewal at stores in Pennsylvania.
After the rally, Pennsylvania AFL-CIO President Richard Bloomingdale and 20 Rite Aid workers and union representatives walked into the annual meeting and presented a resolution calling for shareholders to have a say on CEO pay.
Mary Summons, who is being replaced as CEO but continues as chairwoman of the Rite Aid board, received $6 million in fiscal year 2008 and $3.2 million in 2010. Had she been fired after presiding over company losses in recent years, she would have received a golden parachute of more than $14 million, according to the AFL-CIO.
While Summons made millions even as Rite Aid's stock price dropped, Sylvia Estrada and Angel Warner, International Longshore and Warehouse Union members at the Lancaster warehouse, made an impassioned plea "to give us our rights – to be paid fairly and treated with respect."
Rite Aid waged a three-year anti-union campaign that put the nearly 600 workers at the Lancaster distribution center "through hell and back," Peter Olney, the union's organizing director, said earlier this year. But, in March 2008, the workers voted in the ILWU.
Despite company efforts to intimidate workers in the workplace and stall in negotiations, Olney said "the workers remain solidly behind the union" and have been making gains.
Most recently, after a worker suffered a serious head injury, the company agreed in negotiations with the union to stop storing heavy liquor boxes on the top levels of the warehouse "mods," and not to count time spent fixing unstable loads against the workers' production quotas.
The workers and their union are employing a combination of tactics, including shop floor initiatives by the workers themselves as well as public and legal pressure, in order to improve safety and working conditions as they continue to fight for their first contract.
Speaking of the most recent victory, ILWU bargaining team member Carlos Rubio said, "Having a union, and feeling empowered because of it, helped us finally get this done."
Meanwhile in Pennsylvania, Wendell Young IV, president of United Food and Commercial Workers Local 1776, urged Rite Aid "to bargain in good faith" to reach agreement on new contracts at the retail stores in the state.
Other speakers at the actions outside and inside the shareholder meeting included union leaders representing Rite Aid retail store clerks from 1199-SEIU in New York City and warehouse workers from the Teamsters union on the East Coast.
Photo: A 2009 rally at Rite Aid headquarters in Pennsylvania. (AFL-CIO/Amy Niehouse) http://www.flickr.com/photos/labor2008/3292916718/ cc 2.0