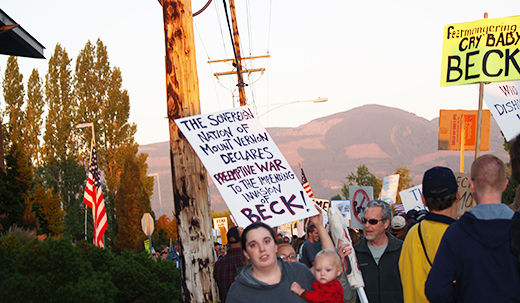 According to Glenn Beck the nations 1.4 million Americans who have been out of work more than 99 weeks are "a bunch of un-American losers."
Beck went on tirade this week against people who can't find work and feed their families.
"I'd bet you'd be ashamed to call them Americans," said Beck on his conservative talk show.
"Go out and get a job. You may not love the job. Work at McDonalds. Work two jobs… two years is plenty of time to have lived off your neighbor's wallet," he said.
Beck went on say jobless workers are "anti-capitalist and socialist."
Critics note Beck's anti-worker rhetoric is simply ignorant and unequivocally misguided.
Beck is planning an August 28th "Restoring Honor" rally, with Sarah Palin among the scheduled speakers that will take place on the steps of the Lincoln Memorial in Washington D.C., 47 years to the day after Martin Luther King Jr. delivered his "I Have a Dream" speech there.
Beck claims he was unaware of the King anniversary.
In November he announced plans to reveal a "100 year plan for America" at the Lincoln Memorial. More recently he said the August 28th event is to restore the country's "values" and pay tribute to military families.
The controversial talk show host said it was "divine providence" that the rally happens to be scheduled on the anniversary of King's famous speech.
However civil rights groups and social justice activists are denouncing Beck's event and question his motives for choosing the date. The date of King's speech is historically symbolic of the nation's civil rights movement, they add. And Beck's comments in the past are consistently disingenuous and racially insensitive, activists note.
In 2009 Beck said President Obama harbors "a deep-seated hatred for white people or white culture."
Prior to Beck's announcement of his rally, civil rights groups had been planning marches and demonstrations the same day.
Marc Morial, president of the National Urban League recently said August 28th is a special day for all America.
"It is a day that means something in American history because it was the demonstration in the United States in support of civil rights," Morial said to the Washington Post.
Beck's plans are "an effort to embarrass and poke a finger in the eye of the civil rights community because Glenn Beck and his public utterances don't necessarily demonstrate a consistency with the vision of King," he added.
Rev. Al Sharpton is one of the civil rights leaders helping to organize a march to commemorate King's legacy. Sharpton said Beck's counter rally contradicts what King truly stood for.
Sharpton said the planning of his "Reclaim the Dream Rally" began in April and will consist of a march and rally at the King memorial on the Mall. The event is being supported by the NAACP, the Urban League and Martin Luther King III.
U.S. Secretary of Education Arne Duncan is among some of the participants scheduled to be present.
"For Glenn Beck and Sarah Palin to have a march, they have the right to do so," said Sharpton to the Washington Post. "Many of us suspect they are using the symbolism of that day in a way that does not reflect what the day is about. At no point will we interchange. We will not desecrate the march and what King stood for."
Morial added, "It is very important we convey a positive message that America belongs to everyone," he said. "Our rally is not an 'us against them.' We want no confrontation with Glenn Beck. But we want a confrontation with the ideas he espouses. His ideas seem to be ideas of intolerance."
Meanwhile NAACP President Benjamin Jealous said his group along with 200 others is planning a major jobs rally at the nations capital on Oct. 2 "to pull America back together and put America back to work."
Jealous notes, "On that day we will reflect Dr. King's true legacy and his determination to eliminate poverty, racism and hatred in all forms," he said.
Some organizations are staging "counter-events" against Beck's rally on the Mall Aug. 28th including a grass-roots network of artists, community organizers and social activists calling themselves "Celebrate the Dream." As a memorial to King an original 77 feet wide and 37 feet tall sculpture is expected to be unveiled, artists say.
Photo: http://www.flickr.com/photos/erna-louisa/3958647574/sizes/o/