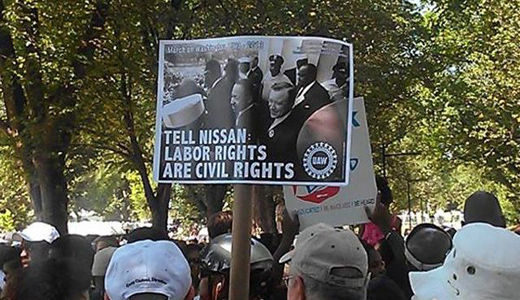 CANTON, Miss. – A delegation of senior-level trade union leaders from around the globe will travel to Canton, Mississippi, to meet with Nissan workers and community leaders Oct. 9-10 to learn more about working conditions at Nissan and reported violations of international labor rights standards. For years, workers have weathered an environment of intimidation and implied threats from the company regarding the fundamental, internationally recognized human right to organize a union in the workplace.
A news conference will be held Friday, Oct. 10, where delegates will announce their findings and recommendations.
The delegation is led by IndustriALL Global Union, an international organization that represents more than 50 million workers in 140 countries, including Nissan and Renault workers throughout the world. Accompanying Jyrki Raina, the leader of IndustriALL, are representatives of key auto unions from six countries. They include representatives from Unite the Union in the U.K., the Confederation of Japan Automobile Workers' Unions (JAW), the Japan Council of Metalworkers' Unions (JCM), the French CGT and CFE-CGC, Spain's MCA-UGT and CCOO, South Africa's Metalworkers' Union , Força Sindical and CNM-CUT from Brazil, and Workers Uniting North America.
The unions represent a broad cross-section of Nissan and Renault workers from across the world, including workers at the newly opened Nissan plant in Resende, Brazil, who are members of Força Sindical, to the 22,000 unionized Nissan workers in Japan. The European unions are also active in the Renault and Nissan Works Councils, consulting bodies that allow the company and union to jointly discuss and decide policies.
Delegation representatives say workers at Nissan and Renault facilities worldwide are keenly interested in the company's conduct in Mississippi, and are deeply concerned about allegations of mistreatment.
The delegation has requested to meet with Nissan North American management while in Mississippi. Last December, when IndustriALL affiliates met in Tokyo, a similar request to meet was made and denied.
Photo: United Auto Workers Facebook page