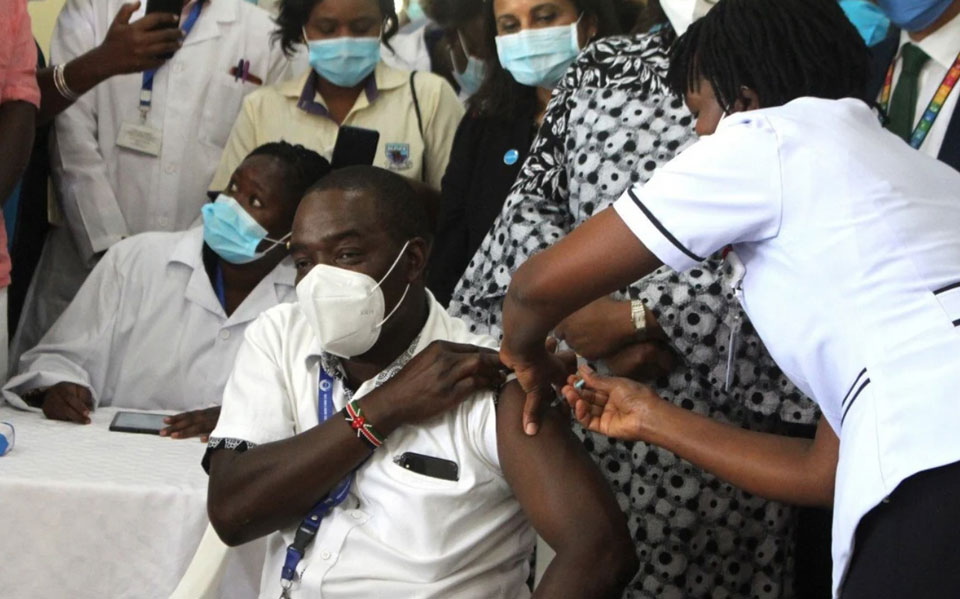 As the Biden administration orchestrates a massive effort to open vaccination against COVID to every adult by April 19, a "shocking imbalance" in vaccination is occurring globally.
While governments of many wealthier capitalist countries are vaccinating their populations, vaccinations have all but stalled in the global South countries, leaving the people in large swaths of the planet to fend for themselves.
"Vaccine nationalism" by wealthier capitalist countries, pharmaceutical industry greed, misinformation, and the lack of funding and public health infrastructure in many places are all immense obstacles to global vaccination just as the pandemic spikes.
The U.S., among 100 nations vaccinating their populations, is vaccinating approximately 4 million people a day. This past weekend the number was a record 4.5 million. By February, ten countries had administered 75% of all vaccine doses.  However, about 30 countries, including much of Africa, have yet to administer their first dose.
At the current vaccination rate, the world will reach herd immunity (when 75-80% of the population has received the two-dose vaccine) in 4.6 years, and 80% of the people in low-income countries will not receive a vaccine this year.
Pharmaceutical corporations hope to produce between 10-14 billion vaccine doses in 2021. Already wealthier capitalist countries have "cleared the shelves," claiming two-thirds of them, enough to vaccinate their populations 2 or 3 times over.
So far, these countries are prioritizing vaccinating their populations. "Vaccine hoarding" sends the message that everyone else is on their own. Just as the pandemic exposed vast health care inequalities in the U.S., this approach reinforces immense global public health structural inequalities, including during the HIV/AIDS epidemic.
No country an island
Unequal vaccination has global economic and social consequences, including on the people of the U.S. as well. Treasury Secretary Janet Yellen warned without global vaccination, no country, including the U.S., is assured of ending the pandemic and achieving economic recovery. And over 250 million people risk falling into extreme poverty if the global economy doesn't recover.
In February, Dr. Anthony Fauci, chief medical advisor to President Biden also warned the world faces a permanent pandemic crisis unless vaccination is increased and equally applied everywhere. Even if the U.S. population is primarily vaccinated (the main exception being half of GOP voters who refuse), there is a significant risk of reinfection (variants are a reason for the recent surge in Covid-19 infections) from variant strains of Covid-19 from other countries. Reinfection could result in new surges and deaths, shutdowns, and economic disruptions.
"Bottom line: We have to get the entire world vaccinated, not just our own country," Dr. Fauci stressed. Success also depends on the development of cheaper and easily deliverable vaccines, he said.
Massive inequalities persist despite creating the COVAX facility, a multilateral initiative associated with the World Health Organization (WHO) and the Vaccine Alliance (GAVI). The goal of COVAX is to bring vaccines to 92 more impoverished and developing countries by gathering "governments, global health organizations, manufacturers, scientists, private sector, civil society, and philanthropy, with the aim of providing innovative and equitable access to COVID-19 diagnostics, treatments, and vaccines."
Lack of resources has hampered COVAX from the start. India's decision to redirect vaccines it promised to COVAX for domestic use in light of a surge of cases has exacerbated the vaccine shortage. India has the largest pharmaceutical production capacity in the world.
Under the most optimistic forecasts, COVAX is aiming for a 20% vaccination rate by the end of 2021. "The approach is not for universal coverage," Economics Prof. Jeffrey Sachs of Columbia University told a UNESCO Covid Roundtable. "We do not have the funding for scaling up."
The funding must come primarily from the wealthier capitalist countries. Sachs said the cost of universal vaccination coverage is only $50 billion by the end of 2022. "Our governments obviously have the funding but are not giving the funding," he said, noting the $5 trillion the U.S. has committed to the pandemic, bolstering the public health infrastructure and economic rescue so far.
The Biden Administration reversed Trump's policy to withdraw from COVAX. It announced the U.S. would contribute $4 billion to the effort, provide more aid through additional Special Drawing Rights in the IMF, and made other commitments during the Quad Summit with India, Japan, and Australia. The U.S. will support the work of the WHO and COVAX, help expand manufacturing capacity in India to produce 1 billion doses, and contribute an additional $100 million for immunization efforts in the Indo-Pacific region.
The administration is taking these halting steps in considerable measure as part of its strategic competition with China to counter China's distribution of tens of millions of vaccines to poor and developing countries, enhancing its growing role and prestige. Once the U.S. inoculates its population, the Biden administration will send excess vaccines globally.
Vaccine solidarity
The socialist-oriented states of China, Cuba, and Vietnam are stepping into this "vaccine chasm" with solidarity, motivated by policies that see the Covid-19 vaccine as a public good. Western corporate media largely ignores or distorts their successful efforts to combat the Covid-19 pandemic, where governments prioritize public health.
Capitalist media and government officials cynically call the solidarity these countries are extending globally self-interested "vaccine diplomacy." Chauvinism, anti-communism, and geopolitics play a role in the slowness of drug regulators in the capitalist countries to approve Chinese vaccines (and, for different reasons, Russia's Sputnik 5 vaccine).
From the beginning, China marshaled the country's resources to combat Covid-19 successfully and now is poised to lead the post-pandemic world economic recovery with an 8.4% growth rate this year.
China has developed several candidate vaccines and produced over 230 million doses, far more than the U.S., India, or Britain. The government plans to vaccinate 40% of the population, 500 million people, by June.
China has promoted global cooperation against the pandemic by supporting COVAX, and advocates for vaccine distribution as a public good, especially in developing countries. The country has donated 115 million doses to 37 developing countries, and 100 nations have received aid, including PPE or direct medical assistance. Many of the countries are part of the Belt-Road Initiative.
WHO and COVAX have not yet incorporated the Chinese-made vaccines for distribution. Nevertheless, at least 70 countries either approved them or signed contracts to receive doses. In light of the global shortage of vaccines, the WHO is speeding up approval of Sinopharm and Sinovac, two Chinese-made vaccines.
Cuba also acted quickly to contain the virus and, as of March 8, reported 55,000 infections and 348 deaths. By April 2020, Cuba had sent 1,000 medical workers abroad to fight Covid-19. Despite the impact of the crippling U.S. blockade and temporary shuttering of its tourism industry, Cuba is developing four vaccine candidates, the first in the Caribbean and South America. Cuba hopes to produce 100 million doses of the Soberana 2 vaccine, and after immunizing the Cuban population, the vaccine will be made available for global distribution.
Vietnam, a nation of 96 million people, took early and practical steps to contain the coronavirus, reporting only 2,500 infections and 35 deaths to date. It began mass inoculations in early March and has sent PPE to countries around the world.
World health emergency and corporate greed
Meanwhile, "vaccine nationalism," could end up doubling the number of deaths from the pandemic than if vaccines were distributed equally, according to a Northeastern University study. If people in some parts of the world remain unvaccinated, the Covid-19 virus has a chance to develop dangerous variants that will travel to those countries already vaccinated.
"These inequalities reveal a fundamentally flawed view of global health, and our global economy more broadly in which vaccines and essential medications are treated as a market commodity rather than as a public good," wrote Dr. Ingrid Katz and other public health specialists.
Global scientists moved mountains to develop effective vaccines in record time. But the prime obstacle preventing the mass production and sharing of vaccine technology are U.S. and transnational pharmaceutical companies, raking in fabulous profits on the global health emergency. They are refusing to share their patent rights to the vaccines. The U.S. government spent $20 billion to subsidize corporate development of vaccines and their advanced purchase and ought to have a say in that.
Patent rights initially intended to help protect the intellectual property rights of creative workers, inventors, and organizations are used instead to horde information. Hence, the rate of profits pulled in by the big pharmaceutical companies continues to grow and enrich those companies. Corporations turn patents intended to protect scientists from the same corporations who steal their work into tools to enrich themselves at the expense of the people who need the vaccines.
The companies, therefore, turn a deaf ear to pleas from developing nations, even if they have an industrial capacity to produce the vaccines. Big Pharma profits are colliding with the production of medicines for the public good – saving lives in a global health emergency. Many public health officials, governments, NGOs, and UNESCO call for Covid-19 vaccines to be made a public good to ensure a fair, inclusive, and equitable distribution.
The World Trade Organization is currently considering a proposal advanced by South Africa and India and supported by 90 other countries to waive patent rights (TRIPS) for the vaccines developed by pharmaceutical corporations because of the global health emergency. A favorable ruling would allow increased production of vaccines, treatments, and tests by local manufacturers.
In the face of stiff opposition from the pharmaceutical companies the Biden administration, like the Trump administration, is so far blocking a waiver. A group of 60 Democratic lawmakers is urging President Biden to grant the waiver.
"I understand why we should be prioritizing our supply with Americans — it was paid for by American taxpayers, President Biden is president of America," said Representative Ro Khanna (D-Calif.), leader of the Congressional Progressive Caucus. "But there is no reason we have to prioritize the profits of pharmaceutical companies over the dignity of people in other countries."
Regardless of the outcome on patent rights, the pharmaceutical companies are guaranteed spectacular profits for years with the emergence of new variants and mutations requiring yearly shots. This year alone, Pfizer expects to make an additional $15 billion in profits while Johnson & Johnson projects to rake in $10 billion in profits.
The companies initially set affordable vaccine prices to dispel the negative public image they had gained as greedy corporations profiting on exorbitant drug prices. They were sensitive to reinforcing that image in a public health emergency, but they are already informing investors they will hike prices in the future.
Pandemic Treaty
The global inequality in vaccine distribution prompted 20 world leaders, including UN Secretary-General António Guterres, to sign a letter urgently calling for greater international cooperation under a new pandemic treaty. Such a treaty "would be rooted in the World Health Organization constitution, "drawing in other relevant organizations key to this endeavor, in support of the principle of health for all."
"There will be other pandemics and other major health emergencies. No single government or multilateral agency can address this threat alone. The question is not if, but when. Together, we must be better prepared to predict, prevent, detect, assess and effectively respond to pandemics in a highly coordinated fashion. The COVID-19 pandemic has been a stark and painful reminder that nobody is safe until everyone is safe."
"We are, therefore, committed to ensuring universal and equitable access to safe, efficacious, and affordable vaccines, medicines, and diagnostics for this and future pandemics. Immunization is a global public good and we will need to be able to develop, manufacture and deploy vaccines as quickly as possible."