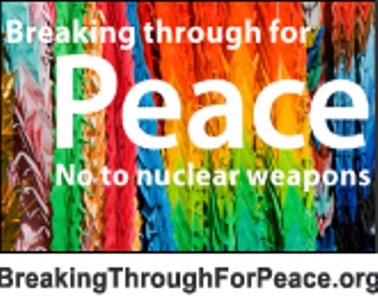 In a sign of growing international labor solidarity around broad social issues, unions have launched a world-wide campaign on peace and nuclear disarmament.
The global union, UNI, has joined forces with the International Trade Union Confederation, RENGO — the Japanese national trade union center, and GENSUIKIN — the Japan Congress against A and H bombs, in an international online petition drive. The petition calls on the nations of the world to take urgent action to stop the spread of nuclear weapons, and is to be presented to UN General Secretary Ban Ki-moon in May 2010, when the UN meets to review the nuclear non-proliferation treaty.
The petition supports the goal of the total abolition of nuclear weapons by the year 2020, as called for by the "Mayors for Peace." The mayors of the Japanese cities, Hiroshima and Nagasaki, the only cities ever to have suffered nuclear attack, head up "Mayors for Peace."
The petition also calls for the transfer of military spending to socially useful ends, like education, while at the same time protecting the livelihoods of those who now are employed in the creation and deployment of these weapons.
UNI hailed the recent award of the Nobel Peace Prize to U.S. President Barack Obama because of his support of international diplomacy and for envisioning a world with out nuclear weapons.
The UNI, founded in 2000, is an international trade union federation with over 900 affiliates in 140 countries. The present international labor petition campaign is nothing out of the ordinary for UNI and its 20 million members. UNI has long focused on global agreements targeting multinational corporations.
In November 2010 the UNI is holding its World Congress in Nagasaki, Japan, a city which the UNI general secretary has said, should be the last to experience nuclear attack.
Those who would like to join follow workers in signing the petition can do so by visiting www.breakingthroughforpeace.org