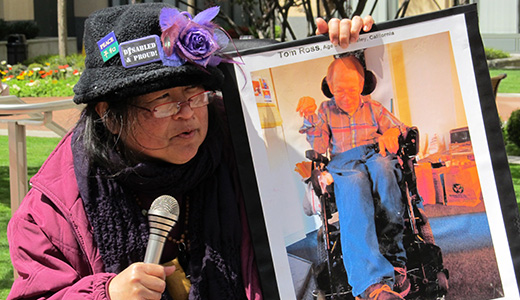 OAKLAND, Calif. – Stephanie Miyashiro sat at attention in her wheelchair, holding a poster of a friend, also a wheelchair user.
Her voice brimming with emotion, Miyashiro told fellow protesters rallying in front of Oakland's federal building on the first Global Day of Action on Military Spending, "What grieves me most about what's going on is that I think some of our friends are going to die."
Turning to the poster, she said, "His name is Tom Ross; I want you to know he is here in spirit. He says his attendants keep him bathed, fed, dressed and medicated, and with their help he is able to go out into the world." With their help, she said, Ross – who has master's degrees in theology and creative writing and has taught at San Francisco State University – "has had a life. But if his attendants get cut, he doesn't know if he will be able to stay at home."
Noting that it costs much less to keep people in their homes with attendants' help than to institutionalize them, Miyashiro added, "I also realize nursing homes are privatized and make profits. I'm always looking for who's doing this."
The Oakland gathering – organized by Bay Area United for Peace and Justice and the New Priorities Campaign – was among San Francisco Bay Area actions including literature distributions at 16 rapid transit stations during the morning rush hour. More evening commute hour distributions lay ahead.
Worldwide, more than 100 events were planned in over 35 countries on April 12, the day after the Stockholm International Peace Research Institute (SIPRI) released new figures showing worldwide military spending reached $1.6 trillion in 2010. SIPRI said the U.S. was responsible for the vast majority of last year's increase in world military spending.
Oakland demonstrators heard statements from U.S. Rep. Barbara Lee, D-Calif., and Alameda County Supervisor Keith Carson – both of whom represent city residents – calling attention to military spending's huge cost in human services, and the dangers to the country's future posed by the Republicans' "road to ruin" budget proposals.
They also heard former Laney College Black Student Union president Jabari Shaw say, "We've got to come out like they did in the '60s; we've got to surround these federal buildings. There have to be thousands of us out – it's not going to stop until we make it stop!"
Pablo Paredes, a veteran and parent activist, told the crowd, "It's not some abstract budget issue. It's a personal issue that's closing our lifelines, that's killing people abroad and killing people here at home. Take the budget personally, because the budget is the way the state invests your future."
Although last year U.S. military spending grew at a slower rate than previously, SIPRI said, it still accounted for $19.6 billion of the worldwide $20.6 billion increase over 2009.
The U.S. has increased its military spending by 81 percent since 2001, and now accounts for 43 percent of the global total, six times its nearest rival, China, according to Sam Perlo-Freedman, who heads SIPRI's Military Expenditure Project.
Photo: Stephanie Miyashiro holds a poster of her friend Tom Ross, teacher and writer, who relies on attendants to "have a life." PW/Marilyn Bechtel