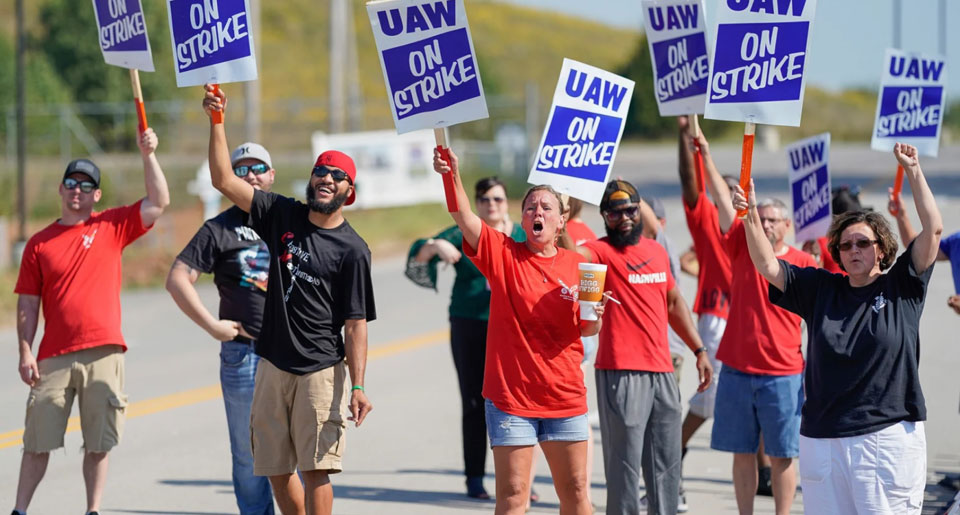 Endangering the very lives of many of them, GM has dropped health coverage for the tens of thousands of its workers now on strike.
The United Auto Workers, which represents the workers who have shut down the nation's largest automaker, confirmed the action this week.
In a clear indication of why having a union is so important, the UAW says it will pay for workers' health insurance under COBRA out of money currently in its strike fund.
The strike, which began Monday, continues with no news of significant progress in talks.
GM had $8 billion in profits last year, fueling the determination of workers to see some of that reflected in better wages and working conditions. Workers took big cuts several years ago when the auto giants, including GM, turned to the Americans taxpayers to bail them out during the Great Recession.
Workers on picket lines across the country say they are fed up with making years of concessions and seeing no gains.
Employee dental and vision plans will be totally uncovered for the remainder of the strike.
Sen. Sherrod Brown (D-Ohio) said on Twitter that GM's move to cut employee health care was a "dirty" tactic.
Other unions have condemned GM for yanking health insurance from its workers. SEIU International President Mary Kay Henry, for example,. released the following statement this week in support of the striking GM workers and their right to the healthcare coverage they were promised:
"GM's decision to yank healthcare coverage away from their dedicated employees, in the dead of night, with no warning, is heartless and unconscionable. GM's actions could put people's lives at risk, from the factory worker who needs treatment for their asthma to the child who relies on their parents' insurance for chemotherapy. Thankfully these men and women have their union, which is making sure working people and their families can continue to get care.
"The UAW workers on the strike lines are showing immense bravery in the face of intimidation. They are an inspiration to SEIU's two million members, and millions more working people united in the Fight for $15 and a Union. This is why we are demanding Unions for All: so that working people have the power to hold big corporations like GM accountable and to fight for our future, our families and our communities."