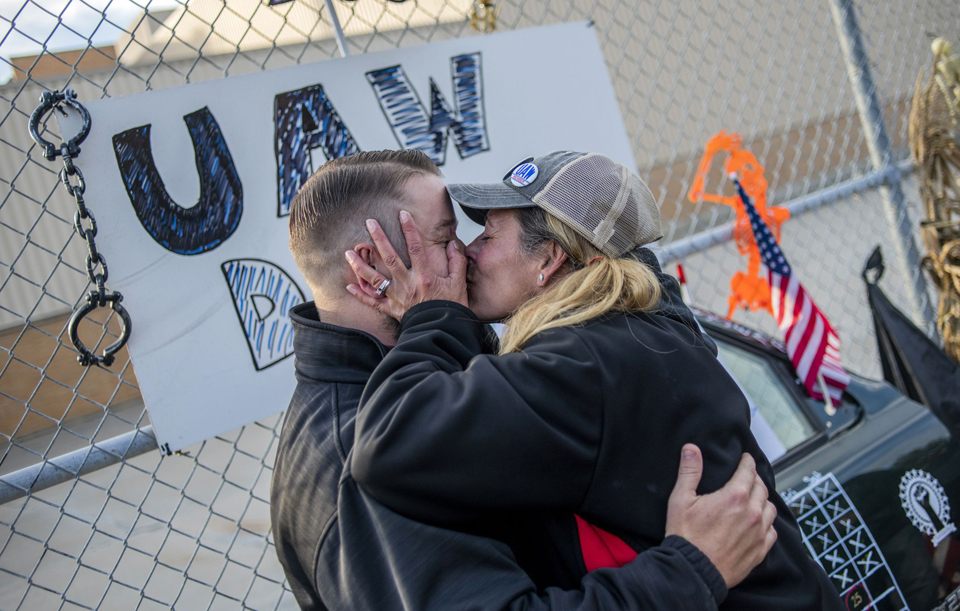 DETROIT—Some 57 percent of the United Auto Workers members at GM plants have approved a new four-year contract with General Motors.
Approval ends the five-week strike the big automaker forced on the union and its 49,000 members who toil for GM. The strike was the largest and longest private-sector strike in the U.S. in years.
The reports that came in late Friday from CNN Business, the Associated Press and other sources, say wages will rise by 6 percent over the life of the contract, to $32.32 an hour.
Full-time workers would get an $11,000 signing bonus each. Part-timers would get $4,500. There would also be a faster progression – three years, not eight – from part-time to full-time status.
The bonuses would help auto workers regain some of the wages they lost when the 2008-09 Great Recession saw GM and Chrysler – now FiatChrysler – claim and enter into bankruptcy.
It also forced UAW members at all three Detroit-based car companies to take deep wage cuts and accept a two-tier wage system. The UAW intends to use the GM pact as its model for Ford and FiatChrysler.
GM health care benefits would stay the same and so would the workers' contribution to them. GM had to yield on that point when it yanked them the first weekend of the strike – and got hit with negative publicity for doing so. It then retreated.
But the union could not save three of the plants GM plans to close, in Lordstown, Ohio, and transmission plants in the Baltimore area and Warren, Mich. It'll shift those jobs to Mexico. The UAW had demanded an end to such closures.
The Lordstown closure, understandably, led the president and another top official from its UAW local to vote against the new pact at an Oct. 23 meeting of all UAW GM local officers from around the U.S.
On the other hand, UAW also won a commitment from GM to invest at least $7 billion in upgrading and modernizing other U.S. plants. And the automaker said it would try to find jobs for 1,400 of the Lordstown workers, in two auto-related firms that plan to use the plant.
By contrast, all but seven of the current workers at the Baltimore transmission plant will have to migrate to GM jobs elsewhere, Local 239 posted in a tweet.
News reports showed the pact passing by overwhelming margins in Arlington, Texas, the largest GM plant, with 5,000 UAW members (78% among production workers, 60% among skilled trades) and in St. Louis (63.5% among production workers and 69.9% of skilled trades). Lordstown workers voted 399-53 against it.