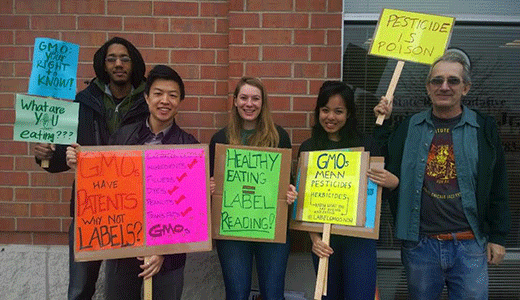 CHICAGO – Backed by advocacy group Food & Water Watch and fueled by a demand for health and transparency, residents took to the streets Apr. 2 to support the Genetically Engineered Food Labeling Act. They encouraged state Sen. Donne Trotter to do the same, as that legislation would require the Food and Drug Administration to label genetically engineered foods, thus granting people their right to know what they're eating and how it is produced.
To that end, Chicagoans on the city's south side delivered hundreds of petitions they had collected over the past few weeks, plus a coalition letter of 30 small businesses and other local groups in or near Trotter's district. It's the latest support for the bill also known as SB 734, which currently has 20 senate co-sponsors and community backing from groups including the Sierra Club, the Illinois Public Health Association, and the Illinois Farmers Union. Food & Water Watch has joined the fight in keeping with their tradition of ensuring safety, accessibility, and sustainability of food and water, and consumers are now taking charge with their support.
"At the heart of this campaign is consumer rights," said organizer Alyssa Hartman. "People deserve to know what they are eating and what they're feeding their children. Illinoisans have a right to know everything they can about the food they purchase, and the state legislature has a responsibility to ensure that transparency to constituents."
This development in the battle for GMO (genetically modified organism) accountability comes on the heels of a call for reform on the local level, in which the Illinois Public Interest Research Group Education Fund (PIRG) issued an open letter Mar. 8 calling on Jewel-Osco grocery stores to label its store brand products for GMO ingredients.
"As a coalition of community groups, small local farmers, grocery stores, schools, and public health, consumer, and environmental advocates in Illinois," said the PIRG, "we write to ask you to support your customers by agreeing to label your store brand products. There are many reasons to be concerned about GMO foods. The Food and Agricultural Organization of the UN has warned that some 75 percent of plant genetic diversity has been lost as farmers turn to genetically uniform, mass-produced crop varieties. Because GMOs usually don't undergo safety testing before they're brought to market, many consumers are worried about their long-term impact. Further, some GMOs are designed for increased pesticide use, which has been linked to serious health and environmental affects."
Food & Water Watch was amongst the local groups who endorsed the open letter, of which there were 31. Included were such groups as the Southeast Environmental Task Force, who have been at the forefront of the fight in south Chicago against harmful piles of petcoke that are causing health issues, and the Illinois Farmers Union, which has supported SB 734. The letter was also endorsed by 13 national organizations.
"As a citizen of Illinois, I want the politicians that I help elect to stand up for my rights," said activist Erik Malone. "I hope Senator Trotter heard us today and chooses to give the folks that live here a say in what they are purchasing by labeling GMOs."
Photo: Food & Water Watch Illinois