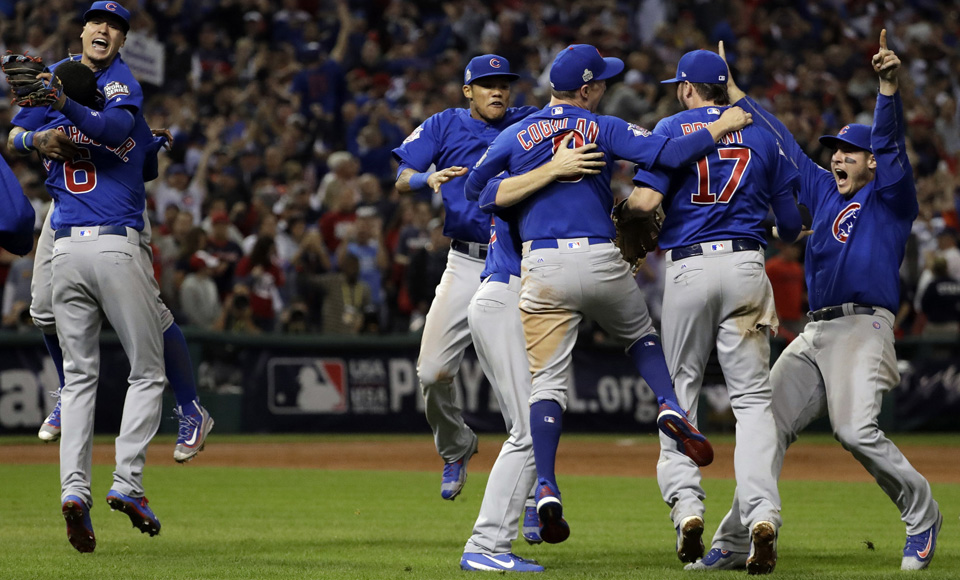 Although it might be heretical to refer to a New York Times article for the most compelling coverage of Game 7 between the Chicago Cubs and Cleveland Indians, here it is anyway: http://www.nytimes.com/2016/11/02/sports/world-series-score-cubs-indians.html?_r=0
Not only do the writers give a recap of what is probably going to go down in history as the most exciting Game 7 – and World Series – ever, but they frame the game blow by blow with journalistic prose that captures the suffering and the magic, the agony and the ecstasy, that went into the Cubs "W."
"Their fans trudged in and out of Wrigley Field thousands of times over the years and came to believe the team was cursed," the co-authored article reads.
"But 2016 was the 108th year after their last title, and a baseball is sewn together with 108 stitches. This had to be the year.
"It was."
That number, 108, pops up in other ways besides the serendipitous number of stitches on a baseball. One hundred eight is considered sacred by Hindus, Buddhists and Jains. It is also a multiple of 18, a number associated with gift-giving in Jewish culture.
It takes a special number to undo a curse.
But it also takes a special team — and this was it.
I'm a lifelong Chicagoan – born and raised in the Windy City – (Schurz High School, to answer a perennial question Chicagoans ask each other; I think it actually is mandated by law) – and a northsider whose mother was a diehard Cardinals fan because she came from central Illinois. My dad was Cubs all the way, born and bred, too, in Chicago. My mom would take us to the Cubs-Cardinals games and she'd wear her red cap and stick out in a sea of blue.
But it was my sister, Judie, who took me to many games, including Opening Day – with my mother's blessing – and was what we call a true Cubs fanatic and Bleacher Bum. She and her girlfriend once took a sheet and drew a toilet on it in permanent marker with the slogan "Johnny's Bench" and hung it over the ivy at a Reds vs. Cubs game. That was 1969. I was 7. A terrible year, for which and to this day, I cannot stand the New York Mets. (Judie became very cynical as the years trudged on. She insists this is why the Cubs won because she never believed after the 1990s. You should see the texts between her and my sister Edie, who did believe, stridently.)
I would be remiss if I did not mention my Aunt Louise and Uncle Bob who raised eight die hard Cubs fans, one of whom named her first born, Ryne (after longtime second baseman Ryne Sandberg). Aunt Louise and my mother were great friends despite their baseball differences.
I give you my pedigree in Cubs identity because of what follows. I celebrated, watched the games and learned a lot about baseball in the process – thanks to knowledgeable baseball devotees who talk about pitch count and controlling the plate. I came to really appreciate this incredible team of players and their manager, Joe Maddon. I thoroughly enjoyed watching the games because it was such good baseball! Even when they lost, it was good baseball.
I also kept shaking my head in wonder about Theo Epstein, the architect in destroying the Curse of the Bambino for the Red Sox (3 times!) and now the Curse of the Goat. I knew he'd be destined for Cooperstown if they won, and apparently, many others think the same.
But as I watched the games, especially during the World Series, a few things really bothered me. So here's the other heretical part of my article: a top 6 list of complaints, and a few suggestions for change.
The Cleveland team's outrageous racist caricature logo and the many other denigrations of a people who are now engaged in a big fight against Big Oil and for the preservation of the land, clean water and their sovereign rights. #WaterIsLife #NoDAPL. Retire that logo now! As my friend die-hard Cubs fan and Native activist, David Bender, said in a recent Facebook post, the only real Indian ballplayer was Hall of Famer Charles Albert Bender, who played on the Philadelphia Athletics and Phillies, Baltimore Terrapins and our very own Chicago White Sox.
The disgustingly expensive tickets that have now permanently sealed out anybody beyond the rich and well-connected from even dreaming of going to a World Series game. The dozens of seats behind home plate sold at $25,000 a pop. Or those 400 people the Cubs owner Tom Ricketts flew out to see Game 7. Just another example of the huge canyon of wealth inequality. How about putting aside 1,000 playoff tickets for Chicago Public School kids and their families that could be given away in a transparent lottery? There was something Marie Antionette-ish watching last night's game and thinking about the deep poverty in Cleveland. Eighty percent of the tickets went to people outside of Ohio! Clevelanders could not afford them and the ones who had them sold them to the highest bidder.
The Ricketts. The old man Joe Ricketts is a Trump-supporting, far right extremist. I felt a little sick rooting for the team because of it. He had issued a terrible and racist attack plan on the president in 2012, one that was so outrageous our corporate lapdog mayor had to threaten the family if dad didn't walk it back. I'm not sure those extreme politics extend to his progeny. One son is the Republican governor of Nebraska, the daughter is an LGBTQ activist and raises money for Hillary Clinton. The owner, Tom, seemed like a nice enough guy when he spoke last night after being presented with the trophy (a practice I can't stand in any pro sport. Like the king getting the award for having the best knights in a jousting tournament.) But he is a titan of finance and in this town that means being a FOR -(Friend of Rahm) and a privileged receiver of taxpayer money and tax breaks on the backs of homeowners and working people. But I guess that can all be chalked up to being "smart" like tax dodging Trump. Close all corporate loopholes and raise the tax rates on millionaires and billionaires!
While watching the celebration, a killjoy in the form of Mayor Rahm Emanuel, came across the screen. Beaming ear-to-ear and giddy like a 13-year-old who just got her/his first homerun, Emanuel was ecstatic and partying. Yuck. I know everyone deserves a fun time, but this guy has had enough of them for a lifetime. The crises in this city – from the gun violence to the police violence to unemployment to segregation to schools and school closings – are legendary. And here this guy is going to ride the Cubs wave to boost his standing. Boo. You had NOTHING to do with it, Rahm.
Speaking of segregation, was it just me or were there no Black fans in Wrigley Field? Did I miss them being shown, or was it the Fox cameras that never panned to them? Whatever caused their absence, it was a stark reminder of racism and the city's longstanding segregation. Cubs are from the North Side, White Sox are the South side. The North Side is known for being predominantly white, the South Side, predominantly Black – although there are plenty of changes in demographics going on. And the black-white dynamic is crazily simplified as many others – Mexican Americans, Puerto Ricans, other Latinos, Asian-Pacific Islanders, and Native Americans live on the north, south and west sides of the city. The Northside is also seen as more well off. More development, more income. The South Side – more working class, grittier, poorer – where steel mills were the main employers and now where those factories once stood are empty lots, reclaimed lands or big piles of petcoke polluting the neighborhoods. The South and West sides are by far the hardest hit by gun violence although no side – including the North Side and even suburbs – is immune to this public health epidemic. Anyway – while Donald Trump spews about building a wall, we should be tearing down walls, especially the walls of racial segregation and poverty that are invisible to the eye but plain to see.
The North Side-South Side divide has many layers and they are all at work in the famous Sox-Cubs rivalry. In interest of full disclosure, the People's World editorial office is within walking distance of – let's just call it Sox Park for now – since its current name is an abomination. I love the White Sox. The PW has organized trips to games to raise money and have fun. The year 2005 was a magical one and the neighborhood transformed into a festival of uplift. The team, managed by the one and only Ozzie Guillen, created that atmosphere. I enjoy going to Sox games more than Cubs games. Sorry but there are more obnoxious drunk people at Cubs games. I'm all for Sox-Cubs unity but I know I'm in the minority on that one. My friend Carmen posted on her Facebook page the observation that she felt it was wrong to assume Sox fans should rally for the Cubs when a similar solidarity was not expressed in 2005. I once joked that Bill Murray (a famously die hard Cubs fan) and President Barack Obama (a famously die hard Sox fan) were doing a unity tour with the theme, "There are no north sides, or south sides, in Chicago we are all sides." Actually, I think that would be a good idea.
After all, as Carmen put it: "We worship an awesome God on the North Side, and we don't like federal agents poking around in our libraries on the Southside. We coach Little League on the North Side, and, yes, we've got some gay friends on the South Side."
Maybe this World Series could set off a series of other curse-breaking, starting with the curse of hate ideologies, poverty and violence. Oh yeah, and maybe restore the Jackie Robinson West Little League title too.