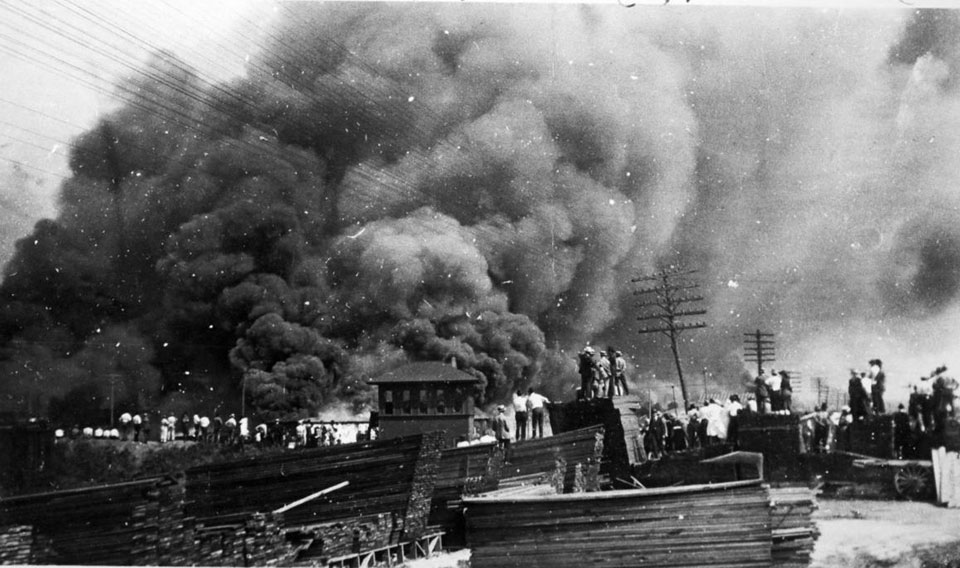 Producer Sam Pollard (MLK/FBI) and Narrator Ossie Davis (Do The Right Thing) use the infamous Tulsa Race Massacre of 1921, also known as the Tulsa Race Riot, as a focal point for exploring the perils and pitfalls not only of segregation but of integration, as well. PBS is commemorating the centennial of the Tulsa Massacre by rebroadcasting "Goin' Back to T-Town."
Through the late 19th and early 20th centuries, many African-American freedmen and escaping slaves made their way from the Southern countryside and plantations to settle in Tulsa, Okla. Land was plentiful and cheap. The 1889 Great Land Rush brought overwhelming numbers of both Black and white settlers. Black Americans saw Tulsa as a land of freedom and opportunity.
Black residents settled around North Tulsa, building a virtually self-sufficient community of 11,000 residents in the Greenwood neighborhood. Black commercial establishments and institutions thrived, including 15 groceries, 13 churches, various restaurants, four drugstores, two movie houses, public libraries, schools, and two newspapers.  So prosperous was the district that it was referred to as "The Black Wall Street."
Certainly, there was still danger and discrimination, especially in downtown Tulsa and outlying areas. In the post-World War I South, violence included lynchings, the burning of Black families' homes, and constant KKK harassment. But the prosperity of Greenwood seemed to stand as a bulwark of safety.
On May 31, 1921, this illusion shattered. A young Black man, Dick Rowland, who tripped in the elevator of a merchandise store while on his way to a segregated bathroom, reportedly grabbed the arm of the young white woman elevator operator as he fell. A white store clerk reported an "assault" to police, and Rowland was taken into custody. Lynching was threatened. When Black demonstrators protested, armed white crowds attacked and moved on Greenwood, burning, looting, and killing Black residents. Police and soldiers were enlisted to join the attack. By the time the National Guard restored order, as many as 300 Black residents in Greenwood were killed and 35 city blocks were destroyed.  Most of Greenwood—as many as 10,000 people—was left homeless and impoverished.
Goin' Back to T-Town tells this story through archival recordings of survivors. George Monroe remembers how his mother hid her children under the bed until their house was set on fire. Rosa Skinner and Peaches Littlejohn Wynn share stories of discrimination when Black Tulsans tried to patronize stores or eat at downtown restaurants. Harvard-trained, Presidential Medal of Freedom Historian John Hope Franklin, who grew up in Tulsa, testifies to racial strife between Black and white high schools.
Some residents attempted to rebuild after the riots. They lived in tents through the next several brutal winters, trying to transport in building materials from nearby states. Many others left Tulsa. Persecution and disparity between Black and white communities continued.
Segregation had forced a great degree of self-sufficiency and camaraderie in pre-riot Greenwood, but former residents described how the rebuilt neighborhood could not survive integration, which eventually came. The loss of communal relationships and Black-owned businesses weakened the prosperity that had prevailed in the area. As much as violent racism, discriminatory capitalism preyed on the spirit and diverted the resources that had built Greenwood.
Goin' Back to T-Town, first broadcast in 1993, will have an encore broadcast on AMERICAN EXPERIENCE Monday, Feb. 8, 2021, 9:00-10:00 p.m. ET (check local listings) on PBS, PBS.org and the PBS Video App.