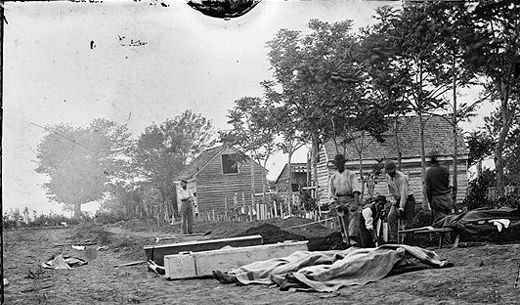 In the 2006 Senate election in Virginia, incumbent Republican George Allen was defeated by Democrat Jim Webb after undergoing what is called here his "macaca moment." Here's hoping that the new right-wing Republican Governor Bob McDonnell is in the process of having his own "macaca moment."
Allen got into trouble when he was videotaped calling a Democratic activist of South Asian origin "macaca" which is Italian for a female monkey. Although Allen claimed he actually did not know the meaning of the word and was just jabbering nonsense words (Senator, do you frequently jabber nonsense words?), it later transpired that his mother was Italian speaking and had lived in North Africa, where French and Italian colonists had used the word to insult the natives. Be that as it may, the usually lazy corporate press then started digging and found a whole series of racist incidents in Allen's past. This contributed to his defeat.
What did McDonnell do that can be compared to Allen's macaca moment? On Friday, April 2, he issued an official proclamation declaring April to be "Confederate History Month." In this month, reads the proclamation, we should all remember the "leaders and individuals in the [Confederate] Army, Navy and at home who fought for their homes and communities and Commonwealth in a time very different than ours today…." McDonnell explained that he issued the proclamation to promote Virginia tourism.
This glorifying of the Confederate cause as a fight to defend hearth, home and traditions against the invading "damn Yankees" is common enough fare among Southern white elites, but what was really interesting is that McDonnell's proclamation nowhere mentioned slavery. This was a change from past proclamations of the same kind (wouldn't you know it, the instant tradition was started by George Allen when he was governor in the 1990s; Democratic governors Warner and Kaine issued no such proclamations). But at least macaca Allen mentioned slavery as a factor in the Civil War, and even admitted that slavery was a bad thing. McDonnell took the slavery part out. When asked by the press, he said that certainly slavery was part of the reason for the Civil War, but was not the most significant one for Virginia.
There was a wild uproar, with African American organizations such as the Virginia NAACP and African American members of the legislature roundly condemning McDonnell, while Confederacy-admiring groups applauded him.
On Tuesday April 6, McDonnell amended the proclamation to add that slavery was an issue in the Civil War, and was not nice.
There will be organizing against the proclamation. It will be amusingly ironic if the incident leads to a boycott of tourism to Virginia. But there are lessons also.
Virginia had been moving away from this kind of thing. The state already had elected an African American governor (Douglas Wilder 1990-1994). It has two Democratic senators. And in the 2008 elections, it went for Obama, and also elected three new Democratic congresspersons.
Yet the movement that brought the 2008 victory went to sleep in 2009. In last year's state elections, there was a pitifully inadequate mobilization of the Obama movement's base, and this led the Republicans to sweep the elections for governor, lieutenant governor and state attorney general. What has followed is shaping up as a disaster.
McDonnell's action on the Confederacy proclamation was no accident. He has a background with the Confederacy whitewash movement. He is also viciously anti-labor and anti-immigrant. Republican State Attorney General Ken Cuccinelli is, if anything, worse. He is a hard right extremist who is one of the state attorneys general who have announced that they will sue to prevent implementation of the health care law. He has also ordered state colleges and universities to remove gays and lesbians as people to be protected from discrimination.
These reactionary politicians do things in such a way as to stir up their social base and keep it mobilized and motivated. They hope that in November of this year, they can take back the House seats they lost in 2008. Those seats were lost because the Obama phenomenon managed to get people to the polls from excluded groups – minorities, youth, and low income workers – who generally vote at a low rate. In 2010, Republicans are hoping that the "tea party" populist crowd will join with those who are nostalgic for the "Gone with the Wind" days, and mob the polls. This is why these "macaca moments" will keep on happening.
What excuse do progressive people have for not seeing this as an emergency requiring a massive response?
Photo: "Burying the Dead at Hospital in Fredericksburg, Va." (title from print). Shows four African American men digging graves; a bearded white man can be seen looking on, arms crossed, in the distance. Public domain.