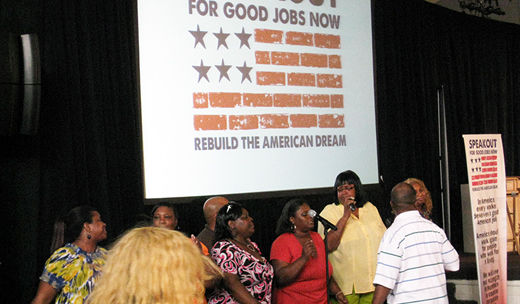 DETROIT – What could be better? A warm summer night and songs played over loudspeakers from Motown legends like The Temptations and the Four Tops, plus a fantastic performance from a church choir. This is how Detroit got a standing room only crowd fired up for a June 27 rally. And Rev. Charles Williams of the Historic King Solomon Baptist Church where the rally was held said the hall held 1200!
What drove the huge outpouring, and what was missing in the lives of many in attendance was the right to a job.
Detroit was the second stop of the Congressional Progressive Caucus's "Good Jobs" tour. Reps. Hansen Clarke and John Conyers, D-Mich., joined with Keith Ellison, D-Minn., Marcy Kaptur, D-Ohio, and the Rev. Jesse Jackson listened to the stories and thinking of the people.
In their brief remarks, the leaders issued a call to redirect money from wars, Wall Street and the rich to a rebuilding of America. It was music to the ears of those in attendance.
Jackson said war spending is "breaking our cities." He was seconded by Clarke who said the money we're spending in Afghanistan is ours, "it should come back to us."
Kaptor said we need to tax the financial giants asking, "Why can't we tax hedge funds like we do the corner bakery?"
Ellison emphasized that unity is required to win, saying being angry will not bring jobs but banding together, speaking together, and fighting together can. "We will use our strength in numbers to fight corporate greed," he said.
Conyers said we are "getting ready" to re-elect President Obama but we need the President to get behind job creating legislation like the Humphrey Hawkins jobs bill he has introduced.
"We are going to Washington to tell him we want him to lead in the fight for jobs. We will tell him we are ready to help," said Conyers.
The audience lined up at two mics to respond. Labor was well represented. Autoworkers spoke to the unfairness of trade pacts, the need to save what remains of New Deal legislation and the necessity of using closed plants to make Detroit the new center for production of hi-speed mass transit vehicles.
Others spoke about how budget cuts and the worse than depression like local economy – even Detroit's mayor has said unemployment in the city is likely near fifty percent – are making life hard.
Infrequent bus service makes getting to jobs difficult. Too many homes, that would create jobs if rehabilitated, stand empty and neglected. Fields in city parks are not mowed and have become unsafe for children.
Privatization is driving the unemployment rate higher. A former public safety worker with the Detroit Public Schools said that after 18 years of employment, she and fellow workers found on a Friday they would not have a job on Monday. "Privatization is eliminating the few good jobs we have," she said.
Several called for marching on Wall Street. "That's where the money and the real decision makers are," said one.
Next stop in the Jobs Tour is Milwaukee. A national movement is being born.
Photo: Church choir warms-up crowd. John Rummel/PW